By Peter Ilgenfritz
April 26, 2022 - 3:55pm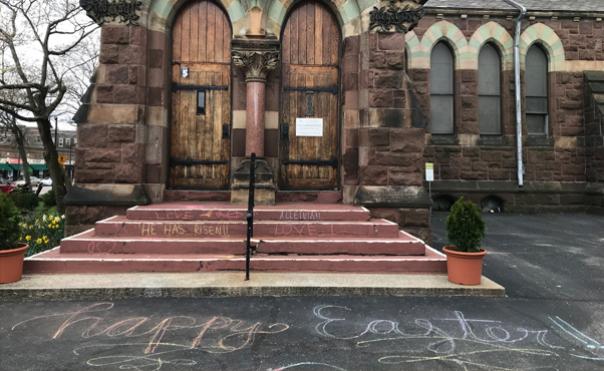 Barbara Lynch, Convener of the Stewardship and Budget Ministry Team, noted in Sunday's kick-off of this season's stewardship campaign,
"Three congregations came together 52 years ago to form the United Parish. They didn't come together just to survive, they came together to thrive. And TOGETHER is the only way we can continue to survive AND thrive."
It has been a gift to my soul to cheer on your congregation's wonderful stewardship team this year: Dot Gorenflo, Madeline Gardner, Doug Johnson, Mark Jones, Jaz Buchanan, and Carolyn Swain.
They've been dreaming big and have set a bold goal for this year's stewardship campaign - 100% participation. As Barbara said, "Each and every one of us is an important part of that 100%."
In this Sunday's scripture, a couple of disoriented and grieving disciples call out to a stranger who has heard their woes and told them of a wonder hard to believe. As the stranger moved on down the road and they turned to their home, they could well have just let the stranger pass.
Stewardship season can be a time like that when we can be tempted to turn away to our own business and close the door. But if the disciples in the story had closed their door on the New Life that was right there with them, we never would have had the story of the Risen Christ who comes as a stranger and is made known in the breaking of bread.
This is an exciting season in the life of your church – a time that is calling for you to discern, share, wonder, and live into the YES and the Dream God has for United Parish.
God has big Dreams for you, of that I have no doubt. Dreams that ask nothing less than all to play a part. For all to open the door of our hearts and say YES. YES to your generous and bold financial support of your church in whatever ways you can.
Yes, as Barbara concluded, "Think about it." Think about the bold financial YES you are called to make to the ministry of United Parish on May 15.
In saying YES, your life and your life together as church will never be the same.
In faith,
Peter
If you'd like to read or listen to previous sermons, or subscribe to our podcast, please click here.
If you'd like to watch previous worship services, please visit our YouTube page.
Image credit: United Parish on Easter, April 17, 2022