Palm Sunday: Expressing our Faith!
By Amy Norton
April 11, 2019 - 12:10pm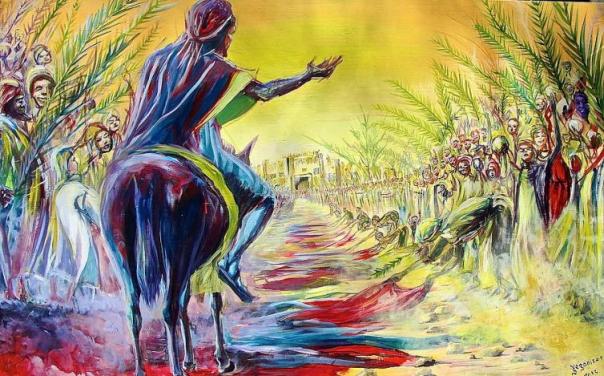 Beloved United Parish Family,
A few weeks ago, a dear friend of mine (and former United Parish Seminarian), Cydney Van Dyke was visiting me for an extended weekend, and we were sitting at The Biscuit Cafe getting some work done, just like old times at Divinity School. Naturally, we were doing much more talking, catching up, and generally theologically geeking out then actually working, but the Holy Spirit does work in mysterious ways, doesn't she? As we were talking, something she said gave me an idea, which I jotted down on a scrap of paper to remember to bring up later. As the conversation continued on, after a moment's thought, she posited the very same idea I had written down on the paper.
Almost two weeks later, sitting in a room with the 20s/30s group as we worked through our Faith Exploration workshop on the Holy Spirit, another person in the group brought up the very same idea. Well if that isn't the nudging of the Holy Spirit to pay attention, I don't know what is! But more on that later...
In this Sunday's gospel passage, the Pharisees ask Jesus to quiet his disciples' shouts and songs of praise. He explains to them that "if these were silent, the stones would shout out." Even if we silence our words, our faith cannot be contained or kept hidden, and it will burst forth in our dances, our instruments, and our actions.
Two weeks ago we heard the story of Pentecost, of people suddenly being filled with the spirit, speaking all different languages, but suddenly able to understand as though they were hearing their own native language. In some Christian denominations there is a practice of speaking in tongues, a way of praising and letting the Holy Spirit flow through you. This always seemed so foreign to me, and yet that thought that Cydney and I shared in the cafe, and which I heard again in the 20s30s gathering, was this: is music and song just another form of speaking in tongues? When we hear a song, we rarely need to be able to discern all the lyrics in order to understand what the song is about, or the emotion it is expressing. And what about music without lyrics? I'm sure many, if not all, of us have been deeply moved, invigorated, or filled with joy by instrumental pieces we have heard.
How fitting, then, that as we wrap up our series on Exploring Faith, our Chancel Choir is offering to us a performance of the Fauré Requiem, a beautiful piece of music that is its own expression of faith. I invite you to open yourself to the way faith is expressed in lyric, tune, volume, voice, facial expression, and instrument.
After worship, we invite you to join us in the Parlor for our final Faith Exploration workshop, where we will recap our journeys this season, and work on crafting our own expressions of faith, be they visual art, musical reflection, our own writings, or something entirely different! These expressions may be submitted anonymously or attributed, and we will display them around our Sanctuary for Easter Sunday.
This Sunday we will also be hosting the rescheduled Intergenerational Church School from that snowy MLK Sunday! Children and adults of all ages are invited to gather in Willett Hall at 9:45am for drumming, coloring, and other mindfulness practices that help equip us for working towards peace! We will depart at 10:45 for a palm procession around the block, proclaiming peace with palms, hosannas, and words from Dr. Martin Luther King Jr. and Gandhi.
See you Sunday!
In faith,
Amy
P.S. If you'd like to learn more about our Lenten season or see some of our take-home questions and Lenten study packets in this series to think about on your own, please click here.
To listen to last week's sermon on the Church and the World or subscribe to our podcast, click here.  
The Church and the World Take-home questions  
April 7, 2019, Fifth Sunday in Lent
United Parish in Brookline
The Church
For where two or three gather in my name, there am I with them. Matthew 18:20
They devoted themselves to the apostles' teaching and to fellowship, to the breaking of bread and to prayer. Everyone was filled with awe at the many wonders and signs performed by the apostles. All the believers were together and had everything in common. They sold property and possessions to give to anyone who had need. Every day they continued to meet together in the temple courts. They broke bread in their homes and ate together with glad and sincere hearts, praising God and enjoying the favor of all the people. And the Lord added to their number daily those who were being saved. Acts 2:42-47
Let the peace of Christ rule in your hearts, since as members of one body you were called to peace. And be thankful. Let the message of Christ dwell among you richly as you teach and admonish one another with all wisdom through psalms, hymns, and songs from the Spirit, singing to God with gratitude in your hearts. And whatever you do, whether in word or deed, do it all in the name of the Lord Jesus, giving thanks to God the Father through him. Colossians 3:15-17
Why do you come to church?
What do you receive from it?
How do you know when or if it is helpful or beneficial for you?
How does your experience in church inform the rest of your life?
Our Faith out in the World
Now the eleven disciples went to Galilee, to the mountain to which Jesus had directed them. When they saw him, they worshipped him; but some doubted. And Jesus came and said to them, 'All authority in heaven and on earth has been given to me. Go therefore and make disciples of all nations, baptizing them in the name of the Father and of the Son and of the Holy Spirit, and teaching them to obey everything that I have commanded you. And remember, I am with you always, to the end of the age.' Matthew 28:16-20
If someone asked you to describe your faith life and what's important to you, what would you say? What would be the main points?
Remember how we spoke the first week of faith being a mixture of beliefs, ultimate loyalty, ultimate trust and worldview. We have also talked about our various understandings of God the Creator, Jesus and the Holy Spirit as the grounding of our Christian faith. How does your faith inform how you are and what you do in your life (e.g., at work, home, in relationships, your politics, your money)?
Do the verses above make you uncomfortable or do they inspire you? Why?
What are ways you might be willing to make your faith more visible in the world? Why or why not?