By Kent French
July 7, 2022 - 9:17am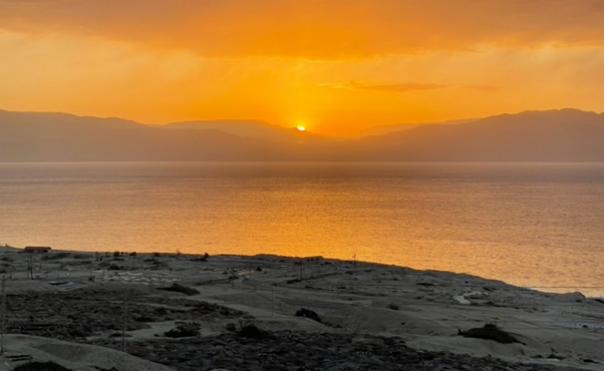 On February 20, I preached alongside our sabbatical pastor, Peter Ilgenfritz, about the need for all of us to take regular breaks and the biblical mandate for a weekly sabbath rest. The next day I took that preaching to heart and embarked on a four-month-plus sabbatical, funded by a generous grant from the Lilly Endowment. The sabbatical took us to Pennsylvania, Cape Cod, Israel, Greece, Italy, France, Switzerland and Quebec. Quite a journey!
Last Friday, July 1, I returned to United Parish and have been gradually getting caught up on all the good and faithful collaborative ministry and church life that has been going on in my absence. I am newly impressed by the strength and faith of this community and delighted to find the ways that Peter helped empower both staff and members.
And yes, I learned about the even bigger multi-million-dollar projections for what it will cost to repair our building. I am not too fazed by this, particularly in light of the evidence that the Holy Spirit is alive in our midst. (Translation: there's a lot of good, healthy, active spiritual energy in this Christian community.) 
So, on Sunday, I would like to share some of what happened with Robert and me on the sabbatical and some thoughts about how we ground ourselves for this next chapter of our life together. In thinking about our church's life and mission, I have kept coming back to how Jesus' articulated the fundamentals of our faith (in Matthew 22:37-40): 
"You must love the Lord your God with all your heart, with all your being, and with all your mind. (Deuteronomy 6:5)
This is the first and greatest commandment.
And the second is like it: You must love your neighbor as you love yourself. (Leviticus 19:18)
All the Law and the Prophets depend on these two commands.
Love of God, love of neighbor, love of self.
How are we called to do that amid financial challenges of sustaining our physical home?
How are we called to do that in our relationships with the Brookline Food Pantry, the Greater Boston Interfaith Organization, Building a Better Brookline and others? 
How are called to do that when we witness increasing division and violence in our wider culture?
How are we called to do that when we lose more faith in our government's leaders and institutions?
We won't get to the answers on the Sunday, but we are called to live into these questions. I am grateful to re-enter the conversation with you, starting in worship.
In faith,
Kent
Image credit: Sunrise over the Jordanian Highlands and the Dead Sea at Ein Gedi, March 24, 2022. Photo by Kent French
If you'd like to read or listen to previous sermons, or subscribe to our podcast, please click here.
If you'd like to watch previous worship services, please visit our YouTube page.