By Marla Walters
June 8, 2017 - 11:01am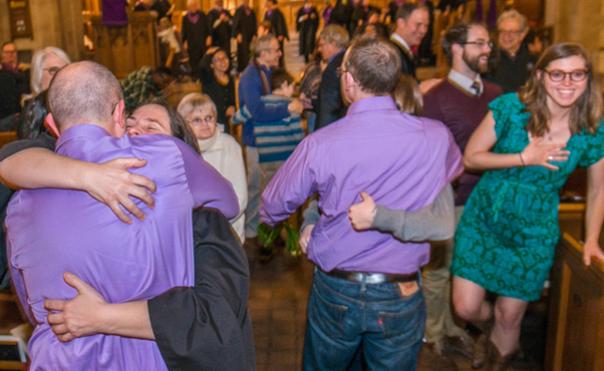 Last Sunday we celebrated the Day of Pentecost, and recalled together that fantastic story about the Holy Spirit whooshing through Jesus' followers and a whole lot of other people (Acts 2:1-21) — helping them understand one another, despite their different languages, helping them envision a hopeful and courageous future together, despite their fear, giving them a boldness they didn't know they had.
Peter preached a big, fiery sermon. And the number of believers went from 120 to 3,000. It's an amazing first-century kind of story. So amazing that I often wonder if we believe anything like that could ever happen in the 21st century.
Of the three parts of the Trinity, I am often most drawn to the Holy Spirit. She is unpredictable. She is fluid. You can breathe her in and out. She travels on the gentle breezes and the gale-force winds. If we're willing and attentive, she can astound us and amaze us. We can pass her off as coincidence or synchronicity or dumb luck, but if we put on our theological lenses, she's a very present help: the presence of God in whom we live and move and have our being (Acts 17:28).
This week, we're going to pick up at the end of Peter's sermon (Acts 2:37-47) and how the early church people went forth. It's a beautiful vision of a utopian sort of community where everyone broke bread, gave to the poor, taught and worshiped and "shared all things in common." And it says many signs and wonders took place in their midst.
As I look around at our congregation, I see many signs and wonders all the time: spiritual and material gifts abounding, kindness, a pervasive love, a commitment to justice, a commitment to children and youth, to intergenerational relationships, to taking care of one another, to soaring music. Together, I want us to reflect on these signs and wonders, as well as the growing pains we may be feeling as a congregation.
This Sunday:
Teacher Appreciation Breakfast, 9:45am in Memorial Park.
We will welcome a first visit from Amy Norton, our new Acting Associate Pastor, who will lead worship with us. (She will begin officially on July 2).
We will also celebrate and honor the service of our devoted Communication and Office Administrator, Marla Walters, who will be retiring on June 30. I invite you to bring cards and gifts for her.
We will gather after worship in Willett Hall to break bread together, to share in these signs and wonders with "glad and generous hearts." Come hear about the many good things going forward in the life of our congregation.  We will approve our budget — our organized generosity — together. We will give thanks for the ways the Holy Spirit is breathing in our midst.
In faith,
Kent French
Senior Pastor