By Kent French
December 13, 2018 - 9:28am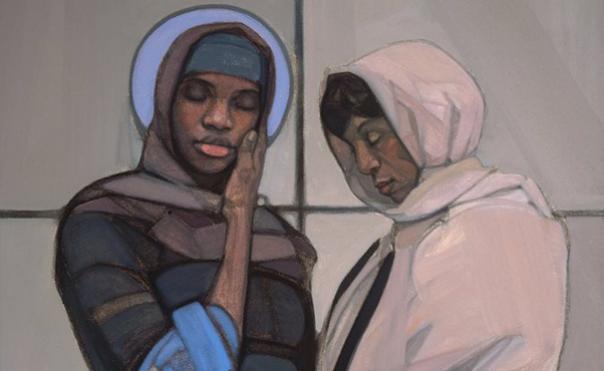 You probably remember that right after Mary heard from the angel Gabriel that she would be bearing the "Son of the Most High," she went hastily to tell her elder relative Elizabeth. After she arrived and greeted Elizabeth, little fetus John the Baptist leapt in Elizabeth's womb, and the older woman immediately recognized what was happening to Mary.
And then Mary breaks into a kind of poem or song, traditionally called the Magnificat (Latin for "magnifies," Luke 1:46-55). It's basically her own re-write of a revolutionary poem that her faith ancestor Hannah prayed when she learned she was pregnant with the prophet Samuel (1 Samuel 2:1-10). Nearly every Advent, we re-visit Mary's version.
A colleague of mine realized that helping people sing the Magnificat in their own way was at the heart of his pastoral ministry. It meant helping each person find their own images and language in which to take part in the Big Story of God's transforming love in the world.
For him, that image is a "pregnant girl with uplifted chin, knowing smile, and steely eyes." The language of the Magnificat is about strengthening, upholding and caring for one another. It's about rejoicing in God, about living in a story from generation to generation. It is about seeing God's option for the poor, filling the hungry with good things and sending the rich away empty. It is to sing a song of high revolt.
I wonder what it would mean if we internalized Mary's song, kept it close for a while, had it fully inform our words, actions, relationships, politics. On Sunday, we will wonder aloud together about this.
We will also hear from our Cherub, Carolers and Chancel choirs. We will baptize a baby named Noelle, with the help of her ordained grandfather. It promises to be a heart-warming Sunday, as we gather once again around the story of Mary and Elizabeth.
If you want to hear last week's sermon on John the Baptist, click here.
This Sunday, December 16
Missions Giving Christmas Fair, after worship. Support worthy organizations in honor of someone you love.
Thursday, December 20
6:30-7pm -- Contemplative Midweek Worship in our Chapel
Sunday, December 23 (Advent 4)
11am -- Unrehearsed Christmas Pageant for All Ages
Christmas Eve (new times!)
5:30pm -- Prelude Concert
6pm -- Lessons and Carols Candlelight Service
Image credit: "Visitation" by Janet McKenzie