By Amy Norton
September 15, 2021 - 4:26pm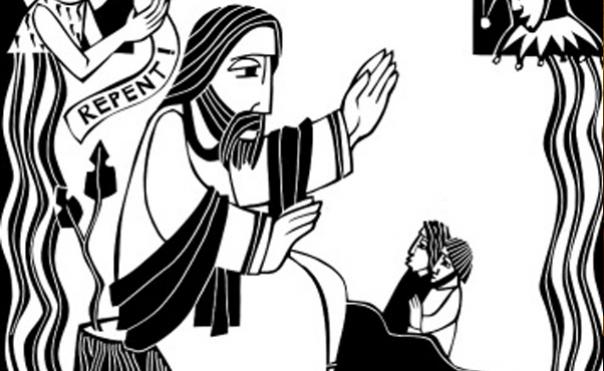 Greetings to you, and Peace, from the One who is, and was, and is to come!
This week, perhaps fitting for our return to in-person worship, we hear the story of Jesus' first sermon to his hometown, Nazareth. At first, the crowd goes wild, positively kvelling with pride: "Isn't that Mary and Joseph's boy? I knew him when he was a baby! Look at him now!!" But after Jesus shares a bit of his plans with them (namely, that he's perhaps not the hometown hero they were hoping for), they sour on him and attempt to throw him off a cliff. That's a pretty significant 180. 
This story invites us to examine our feelings of entitlement to Jesus' ministry among us, to where we think our place in line is, or should be...what we'd imagine Jesus' priority list might look like, and how we'd feel if he told us we had it backwards. 
This Sunday will also be our first Sunday of Church School! All of our children and youth are invited to gather on the front lawn at 9:45 for a song and a prayer before we disperse to our individual outdoor class spaces. Parents/guardians who haven't filled out a registration form yet can do so by clicking here. 
If you would like to skip the contact tracing/check-in line at worship, you can download the "Realm Connect" app (Apple, Android), sign into your Realm profile, and follow these instructions for using our mobile check-in come Sunday morning:
In the mobile app, click the three dots on the bottom right of your screen, where it says "more".

Click on "Mobile Check-In" 

The event(s) available for check-in will appear, click the empty checkbox of the event you wish to check-in for, and confirm. Your screen will show that you have checked in. 
I can't wait to see you and worship with you on Sunday!
In faith,
Amy
If you'd like to read or listen to previous sermons, or subscribe to our podcast, please click here.
If you'd like to watch previous worship services, please visit our YouTube page.
Image credit: art by anonymous, found on here.