By Kent French
November 16, 2017 - 10:21am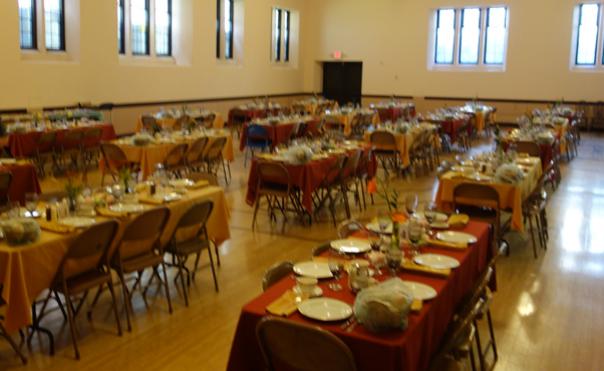 This Sunday, we step aside once more from our series on the Elements of Worship to celebrate and prepare for Thanksgiving Day.
Last Sunday, we heard a wonderfully engaging sermon about communion, and what it means to share a table with our companions (literally, "those who break bread together") and to follow Jesus into the realm of risky love. As you prepare for whatever meal you may enjoy this coming Thursday, I wonder how we may set the table of risky love.
If we think about the original Thanksgiving feast in 1621, it was a gathering of unlikely allies:
1. English religious utopian separatists, tossed about by harassment and persecution who, uninvited, sought to create a new homeland for themselves.
AND
2. Indigenous Wampanoag people, who had been on the land for generations, recently decimated by a European-borne plague.
Evidently, it started out well. They had a three-day feast and later an agreeable treaty that lasted for months, even years. But not for generations. It would be the beginning of enmity between European settlers and indigenous people that would go on for centuries and span the continent.
How does this historic enmity play out in our everyday lives? In what we read on the web and in the papers? At our Thanksgiving tables? How do you overcome enmity? How do you break bread together and share your common humanity? How do you share the bread of Jesus' kind of risky love?
On Sunday, we will look at Deuteronomy 8:7-18 and delve into these questions.
And remember: Our United Parish Thanksgiving Meal. On Thursday, we will once again throw open the doors for our 30+year annual Thanksgiving meal to the wider community. All are welcome. All may serve in some way. All may share in this reconciling work. For more information, click here.