The Grace of Giving in Gratitude
By Kent French
April 28, 2017 - 7:54am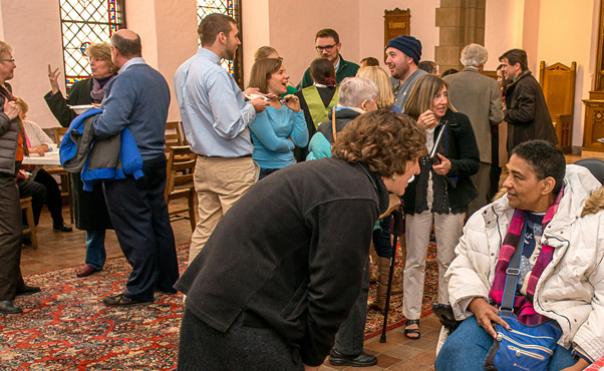 When I enter the doors of United Parish, I am filled with gratitude. Gratitude to be a part of such a loving place. Gratitude to be among people who want to deepen in their faith and make a hopeful and helpful difference in the world around us. Gratitude to be a part of a community that wants to continue growing and stretching into the future. Gratitude to be in a place where the Spirit is truly alive.
Over the next four Sundays, we are going to sink into this kind of gratitude and what it means to love, sustain and contribute to a community as especially beloved as ours. We often use the word "stewardship" for this kind of reflection,but that's become a clunky, big, churchy word, that has started to lose some of its meaning.
In truth, it's a word about love, about caring, about belonging to and participating in something bigger than ourselves. It's about caring for something or someone that we don't necessarily own, but we are committed to taking good care of until it's our time to pass it on to the next generation.
Here's how this season of Gratitude and Love will go the next four Sundays in worship:
Sunday, April 30, Stewardship of Spirituality, with pastor and member Patrice Ficken and a post-worship discussion about spirituality at United Parish. We will also celebrate with the Davies family in their baby's baptism.
Sunday, May 7, Stewardship of Creation, with members of our GreenUP Team a post-worship "Thinking Forward" informational session on the dreams and hopes of our ministry teams
Sunday, May 14, Stewardship of our Children and Youth, with our Rite 13 students and teachers
And finally, Sunday, May 21, Consecration Sunday, in which we invite EVERYONE to participate. we will bring our pledge forms forward in worship and celebrate with a catered lunch for all of us in Willet Hall this is also the last Sunday for our fantastic Seminarian, Lindsey Franklin
I look forward to this season of celebration, of reflecting thoughtfully about what we need to steward at United Parish. I hope you will make every effort to join us, because I believe we will be reflecting together on the heart of what we do as a progressively minded faithful Christian community.
In faith,
Kent French
Senior Pastor