By Kent French
April 20, 2017 - 9:47am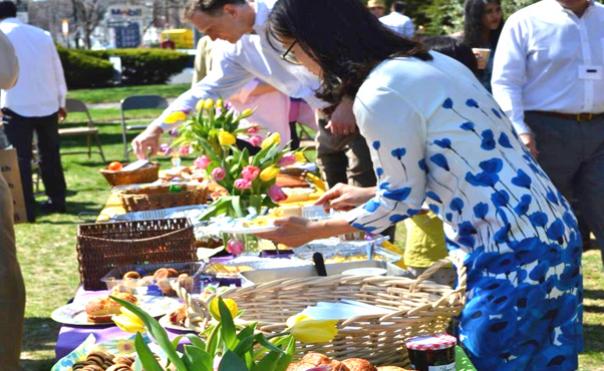 The Sunday after Easter is generally seen as a let-down. We go through all of the preparation and intentionality of Maundy Thursday and Good Friday, culminating in a big, festive, raucous celebration on Easter morning. And then what?
Certainly all of us who work in the church take a big breath on Easter Monday. We try to take it a little easier the following week.
We had a truly fantastic Easter at United Parish, filled to the gills, everyone had a flower in their hand, a trombone quartet, soaring music, and the summer-like weather let us have our breakfast and coffee hour on the lawn. Good News all around. And, we expect that the Sunday after Easter will be lighter attendance, especially as it falls at the end of Massachusetts school vacation week.
But here's the thing, the Sunday after Easter is a fresh, new start. This Sunday is when we remember that Christ has risen -- however you interpret that in your theology -- and that we get to start anew. The landscape has changed. Life triumphs over Death. Love over Hate. The unexpected is possible.
I look forward to this Sunday, because it is, like the hymn says, "a day of new beginnings, time to remember and move on, time to believe what love is bringing, laying to rest the pain that's gone."
On this Sunday, we will look together at what happened when Jesus strangely and suddenly appeared to his disciples (John 20:19-31) and what it means for us to hold doubt while keeping faith, what it means to see and believe in things that are yet to be realized.
I hope you will get out of bed and come join us. It's a new day, a new era of Eastertide and it's worth coming in for some Good News.
In faith,
Kent French
Senior Pastor