This Sunday: Spring Meeting
By Kent French
June 7, 2018 - 10:01am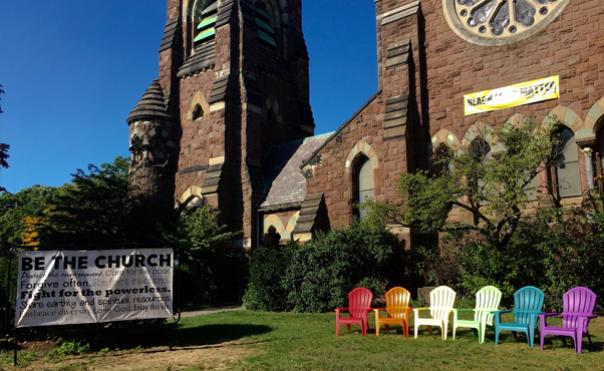 Twice a year, we hold an all-parish meeting: once in November and once in June. For some, okay maybe a LOT of us, that may sound really boring. All-parish meeting. Hmm. Meh. I'll grant you, it's not the most exciting thing we do here, but it's a cool thing, a worthwhile thing.
It's a time when we pause and reflect collectively about where we are as a congregation, where we are headed, and most of importantly, where we think God is in the midst of this. And I have to say, from where I sit, it's pretty exciting right now. Of course, we have to do some routine business, like approve our projected budget and vote in a slate of nominees for our Church Council, Endowment Ministry Team and Discernment and Engagement Team (if you have no clue what that is, come find out). We will also decide whether Amy stays with us indefinitely! I think you want to be present for that.
And once again this year, there's food! It's a potluck. So, I want you to come for some of it, even if it's just for the food and some conversation.
Overall, it's an acknowledgement of how God is working through us, to frame the work of this church theologically. How is God present? How is this the continuing Good News of Jesus Christ, the work and promise of the Holy Spirit? I imagine you don't think that way regularly in the rest of your life. It's my job to help you try on this lens. Kind of like trying 3-D glasses. It gives you a different perspective.
This Sunday, Amy and I are going to kick it off with a "State of the Ministry" sermon that we will offer together. It's a glimpse of a view from the pastors' chairs. What we see now and where we see God leading us. We will look to the Book of Acts for some scriptural grounding (Acts 2:37-47), that interesting and exciting moment right after the chaotic day of Pentecost, when the early church went from being just an idea to becoming a living, breathing, active movement of committed people.
We will have wonderful music, as always, with our youngest choir, our Cherubs, blessing us in worship. I want to see you there. It's an important day for all of us.
Coming up
Saturday, June 9,  Boston Gay Pride, meet Amy and me at 12:30pm in front of George Washington's statue in the Public Garden to watch the parade.
Saturday, June 16, Strawberry Festival, welcome the broader community on our front lawn, with face-painting, music, strawberry shortcake and more. Invite your friends! Come help out.
Sunday, July 17, Welcoming Muslim friends from Islamic Center of Boston (ICB), Wayland to lead worship.
Buildings and Grounds clean-up day, 1-7pm
Sunday, June 24, Summer Worship begins, 10am in Willett Hall downstairs