By Kent French
February 23, 2017 - 4:45pm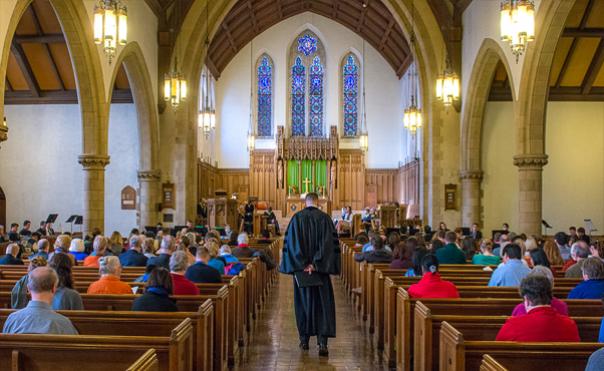 Each year, on the last Sunday before the season of Lent, the lectionary offers us the story of the Transfiguration (this year in Matthew 17). For us rational, reasonable Protestant types, it's a fantastical story. Even peculiar. Jesus shining like the Sun. Elijah and Moses appearing out of the blue. A cloud from heaven with a disembodied voice. Jesus asking his select posse of disciples not to tell anyone about it.
What does this story mean? What should we take away from it? I plan to lead us more deeply into those questions this Sunday, but in preparation, you might ask yourself, "What about my soul needs to be transfigured?" "What about my life needs to be transformed?" "What help do I need in this?"
Lent and You
Lent is a good time to live into these questions. The season begins this coming Wednesday, March 1. We will begin it at United Parish with Ash Wednesday services at 7pm in the Chapel.
I encourage you to think about taking on some sort of Lenten devotion or discipline. Something that will help make you more available and transparent to the love and energy and will of God. Maybe it will help you to give something up: like alcohol or high-glycemic carbs, or Facebook, or the daily news. Or…maybe you want to take something on: like 15 minutes of prayer every day, regular silence breaks, a walking practice, random acts of kindness.
Please let your imagination soar over the possibilities. Get creative. It was originally intended as a penitential season, and in modern terms, I believe Lent should be time in which we get more serious about some spiritual creativity and soul-transfiguring activity for our lives. How can we shake things up spiritually in some life-affirming, soulfully intentional ways?
Whatever you decide, make sure it's within reach. Don't overstretch it. Give yourself some reasonable standards.
One mentor of mine suggested that a healthy Lenten devotion involve some extra, intentional components of silence, study, and service. To that end, we will offer increased opportunities in these areas.
Silence
A precious commodity in our lives. Our Centering Prayer group will offer opportunities to join them in their spiritual practice after our Sunday morning worship services and after Thursday Midweek worship (starting March 9, 6:30-7pm in the Chapel).
Study
Our Adult Deepening Team is offering a look at Parker Palmer's Healing the Heart of Democracy, and finding ways to cultivate his five habits of the heart:
An understanding that we are all in this together
An appreciation of the value of "otherness"
An ability to hold tension in life-giving ways
A sense of personal voice and agency
A capacity to create community.
If you haven't already signed up for one of these study groups, please click HERE for more information and HERE to fill out the on-line registration form.
Service
We are inviting our various Stretching into Justice ministry teams to offer specific opportunities after worship each Sunday to step up our service. We will begin with a fantastic collaboration with Temple Shir Tikva on Sunday, March 5, to Stop Hunger Now.
Lent is a great season to re-kindle, re-form, re-transfigure our souls. I am ready to step into it with you. I'll see you this Sunday, as we prepare to do that together.
In faith,
Kent French
Senior Pastor