By Kent French
April 15, 2021 - 11:28am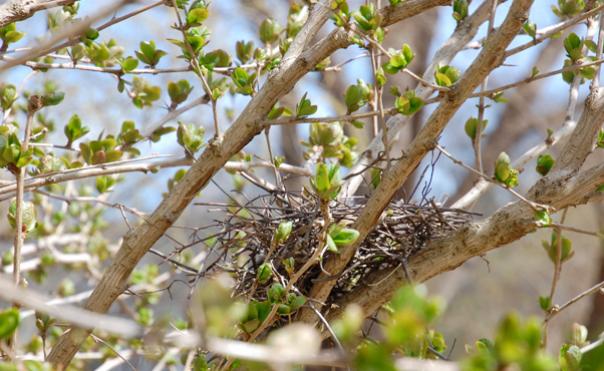 This Sunday, we welcome member Kate Baker-Carr as our preacher.
Kate writes:
These last weeks have been a time of great transition and change.
We have moved from Lent through three of the holiest days in the Christian calendar—Maundy Thursday, Good Friday, Holy Saturday—and are now in the joyous season of Easter! We are summoned to new life with the Risen Christ. The transition seems straightforward and direct, but in real life, it rarely is. Transitions can be murky and muddy, they can leave us feeling a bit disoriented, even overwhelmed. Where is this new life we are promised?
Just as the liturgical calendar has moved from Lent to Eastertide, in the Northern hemisphere the Gregorian calendar has shifted from winter to spring. In the last weeks as I have walked in the Arboretum, along the Emerald Necklace and around my neighborhood, I have watched with wonder as new life emerges, as buds first appear and then blossom. I marvel at the bird nests in treetops which have survived the harsh winds and snow of winter. How brilliantly they must be constructed! So too, I admire the delicate nests newly underway. Most of them are being built deep in bushes that will soon explode with blossoms that will shield the nests and their occupants from my view; there is but a short window to marvel.
The natural world makes the transition from one season to the next seem easy, even miraculous, which it is.
Like many of you, I have been thinking and praying about our collective transition from life in pandemic lock-down and isolation to the possibility of new life on the other side of vaccines, which some have begun to receive. How will we emerge? What will we need? Who will we be? Will the transition be murky and muddy or miraculous? I suspect a mixture of all three. What might the disciples and all they experienced in their own transitions—their journey from the Sea of Galilee to Maundy Thursday, from Good Friday to the first Easter and beyond—have to teach us about emerging into new life?  Sunday's sermon will explore these possibilities.
Until then, I leave you with a favorite poem by Wendell Berry:
A Dance
The stepping-stones, once
in a row along the slope,
have drifted out of line,
pushed by frosts and rains.
Walking is no longer thoughtless
over them, but alert as dancing,
as tense and poised, to step
Short, and long, and then
longer, right, and then left.
On Sunday, we look forward to tracing the stepping-stones of our faith and how the story of Eastertide meets the story of oru contemporary life.
If you'd like to read or listen to previous sermons, or subscribe to our podcast, please click here.
If you'd like to watch previous worship services, please visit our YouTube page.
To contribute to this year's Rite-13 Book of Wisdom, use this form. 
Image credit: "Nesting" by Kate Baker-Carr