By Kent French
April 6, 2017 - 11:39am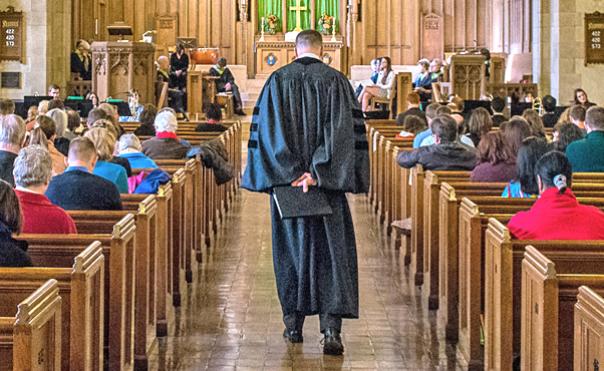 I was recently reading an essay by author and pastor Sara Miles, who writes about the "whiplash" of Holy Week:
Think about it. During Holy Week, we wave palms in the air and hail Jesus as king, the long-awaited messiah who's going to save us from our oppressors, then we change our minds and scream that the oppressors should crucify him;
we share a loving last supper with Jesus and he washes our feet, then we sneak out after dinner and betray him.
Jesus begs us to stay with him, we promise we will, then we don't.
We abandon him, he's arrested and beaten; he forgives us, then we run away.
Then Jesus is killed; we lay him in the tomb and weep; we go back for him, then he's gone, then he's back, and then — wait! — he's not dead at all.
Not all of us go through each step of Holy Week, but they are important steps. Holy Week is not just about the blinding exuberance of Palm Sunday or the Resurrection glory of Easter day. It is a week in which events keeping changing, keep turning around. And when we walk them deliberately, carefully, they bring a greater depth to what the Christian story is all about.
It's about paying attention to things eternal, values that last, matters of the soul, matters of God, even in the midst of uncertainty, of persistent evil, of things going badly.
I invite you to come this Sunday, when once again we will remember Jesus' triumphal entry into Jerusalem. We will wave our eco-palms and sing "All Glory, Laud and Honor," with our children and youth leading the way.
Later in the week, on Thursday we will enter the intimacy of Jesus' last meal with his disciples. He washes their feet, he breaks bread and serves wine, he tells them he is leaving this world and that some of them will betray and deny him. We begin with a foot (and hand) washing in the Chapel, beginning at 6:30pm, followed directly by a Communion Service in the Sanctuary at 7:00pm. We remember the scattering of the disciples that led up to Jesus' trial and execution and will follow this congregation's tradition of gathering in groups of 12 around the communion table.
On Friday at 7:00pm, we will remember the crucifixion, the betrayal, denial, torture, mocking and dying on the cross. We will hear once again the seven last words of Jesus, and meditate upon them with contemplative music and silence, and contemporary images of current events that reflect back to us what those words mean today. Gradually, we extinguish the lights in the sanctuary and walk together into the night.
Each time we take this Holy Week walk, it takes us deeper into the Christian story. It enriches the Easter experience. It reminds us of the potential "costs of discipleship" and the courageous people who followed Jesus' footsteps on the Via Dolorosa: the apostle Stephen (Acts 7), the apostle Paul, Joan of Arc, Dietrich Bonhoeffer, Martin Luther King, Jr., Oscar Romero, even political prisoners and people of conscience who are tortured or murdered today for their actions on behalf of love, compassion and justice.
The darkness of Maundy Thursday and Good Friday are in the world around us all the time. We, however, practice a Resurrection faith. We are willing to shine the Christ-light in the dark. Sometimes we need to meditate on the darkness to understand how and why we need to shine the light.
In faith,
Kent French
Senior Pastor