Welcome Back Sunday: 11am Worship LIVE on Zoom!
By Kent French
September 10, 2020 - 9:12am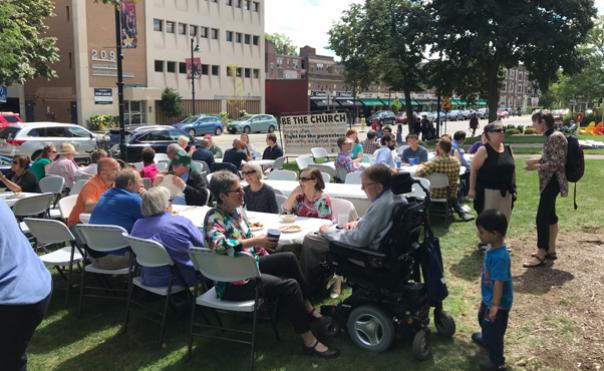 The first Sunday after Labor Day is our "Welcome Back Sunday," when we return from the (relatively) more laidback energy of a New England summer and begin our program year, just like all of the schools and universities around us. We celebrate with an after-worship cookout on the lawn.
This year, the pandemic makes it all different.
We will still gather. In the "welcome back" spirit, this Sunday we will have a live worship service on Zoom at 11am, available on our YouTube page thereafter (check your Friday and Sunday emails for details). We have encouraged our neighborhood groups to gather in small, physically-distanced picnics (see your "Calling All Hosts" email of August 27).
After a wonderful, creatively adaptive summer of 12 truly inspiring "Adventures in Faith," weekly outdoor sacred strolls, a first prayer hike, Black Lives Matter protests and legislative advocacy, and some casual outdoor gatherings, we now begin to recreate our fall and winter schedules, with multiple offerings for children, youth and adults. We will continue our prayer hikes and strolls into the winter and hold Thursday worship in Memorial Park while the weather allows.
In Sunday worship, we will return to lectionary readings and we are also looking to go to a leaner, online format. We are still figuring out what this will look like. This Sunday, we will look at Matthew 18:21-35 and Jesus' command that we must forgive others anywhere from 77 to 490 times. The Greek is a little unclear, but basically, a WHOLE LOT.
You may find forgiveness hard. There may be someone(s) in your life who really harmed you. Certainly, when we open our news outlets we see a real lack of forgiveness in leadership around the world. Lots of blaming. Lots of begrudging.
On Sunday, we will talk about what forgiveness is and what it is not and why it makes a difference for us to practice it regularly.
Come join us on Zoom, where we will remember that we are all welcomed, loved, forgiven and cherished — no matter the format.
In faith,
Kent
Ways to connect during the week (all Zoom info in the weekly email)
• Church School Convocation -- Sunday, September 13 at 9:45am on Zoom. Learn more.
• Adult Drop-In Bible Study, 10:00-10:45am on Zoom -- reflect with others on the scripture passage for worship. Learn more.
• Sunday Coffee Hour: on Zoom, directly after 11:00am online worship
• Tuesday Evening Prayers: 8:45-9:00pm, 15 minutes of peace via Zoom
• Thursday Morning Meditation: 8:00-8:30am on Zoom (changed from Wednesdays). Details here.
• Thursday Evening worship in Memorial Park, 6:30-7:00pm. Learn more.
• Sanctuary Prayer Times: by appointment only. Monday through Friday 8:00am to 3:30pm, and Monday and Wednesday evenings. Please schedule a week in advance by contacting the Church Office at office@upbrookline.org or 617-277-6860.  
Adventures in Faith this summer, available for re-watching on our YouTube page. Many of the transcripts are posted on the sermon pages as well.
June 21 Otis Moss III — Resistance and Action
June 28 JT Hills — Into the Unknown
July 5 Amy Norton — Beyond Pride
July 12 Lynn Modell — Recovering from a Broken Heart
July 19 André de Quadros and Halim Flowers — Becoming a Musical Activist
July 26 Paul Quackenbush — Seeing those Strange to me as Children of God
August 2 Seanna McGraw — Learning to Listen in Serving Others
August 9 Patricia Schram — Helping Opioid and Heroin Users
August 16 Mark Jones — The Blessings of Incarceration from God's Loving Discipline
August 23 Jesse Givens — Making a Documentary on Climate Activism
August 30 Kimberly French — Ministering to the "Unforgivable"
September 6 Cindy Vreeland — Helping People Out of Slavery