By Amy Norton
January 9, 2019 - 5:29pm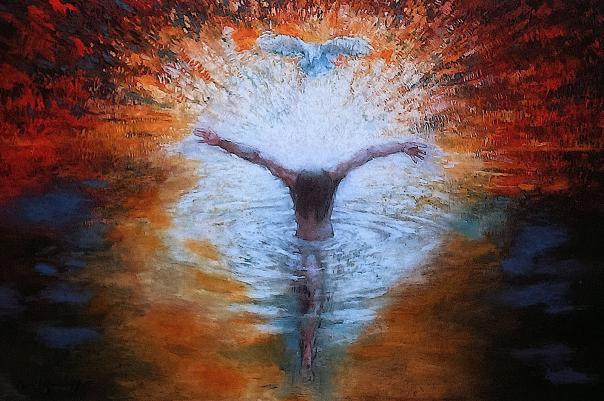 Whenever I think about Jesus' Baptism, I think of this scene from Godspell. I hear David Haskell's voice as John the Baptist, shouting out "...and he will baptize you all with the Holy Spirit, and with fiyahhhhh!!!" That's what came to mind when I was reading one of this Sunday's lectionary texts, Isaiah 43:1-7:
When you pass through the waters,
I will be with you; and through the rivers,
they shall not overwhelm you;
when you walk through fire you shall not be burned,
and the flame shall not consume you.
The ears hearing this message from Isaiah would've recognized the references to their own journey- they, too, passed through waters, with the help of God, in order to escape the Egyptians. They know the story of the non-consuming flame that signaled God's presence to Moses and left the shrub intact. What does it mean to us, though?
For me, it brings to mind the contemporary phrase, "baptism by fire," how it's used to mean someone learning the hard way, through a challenge or great difficulty...it's a more intense variant of 'hitting the ground running'.
So how does Jesus baptize us with fire? I'm pretty sure that like John the Baptist, we just use water in our baptismal font...I think the real baptism by fire comes in what happens after the formal sacrament of baptism takes place, be it infant baptism or believer's baptism (which I'll talk a little more about in Sunday's sermon!). Following Jesus doesn't assure an easy life; in fact if anything, it generally means that at some point we'll be irritating some powerful people and will have to bear the brunt of that for the sake of Love and Justice. The sacrament of baptism doesn't mean that a Christian life is easy, but that in the baptism by fire that is a Christian life, as Kent and I reaffirm every time we have a baptism at United Parish, "you are never alone".
Come for worship at 11am on Sunday to dig in deeper to this sacred story and how we might carry it with us in the times we are baptized by fire.
We'll also be leading another tour of the United Parish building for our potential new members (and anyone else interested in learning more about our building!) after worship at 12:30, starting in the Sanctuary!
In faith,
Amy
To listen to Kent's sermon from last week, click here.