By Amy Norton
October 7, 2021 - 12:45pm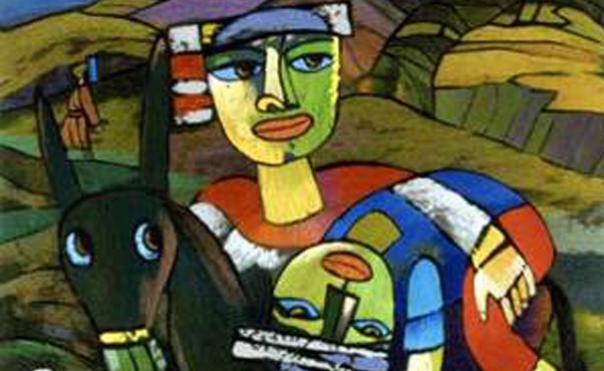 Dear Ones,
When I was little, my next-door neighbors were the previous owners of my parents' house, and we had a wonderful relationship. Their son babysat me, we fed their (stray) cats when they went out of town, and to this day I give the father, a local artist, a hug every time I see him around Marshfield. If their power went out and they came knocking for a space to warm up in, the door was always open. They were our neighbors, after all. 
Growing up, the idea of 'loving my neighbor' was pretty easy- how could I not love David, Lynn, Jess, and Kate?
But if someone who looked different from me, who dressed different, who smelled different, who sounded different, who had a different gait from me, if someone like that knocked on the door asking for a cup of sugar, let alone a place to warm up, I'm not sure how hospitable I would've been. That wasn't a neighbor, after all, that was a stranger. My generation grew up with an unfortunate philosophy of "stranger danger" that 1) ignored that the greatest risk of harm to children comes from people they already know, and 2) taught us to fear people who were different or unknown. 
Jesus has a much more expansive, radical, and loving definition of neighbor. To Jesus, every stranger is our neighbor. His parable of the Good Samaritan was a pointed example to his first century Jewish siblings. In 2019, our children and youth adapted that parable to a modern setting, which we will get to hear retold once again in worship this Sunday. 
I'm so excited to get to invite everyone to another outdoor family worship at 11 am on our front lawn (rain location: the Sanctuary)! Our outdoor family worship is crafted specifically to prioritize accessibility to children and youth, but nevertheless has something for everyone of all ages! 
After worship, our Gathering team invites everyone to stay for a Fall Fellowship Lunch at 12pm on the front lawn! Following that, all are encouraged to head over to Boston Common at 1pm for the 25th anniversary celebration of common cathedral, one of our ministry partners that serves our unhoused neighbors in Boston each week, rain or shine. 
See you Sunday!
In faith,
Amy
Upcoming activities:
Friday 10/8
8pm Zoom Trivia Night (Zoom link in the weekly newsletter)
Saturday 10/9
10:30am Apple Picking at Hackleboro Orchard in NH. More info here.
Sunday 10/10
11am Outdoor Family Worship
12pm Fall Fellowship Lunch
Sunday 10/24
3pm Lexi Boudreaux's Ordination Service (this will be the main worship service of the day). More info here.
If you'd like to read or listen to previous sermons, or subscribe to our podcast, please click here.
If you'd like to watch previous worship services, please visit our YouTube page.
Image credit: "Good Samaritan" by He Qui