United Parish has choirs for all age groups: preschool, elementary aged, teens, and adult, and a handbell choir for teens and adults. All of our choirs are non-audition. We welcome newcomers, both expert and novice, throughout the year. Learn more about our choirs.
Want to get involved? Have questions?
Latest Choirs News
Join us for a United Parish Family Christmas!
Posted:
Nov 15 2022 - 2:28pm
On Saturday, December 3 at 3pm, we will gather in the Parlor for music, cookies, cocoa and crafts for all ages. Then, the party will shift to the front lawn where we will trim a tree and offer warm drinks and caroling to people passing by. Come share in the spirit of this season by sharing the Spirit - who, after all, is the reason. If you would like to contribute to the event, please feel free to bring your favorite holiday sweet recipe to share. Please contact gathering@upbrookline.org for more information.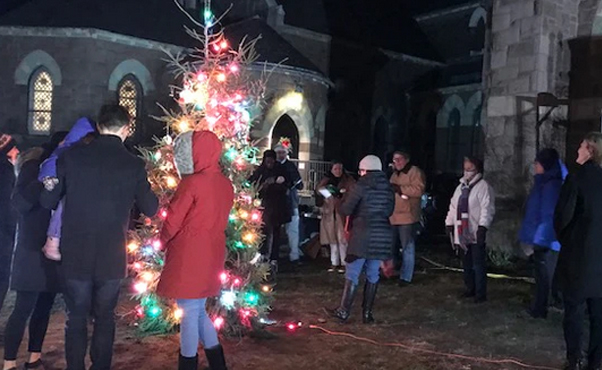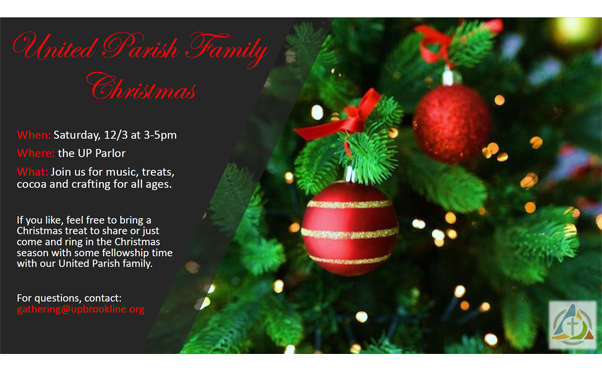 Music Ministries Wish Tree
Posted:
Nov 22 2019 - 1:44pm
This year, a Wish Tree will be added to our Marion Street lobby decorations. This is a tree of wishes for the various choirs we have at United Parish. What better time of year than now to put forth wishes for our choirs! There are color coded ornaments on the tree – Red for the Children and Youth Choirs wishes, Gold for the Bell Choir wishes, and Purple for the Adult choir wishes. Descriptions of what is wished for are on the back of the ornaments. Please feel free to look them over, and take any ornament with the wish item you would like to donate. Donations can be dropped off at the Church Office or Choir Room. Thank you for your support – it is greatly appreciated! Contact the Church Office at office@upbrookline.org.
Fall Kick-Off Sunday - September 9
Posted:
Aug 23 2018 - 10:47am
It's been a wonderfully rich and deeply meaningful summer as we explored the images of God in our midst, but next week worship will return to the Sanctuary as we kick off the 2018-2019 program year. We welcome you all to join us for music, Bible study, worship, and fellowship.
9:00am – Carolers and Youth Choir Orientation (Parlor)
9:45am – Church School Convocation (Sanctuary)
10:00am – Adult Drop-In Bible Study (Deepening Room)
10:00am – Chancel Choir Rehearsal (Choir Room/Sanctuary)
11:00am – Worship and Blessing of the Backpacks (Sanctuary)
12:00pm – All-Parish Potluck Cookout (Front Lawn)