In each of our denominations, the Bible is a touchstone and foundation for how we understand God and the workings of God in our world. We are committed to becoming more intimately connected to the Good Book: understanding both the context in which it was written as well as its meaning for our lives and our journey today. As Pastor John Robinson declared upon leaving for the New World nearly 400 years ago, we understand that "there is yet more light and truth to break forth from God's Word." Each time we approach the text, we not only bring new understandings to what we encounter, but we leave with new eyes to see this world and our sisters and brothers.  All of our Bible Studies welcome both veterans of biblical study and those cracking the binding for the first time.
Adult Drop-In Bible Study
During the School year, on Sunday mornings, in the Deepening Room from 10:00 - 10:45 am, join us as we gather to focus on the text that will be used in the worship service that day. No commitments, no contracts, no long term agreements, no switching fee, no hook-up fee.  Drop-in whenever you want.  Get a sneak peek on the scripture of the day and the sermon topic.  It is free, fun and at your convenience.  What can be better than this?  Bibles provided.  Learning optional.  No charge for sharing or using what you do learn.  All are welcome! Contact biblestudy@upbrookline.org.
Upcoming Bible Study Events
Latest Bible Study News
Adult Deepening Ministry Team Needs Your Ideas!
Posted:
Sep 3 2019 - 11:07am
Whether you're a newcomer or long-timer, the United Parish Adult Deepening Ministry Team hopes you will come to a dinner meeting on Monday, September 16 from 7:00-8:30pm in the Parlor to brainstorm and prioritize programming ideas for 2019-2020.
Fall Adult programming is already getting started: the weekly Sunday 10 AM Bible Study begins September 8.
Over the summer we have gathered many great ideas for one-time or multi-session programming. Here is a sampling of the possibilities suggested for programming that we will discuss, distill and augment with your ideas on September 16:
Quarterly "Prayer Retreats" in the Saturday morning format launched last year or other timeframes
Focused Bible studies on the Old Testament, Jesus' Parables, and gender/sexuality issues in scripture
Just Mercy by Bryan Stevenson, and other "stretching into justice" themed books on diversity, inclusion, segregation and greening issues
Advent devotional writing workshops
On September 16, let's enjoy a meal together and be realistic, creative and focused about how best to help United Parish adults deepen in faith and spirituality this year! Please RSVP to adultdeepening@upbrookline.org if you can attend or speak with Debra H., Adult Deepening team convener or Pastor Amy Norton if you have additional ideas and interests.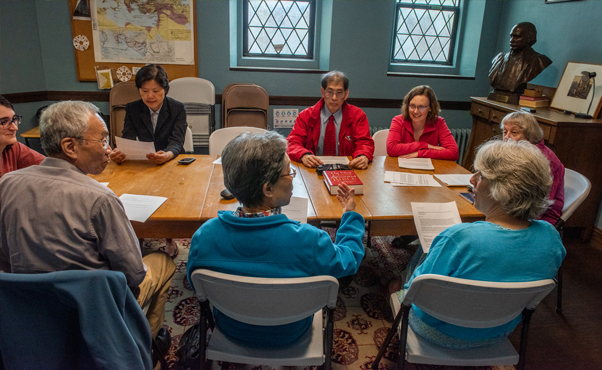 Adult Drop-In Bible Study Resumes September 8
Posted:
Aug 22 2019 - 10:53am
Did you know that attending Adult Drop-in Bible Study makes you smarter than the average bear? That's because you get a sneak peek at the scripture for the day and you will have a heads-up on the sermon. What could be better than that? So why not join us on Sunday mornings, beginning September 8, at 10:00am in the Deepening Room. No prep needed, no cost, no commitment. Come whenever you can. Meet your friends, learn something, and build your faith. Hope to see you soon. Contact Betty Gray or Deb Wald at adultdeepening@upbrookline.org.
Save the Date: Kick-Off Sunday
Posted:
Aug 22 2019 - 10:44am
On Sunday, September 8, worship will return to the Sanctuary at 11am as we kick off the 2019-2020 program year. We'll start the year off with an orientation for the Carolers and Youth Choir, Church School Convocation, the Blessing of the Backpacks, and an all-parish cookout on the front lawn.
SUNDAY, SEPTEMBER 8
9:00am
Carolers Rehearsal (Choir Room)
9:00am
Youth Choir Rehearsal (Parlor)
9:15am
Nursery Open (Room 203)
9:45am
Church School Convocation (Sanctuary)
10:00am
Adult Drop-In Bible Study (Deepening Room)
10:00am
Chancel Choir Rehearsal (Choir Room/Sanctuary)
11:00am
Worship and Blessing of the Backpacks (Sanctuary)
12:00pm
Welcome Back Potluck (Front Lawn; rain location: Willett Hall)
12:30pm
Confirmation Opening Retreat (Parlor)