In each of our denominations, the Bible is a touchstone and foundation for how we understand God and the workings of God in our world. We are committed to becoming more intimately connected to the Good Book: understanding both the context in which it was written as well as its meaning for our lives and our journey today. As Pastor John Robinson declared upon leaving for the New World nearly 400 years ago, we understand that "there is yet more light and truth to break forth from God's Word." Each time we approach the text, we not only bring new understandings to what we encounter, but we leave with new eyes to see this world and our sisters and brothers.  All of our Bible Studies welcome both veterans of biblical study and those cracking the binding for the first time.
Adult Drop-In Bible Study
During the School year, on Sunday mornings, in the Deepening Room from 10:00 - 10:45 am, join us as we gather to focus on the text that will be used in the worship service that day. No commitments, no contracts, no long term agreements, no switching fee, no hook-up fee.  Drop-in whenever you want.  Get a sneak peek on the scripture of the day and the sermon topic.  It is free, fun and at your convenience.  What can be better than this?  Bibles provided.  Learning optional.  No charge for sharing or using what you do learn.  All are welcome! Contact biblestudy@upbrookline.org.
Upcoming Bible Study Events
Latest Bible Study News
Advent at United Parish Calendar
Posted:
Nov 23 2022 - 3:46pm
We have a lot of wonderful programs happening over the next month. To help keep it all straight, click HERE to download a calendar featuring our special Advent events as well as our usual offerings, or pick up a handout on the welcome tables on Sunday.
Adult Drop-in Bible Study
Posted:
Sep 16 2021 - 6:31pm
Join us on Sundays at 10am starting September 19 outside on the Front Lawn for Adult Drop-In Bible Study. No prep needed, no cost, no commitment. Meet your friends, learn something, and build your faith. Contact Deb W. at biblestudy@upbrookline.org.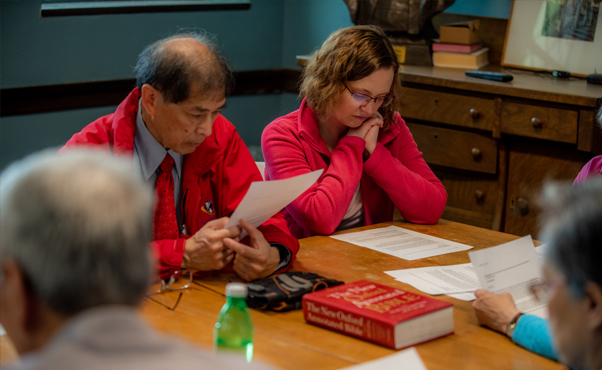 Please provide feedback on United Parish Summer programming ideas!
Posted:
Jun 8 2021 - 10:50am
Dear United Parish Friends,
Adult Deepening is interested in your feedback on summer programming ideas for this July and August. Adult Bible Study takes a break in the summer, but we have some other programming in the works that may interest you. We would appreciate it if you could take a few minutes to answer a short survey about Sacred Strolls and Prayer Hikes, Summer Book Groups, and opportunities for Meditation, Prayer and Spiritual Practices.
SACRED STROLLS & HIKES were launched last summer, with a focus on being together COVID-safely. Strolls are more leisurely, on even ground in interesting natural or cultural places. The hikes are on trails in public woodlands around greater Boston, and require more physical effort and agility. Both involve some outdoor worship.
Are you interested in Summer Sacred Strolls and Hikes, and do you have any suggestions for locations to walk or hike?
[  ] Hikes Yes       [  ] Strolls Yes          [  ]  No        [  ] Maybe
Suggested Locales: _____________________________________________
SUMMER BOOK GROUPS were regularly a part of summer adult programming before the pandemic, usually with one book for July and another for August. One book typically focused on modern Christian writers addressing the Bible or their faith journeys; the second focused on social change and justice issues. This year, we plan to offer both online and in person opportunities to discuss each book. We will schedule once we get a sense of who's interested.  
For July, Deb Hall and Mark Jones will engage us in discussion of Inspired – Slaying Giants, Walking on Water and Loving the Bible Again by Rachel Held Evans. Inspired invites readers on a journey of rediscovery of the Bible in new ways that honor the past and enlighten the present. Drawing upon recent scholarship and literary analysis, Evans creatively retells our favorite Bible stories, explaining their contexts and possible interpretations, and then connects these ancient stories to our present-day ones. See more information on Inspired at the end of this page. 
For August, there are several excellent books under consideration that address racial justice, with varying focus on the Church, the Bible and broader social & political context. We need your input so we can select a book that you would like to read and discuss in August. Some of these books are longer, and would benefit from several sessions, so we could start in August and extend into September. Summaries are at the end of this page. 
Caste: The Origins of Our Discontents
by Isabel Wilkerson
Reading While Black: African American Biblical Interpretation as an Exercise in Hope
by Esau McCaulley
The Church Cracked Open: Disruption, Decline, and New Hope for Beloved Community
by Stephanie Spellers
Are you interested in Summer Book Groups?
 [  ] Yes July   [   ] Yes August    [  ]  No    [  ] Maybe
What books on the list interest you most for August?
_______________________________________
Are there other books you recommend instead?
___________________________________________
I prefer:   [  ] online programming   [  ] in person programming consistent with United Parish guidelines.     [  ] Both work for me.
MEDITATION, PRAYER, SPIRITUAL PRACTICES – Adam Sutton's Thursday 8 AM meditation group has had a solid following this year, and may continue part of the summer, but we're also open to finding out what you need this summer from your United Parish family, and if you can offer to help organize or lead a group in prayer or other spiritual practices.
What I need  _______________________________________________________________
What I can offer _______________________________________________________________
 I prefer:   [  ] online programming   [  ] in person programming consistent with United Parish guidelines.     [  ] Both work for me.
Thank you so much for your ideas and preferences,
United Parish Adult Deepening Team – Debra Hall, Mark Jones, Adam Sutton
CLICK HERE TO DOWNLOAD THE SURVEY. Please return to adultdeepening@upbrookline.org.