Church School (Pre-K - 12th Grade)
The United Parish Church School is for children from pre-school through 12th grade. Children in these classes learn bible basics, stories from the Christian tradition, and explore some of the Big Questions of our faith in age-appropriate ways.
FALL 2020 UPDATE: Our curriculum this fall is a carefully curated conglomeration of resources, lesson plans, and activities crafted to meet the needs we heard from our United Parish parents. You'll also notice that our calendar is designed around an all-but-entirely remote year. If, during the year, our staff and reopening task force deem it safe to begin in-person church school classes, we will announce and adapt as necessary. Most, if not all, of the lessons we've selected are able to be easily facilitated in person.
Preschool and Kindergarten: Life with a toddler is unpredictable enough; we are not going to add Zoom classrooms to the mix! Instead, our Pastoral, Music, and Nursery staff, along with our Preschool and Kindergarten church school teachers, will be creating short videos for you to watch with your little ones whenever you have 10 minutes to spare (before bed, during snack or lunch time, when you need to get the wiggles out on a rainy day…). These videos will include song, story, ritual, and prayer, offered by familiar faces and filmed in familiar settings.
Elementary: Our Elementary curriculum this year is a hybrid (you're likely hearing that word a lot lately) of both Zoom-based lessons, virtual check-ins with teachers and classmates, and activities that families can do together at home, as you have the time/energy, the materials and instructions for which will be provided for you in monthly care packages that can be picked up from the church, or delivered to your home. 
Middle and High School: Click Here! 
Want to get involved? Have questions?
Upcoming Church School (Pre-school through 12th Grade) Events
Latest Church School (Pre-school through 12th Grade) News
Unrehearsed Christmas Pageant
Posted:
Dec 14 2021 - 5:35pm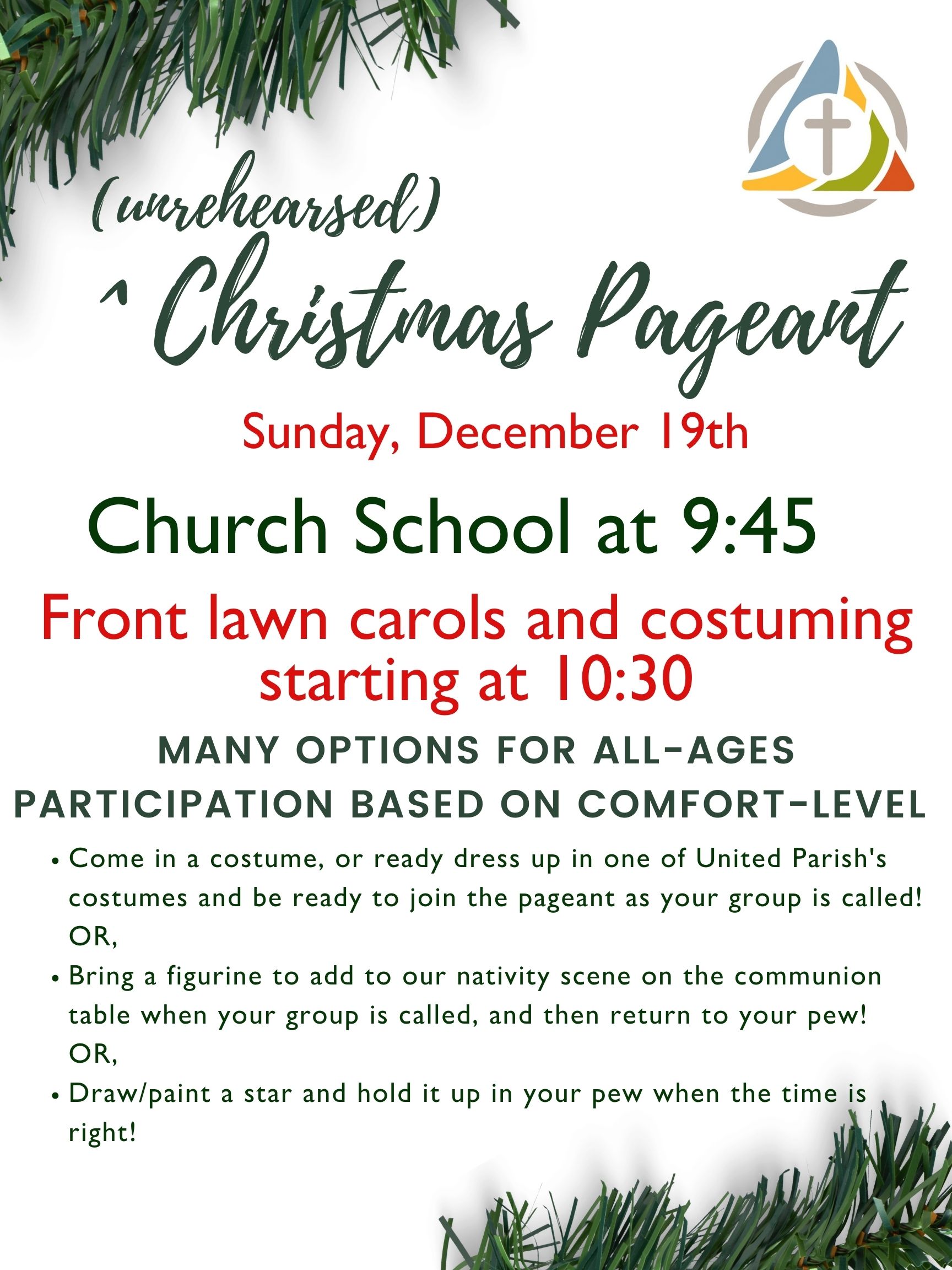 Outdoor Family Worship
Posted:
Oct 21 2021 - 5:41pm
Our third (and perhaps final, weather-depending) Outdoor Family Worship will be happening on HALLOWEEN! Worship will begin on the Front Lawn at 9:45am, where we'll sing, pray, learn about the story of Esther, and celebrate our own identities together. Children (of ALL ages) are invited to wear their Halloween costumes! In case you haven't had the chance to attend yet, this is going to be a great one! Outdoor Family Worship has been a new initiative this fall to not only provide a safer place for our vaccine ineligible children to worship with their families, but also to give children (and parents) a taste of what worship is like when Kids are the primary audience for whom the service was crafted. It's a little noisy, and a little silly, and a whole lot of fun. We hope to see you there! Contact Associate Pastor at amy@upbrookline.org.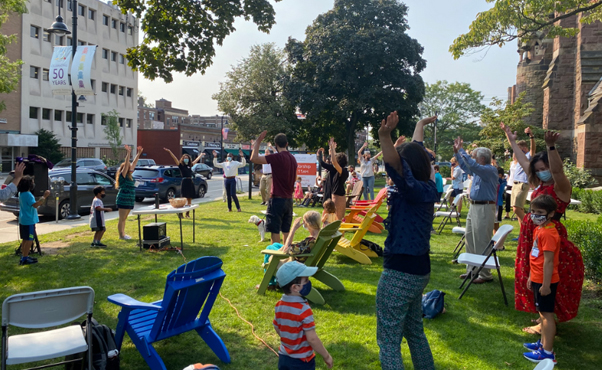 Church School Registration 2021-2022
Posted:
Aug 31 2021 - 5:52pm
Dear Church School Families,
In this electronic packet, you will find the following materials, which we hope will help you and your child(ren) ease into this brave new church year:
...Congratulations on making it even this far into a letter that I imagine is one of many you've already received from schools, daycares, you-name-it. We had all hoped that life would feel a little more stable and predictable by this point, and then "delta" entered our everyday vernacular.
We've heard your concern about indoor gatherings, and for the fall, church school will be held masked, outdoors, and under tents in the case of light rain or on very hot sunny mornings. We will not hold church school on days where there is truly inclement weather (windy rain and/or thunder), and will post the announcement by 8:30am on the church website, as well as notify you via text and on Realm. As we move toward the winter we will keep you updated on any adaptations we make for weather and pandemic changes.
We have also heard your desire for time to safely worship together as a family, and are delighted to invite you to a "Family Reunion" outdoor worship service on September 12th, at 9:45am, on the front lawn of the church. We are open to making this service a somewhat-regular offering, and therefore would welcome any feedback you have!
Music for children and youth will be continually adapting to CDC guidelines. In September, we'll begin our outdoor church school classes with song. For children and teens who are interested in helping Susan lead the songs, she will be having a short rehearsal starting at 9:30am to go through the chords and tunes. Guitars, drums, basses - singers - ALL welcome to be in our ad-hoc band! In mid October, Susan will offer a 6-week handbells program for grades 6 and up, and drumming/singing program for elementary-aged children. Rehearsals will be 9:00 am-9:45 am on Sunday mornings, and will culminate with a presentation in one of our Advent worship services. Vena and Deb will continue to sing with our littlest ones in their outdoor classrooms for as long as the weather permits!
Our curriculum this year is called Current: Seeking Justice Together. This curriculum has material tailored for all age groups, and will also inform our worship services in the fall, so that children and parents will be hearing the same lessons as one another, hopefully spurring some engaging car-ride-home conversations!
As we say in Rite 13, "nothing goes without saying". So let me be clear when I say this: your children are ALWAYS welcome in the United Parish community, no matter what they believe (or don't believe), no matter who they are or where they are on their journey.
Parents, you are always welcome here, no matter how many times your child has made it to church school (or not), no matter what your own comfort or familiarity with religion or the Bible is, no matter who you are or where you are on your journey. Know that United Parish as a whole will always be here to serve as a quirky, loving, spirit-filled co-parent, and it is an honor to be part of the village that helps raise your children.
I am always praying with you. I am available Sundays-Thursdays to pray, listen, and dream with you (or your kids) as you navigate this year- the best ways to reach me are via email at amy@upbrookline.org, or by leaving a voicemail at 617-277-6860 x2.
I look forward to traveling this road with you and your children, as we deepen in our faith and our community together.
Peace,
Amy Norton, Associate Pastor
Susan DeSelms, Minister of Music