Journey to Adulthood (8th & 9th Grade)
The Journey to Adulthood (J2A) class helps young people continue their spiritual journey by teaching students independent thinking and how to formulate and answer questions about God and their faith. J2A emphasizes the development of seven skills: listening, assertion, negotiation, research, information management, partnership, and leadership. During the second year of this program, students complete a confirmation curriculum that teaches what it means to become a member of this church and the church universal. In the spring, students may choose to join the United Parish in a special confirmation service. J2A culminates with a special week-long pilgrimage where students explore their spirituality in a destination that they choose together.
Upcoming Journey to Adulthood (8th and 9th Grade) Events
Latest Journey to Adulthood (8th and 9th Grade) News
GreenUP and Youth Group Beach Clean Up
Posted:
Jun 12 2019 - 10:00am
On Saturday, June 8, the youth and GreenUP team collected approximately 30 pounds of trash, mostly plastic, and had a very lovely Saturday morning at Revere Beach. They then enjoyed a great lunch together. All in all, a very successful outing. They hope to host another event in the fall and would love to have anyone who is interested join us! Contact greenup@upbrookline.org.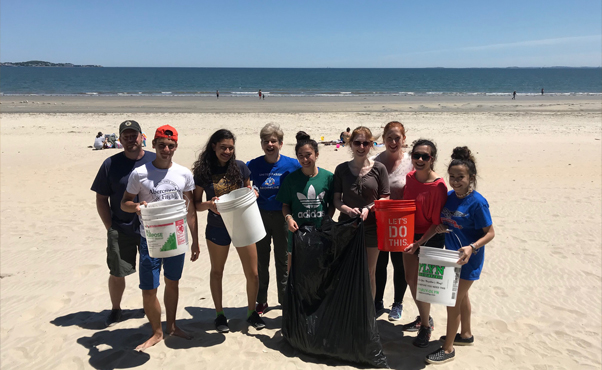 Dessert Auction to Benefit Pilgrimage
Posted:
May 29 2019 - 10:42am
During the All Parish Meeting on June 9, our 2019 Pilgrimage participants will have baked goods up for auction to help raise money for their service week in July at the Providence Experience. Samples of each baked good will be available for everyone and then you can bid on your favorite. Come with your sweet-tooth (and wallet) in tow and get ready for some friendly bidding and delicious baked goods! Contact Amy at amy@upbrookline.org for more information.
Youth Group/GreenUP Joint Beach Clean-Up!
Posted:
May 28 2019 - 4:51pm
On Saturday, June 8, all are welcome to join United Parish youth and GreenUP members for a clean-up of one of the Boston area's most popular beaches, Revere Beach. We will meet at the church parking lot at 10am and carpool to our assigned section of the beach for trash removal. We will work on cleaning up the beach for approximately two hours and then have lunch at a local clam shack before returning to church at approximately 2pm. Questions, please contact greenup@upbrookline.org. We hope that you can join us for the youth group's last event of the 2018-19 year!