Young Adults in Church (10th thru 12th grade)
The Young Adults in Church (YAC) class facilitates our older youth to enter into their call as disciples, active participants and ministers of the Church. The group meets for coffee, discussion, fellowship, and service. YAC teachers challenge the students to use their gifts and talents both within the United Parish community and beyond.
Upcoming Young Adults in Church (10th-12th grade) Events
Latest Young Adults in Church (10th-12th grade) News
Pilgrimage 2019
Posted:
Jul 17 2019 - 10:12am
Our J2A and YAC students are traveling to Rhode Island on July 28 to embark on this year's Pilgrimage trip, a program called The Providence Experience organized by the Rhode Island Conference of the UCC. They'll balance service and devotional time by serving God through a variety of service organizations during the day, and returning to the quiet rest of Irons Homestead in the evenings to relax in the beauty of nature. Please hold them in your prayers throughout this special week. Learn more at ricucc.org/theprovidenceexperience.
GreenUP and Youth Group Beach Clean Up
Posted:
Jun 12 2019 - 10:00am
On Saturday, June 8, the youth and GreenUP team collected approximately 30 pounds of trash, mostly plastic, and had a very lovely Saturday morning at Revere Beach. They then enjoyed a great lunch together. All in all, a very successful outing. They hope to host another event in the fall and would love to have anyone who is interested join us! Contact greenup@upbrookline.org.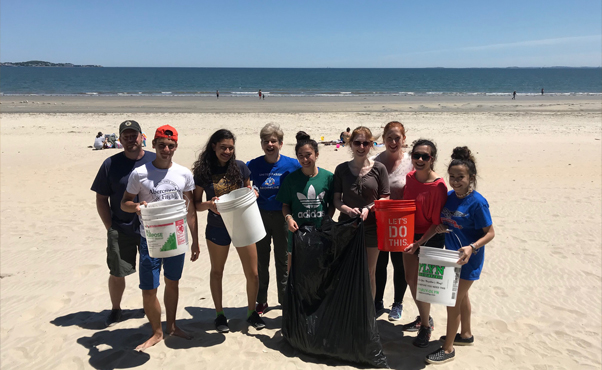 Dessert Auction to Benefit Pilgrimage
Posted:
May 29 2019 - 10:42am
During the All Parish Meeting on June 9, our 2019 Pilgrimage participants will have baked goods up for auction to help raise money for their service week in July at the Providence Experience. Samples of each baked good will be available for everyone and then you can bid on your favorite. Come with your sweet-tooth (and wallet) in tow and get ready for some friendly bidding and delicious baked goods! Contact Amy at amy@upbrookline.org for more information.