Looking for a way to connect with other young people in the Boston area who value exploring faith and spirituality? 20/30 Vision is a group for adults in their twenties and thirties who come together to deepen their faith through Bible study, community service and social justice activities, and fellowship and fun. We plan to get together once a week. Check out our Facebook Page (link below) for details about our next gathering.
We hope you consider joining us!
Upcoming 20/30 Vision Group Events
Latest 20/30 Vision Group News
Upcoming 20s/30s Events
Posted:
Mar 16 2023 - 11:56am
The 20s/30s Group is holding a game night on Friday, March 31 from 7-9pm in the Chapel. Who doesn't love a good game night?! Come join us for an evening of laughs and friendly competition! Bring your favorite card or board games, and some cash or Venmo if you'd like to partake in ordering pizza! Snacks/drinks also welcome.
Also, the group will be heading to Gloucester for a day trip on Saturday, April 15. Meet at the church at 9am. Sample activities include Hammond Castle museum, Good Harbor Beach, exploring restaurants and stores downtown, etc.! We will need drivers! If you plan to come AND have a car, please let Meagan M. and Jenny R. know! Contact Meagan and Jenny at 2030vision@upbrookline.org.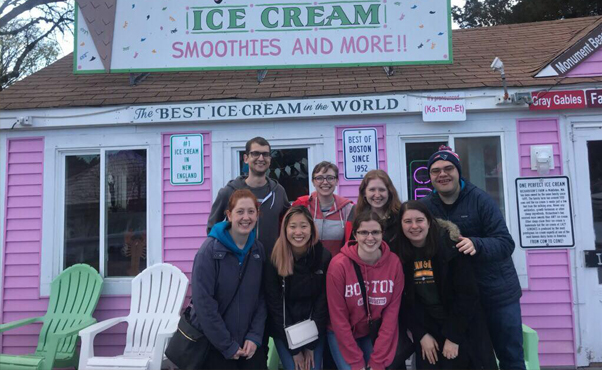 20s/30s "Christmas-Isn't-Over" Party
Posted:
Jan 5 2023 - 1:19pm
Don't pack up your ugly Christmas sweaters just yet!! We're going to make the season last a few more weeks! Adults in their 20s and 30s are invited to a party on Sunday, January 22 at 5pm off-site. Sign up to bring food and a Yankee Swap gift. There will be music, games and lots of fun! Carpools can be arranged if needed. Contact 2030vision@upbrookline.org for more information.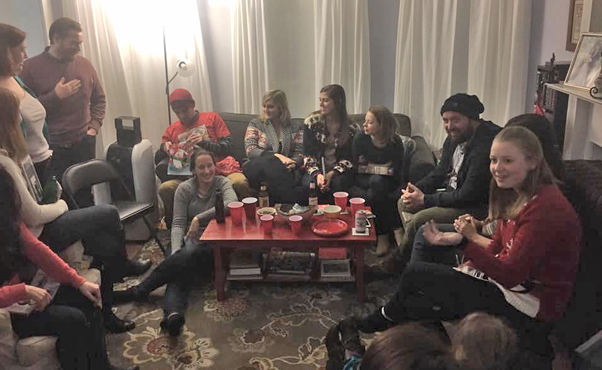 20s/30s Holiday Pen Pals
Posted:
Nov 10 2021 - 4:03pm
20s/30s Holiday Pen Pals - taking place all throughout Advent (November 28-December 24) - Email 2030vision@upbrookline.org no later than Sunday, November 21st to express interest in participating
In light of the ongoing pandemic, 20s/30s will be mixing it up this holiday season. In lieu of our typical in-person Christmas Party, we are going to set up Holiday Pen Pals! Everyone interested will be randomly paired up with another 20/30s member, both to foster and/or rekindle existing and new friendships and to help us spread holiday cheer. We hope this will be an important avenue for social connection during a time when in-person gatherings remain difficult (especially as the weather grows colder) and when we recently spent a year and a half physically apart from each other.
Once you are paired you are welcomed to connect and share contact information to begin writing cards to each other! You may write as often as you like, but we would suggest perhaps writing one letter for each week of Advent (4 total). We encourage handwritten notes, but if that is not feasible for whatever reason, electronic communication is fine.
Please respond to 2030vision@upbrookline.org by November 21st if you would like to participate in the 20/30s Holiday Pen Pals so we have time to pair holiday buddies together.
Pen pals may also exchange small gifts if they wish, but this is STRICTLY optional. Pairs are encouraged to discuss this, but either pen pal may veto the gift exchange option with no questions asked.