At United Parish in Brookline we love any excuse for two things: a chance to get together and a chance to eat!
Coffee & Conversation
Each Sunday before and after worship, the church comes alive with the smell of coffee, the sound of conversation, and goodies brought by members and friends. Connect with long-time friends, engage with visitors or find a quiet corner to catch up on the news. All are welcome!
Dinners for Eight
Twice a year, the Gathering Ministry Team hosts dinners (and cookouts!) for about eight in nearby homes and at the United Parish building. These gatherings offer good food and good conversation in a small group setting. Sign up when the next Dinner for Eight is announced. Everyone is welcome!
Picnics
Potluck picnics allow us to make closer connections amid the smell of a charcoal grill, the sound of laughter and the taste of potato salad, hot dogs, homemade dishes and fresh baked cookies!  Picnics take place next to the church building in our own Memorial Park. There we share stories, welcome visitors and sit around picnic tables while children jump and play on our playground equipment.
Potlucks
Throughout the year, we gather for shared meals and time to connect and enjoy each other's company. Potlucks are a great way to get to know someone you haven't met before, and catch up with old friends too. 
Latest Let's Eat! News
Easter Brunch
Posted:
Mar 24 2022 - 12:46pm
Easter Brunch Potluck
The Easter Brunch is back! Please join us on Sunday, April 17 at 10am in Memorial Park (the church playground area) and bring a favorite brunch item to share. We will spend the hour between the 9am and 11am services feasting in celebration of our United Parish family and our Lord. If we experience inclement weather, we will relocate to Willett Hall. With your dish, please also bring a note for display of any common allergenic foods it includes. We look forward to celebrating with you. Please contact the Gathering team with any questions about this event at gathering@upbrookline.org.
Volunteers needed!
We are looking for a few folks to sign up to help with Easter Brunch setup and cleanup. If you are available that morning and can help, please contact the Gathering team at gathering@upbrookline.org and we will be happy to coordinate the team and the effort. Thank you!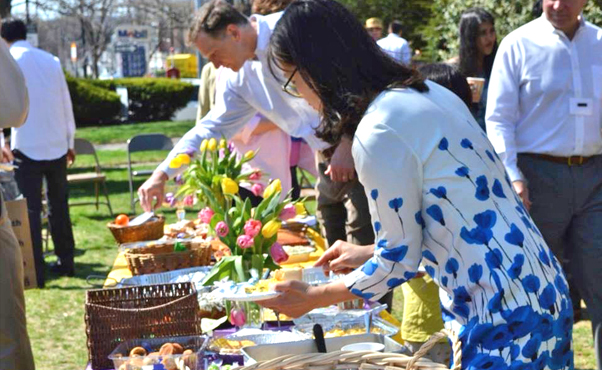 Fall Fellowship Weekend - October 8-10
Posted:
Oct 1 2021 - 1:34pm
Come join our Fall Fellowship Weekend activities on October 8-10! Check out the events flier HERE. We have a variety of exciting fellowship activities planned - a Zoom Trivia night promising lots of fun and prizes, an apple picking excursion to a family-favorite orchard, and coming together to celebrate with a lunch on the United Parish lawn after service on Sunday. Lunch foods will be provided but in the spirit of fall, we are welcoming anyone who would like to bring an apple dessert to share. We hope to see you at some or all of these events. If you have any questions about any of the weekend happenings, please contact the Gathering team at gathering@upbrookline.org.
Apple Picking Excursion Info 
Date: Saturday, 10/9/2021
Time: Meeting at the Orchard at 10:30am
Address: Hackleboro Orchard, 61 Orchard Rd, Canterbury, NH 03224
Meeting location: by the goats near the orchard store
Activities: apple picking, farm stand, burgers and hot dogs, pumpkins, hayrides, cider donuts, goats, bunnies, and chickens to visit, as well as opportunities for hiking in the woods with mountain views and enjoying fellowship in the great outdoors.
Things to bring:
Outdoor shoes
clothing layers
bug spray
sunscreen
water bottle
snacks
Contacts for the day:
Hackleboro Orchard: 603-783-4248
Ridesharing:
If you are interested in ride sharing (driving or riding), please contact Gathering at gathering@upbrookline.org
Ride share best practices:
Stay home if you are sick or if someone in your household is exhibiting undiagnosed symptoms
Wear a mask
Open windows to increase airflow
Consider seating that may allow for distancing if possible
Avoid using recirculated air
Use hand sanitizer
If you have any other questions about the day, please contact Gathering at gathering@upbrookline.org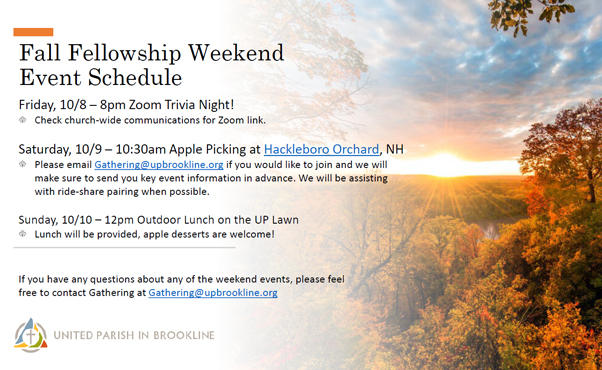 In-Person Coffee Hour Resumes September 12
Posted:
Sep 2 2021 - 2:26pm
We will be offering a special outdoor family worship service on Sunday, September 12 from 9:45-10:15am, geared towards children under 12 and their families. Our outdoor Coffee Hour that morning will be at 10:15am to allow folks attending only the outdoor worship or only the indoor worship to have fellowship time with each other. On September 19, we will resume our regular Coffee Hour schedule, which will be outside around 11:45am/12pm immediately following worship. Contact gathering@upbrookline.org.