At United Parish in Brookline we love any excuse for two things: a chance to get together and a chance to eat!
Coffee & Conversation
Each Sunday before and after worship, the church comes alive with the smell of coffee, the sound of conversation, and goodies brought by members and friends. Connect with long-time friends, engage with visitors or find a quiet corner to catch up on the news. All are welcome!
Dinners for Eight
Twice a year, the Gathering Ministry Team hosts dinners (and cookouts!) for about eight in nearby homes and at the United Parish building. These gatherings offer good food and good conversation in a small group setting. Sign up when the next Dinner for Eight is announced. Everyone is welcome!
Picnics
Potluck picnics allow us to make closer connections amid the smell of a charcoal grill, the sound of laughter and the taste of potato salad, hot dogs, homemade dishes and fresh baked cookies!  Picnics take place next to the church building in our own Memorial Park. There we share stories, welcome visitors and sit around picnic tables while children jump and play on our playground equipment.
Potlucks
Throughout the year, we gather for shared meals and time to connect and enjoy each other's company. Potlucks are a great way to get to know someone you haven't met before, and catch up with old friends too. 
Upcoming Let's Eat! Events
Latest Let's Eat! News
Join us for a United Parish Family Christmas!
Posted:
Nov 15 2022 - 2:28pm
On Saturday, December 3 at 3pm, we will gather in the Parlor for music, cookies, cocoa and crafts for all ages. Then, the party will shift to the front lawn where we will trim a tree and offer warm drinks and caroling to people passing by. Come share in the spirit of this season by sharing the Spirit - who, after all, is the reason. If you would like to contribute to the event, please feel free to bring your favorite holiday sweet recipe to share. Please contact gathering@upbrookline.org for more information.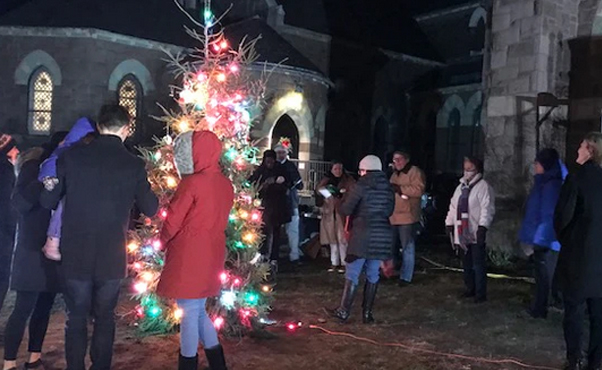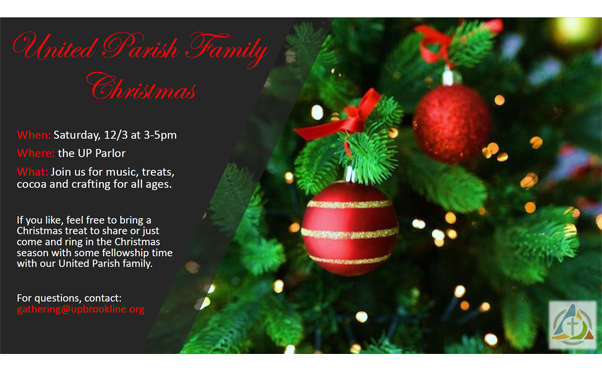 Welcome Back Sunday
Posted:
Sep 8 2022 - 7:22pm
Join us on Sunday, September 11 for worship at 11am on the front lawn. After worship, everyone is invited to stay for lunch hosted by our Gathering Ministry Team on the front lawn. What to bring? Lunch food will be provided but we are encouraging anyone who is interested to bring a dessert to share.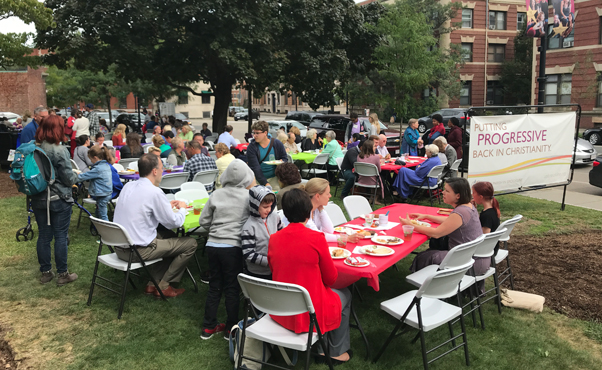 Easter Brunch
Posted:
Mar 24 2022 - 12:46pm
Easter Brunch Potluck
The Easter Brunch is back! Please join us on Sunday, April 17 at 10am in Memorial Park (the church playground area) and bring a favorite brunch item to share. We will spend the hour between the 9am and 11am services feasting in celebration of our United Parish family and our Lord. If we experience inclement weather, we will relocate to Willett Hall. With your dish, please also bring a note for display of any common allergenic foods it includes. We look forward to celebrating with you. Please contact the Gathering team with any questions about this event at gathering@upbrookline.org.
Volunteers needed!
We are looking for a few folks to sign up to help with Easter Brunch setup and cleanup. If you are available that morning and can help, please contact the Gathering team at gathering@upbrookline.org and we will be happy to coordinate the team and the effort. Thank you!