At United Parish in Brookline we love any excuse for two things: a chance to get together and a chance to eat!
Coffee & Conversation
Each Sunday before and after worship, the church comes alive with the smell of coffee, the sound of conversation, and goodies brought by members and friends. Connect with long-time friends, engage with visitors or find a quiet corner to catch up on the news. All are welcome!
Dinners for Eight
Twice a year, the Gathering Ministry Team hosts dinners (and cookouts!) for about eight in nearby homes and at the United Parish building. These gatherings offer good food and good conversation in a small group setting. Sign up when the next Dinner for Eight is announced. Everyone is welcome!
Picnics
Potluck picnics allow us to make closer connections amid the smell of a charcoal grill, the sound of laughter and the taste of potato salad, hot dogs, homemade dishes and fresh baked cookies!  Picnics take place next to the church building in our own Memorial Park. There we share stories, welcome visitors and sit around picnic tables while children jump and play on our playground equipment.
Potlucks
Throughout the year, we gather for shared meals and time to connect and enjoy each other's company. Potlucks are a great way to get to know someone you haven't met before, and catch up with old friends too. 
Upcoming Let's Eat! Events
Latest Let's Eat! News
LGBTQ Brunch
Posted:
Nov 12 2019 - 1:37pm
The Fall LGBTQ Brunch will be on Sunday, December 1 at 12:30pm. We'll gather in the Marion Street lobby after worship and walk across Harvard Street to Pho Lemongrass. All are welcome. Contact office@upbrookline.org for questions or more information.
All-Parish Meeting and Potluck!
Posted:
Oct 29 2019 - 1:54pm
Join us after worship on Sunday, November 17 in Willett Hall for our all-parish meeting and potluck lunch. Last names A-L are encouraged to bring desserts, and M-Z are encouraged to bring side dishes - but the most important thing to bring is yourself! We will provide lasagna, garlic bread, and drinks. Contact gathering@upbrookline.org for more information.
Potluck Setup and Cleanup Help Needed!
If you are available before church or could stay a bit after, we are looking for help with setup and cleanup for the all-parish meeting and potluck on Sunday, November 17. Contact gathering@upbrookline.org if you are available and interested in helping.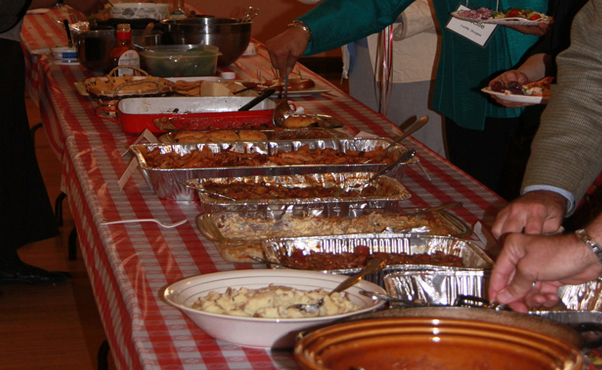 Coffee Hour Help Needed
Posted:
Oct 2 2019 - 11:03am
The Gathering Team is looking for three more people to bring food for Coffee Hour on November 10 and December 15. If you are able to help with one or both Sundays, please contact Mary M. at gathering@upbrookline.org. Crackers/cheese, fruit, juice, baked goods, veggies, etc... would all be good to have! The Gathering team can reimburse you up to $50 for food so don't let that stop you from picking something up-we can reimburse!