At United Parish in Brookline we love any excuse for two things: a chance to get together and a chance to eat!
Coffee & Conversation
Each Sunday before and after worship, the church comes alive with the smell of coffee, the sound of conversation, and goodies brought by members and friends. Connect with long-time friends, engage with visitors or find a quiet corner to catch up on the news. All are welcome!
Dinners for Eight
Twice a year, the Gathering Ministry Team hosts dinners (and cookouts!) for about eight in nearby homes and at the United Parish building. These gatherings offer good food and good conversation in a small group setting. Sign up when the next Dinner for Eight is announced. Everyone is welcome!
Picnics
Potluck picnics allow us to make closer connections amid the smell of a charcoal grill, the sound of laughter and the taste of potato salad, hot dogs, homemade dishes and fresh baked cookies!  Picnics take place next to the church building in our own Memorial Park. There we share stories, welcome visitors and sit around picnic tables while children jump and play on our playground equipment.
Potlucks
Throughout the year, we gather for shared meals and time to connect and enjoy each other's company. Potlucks are a great way to get to know someone you haven't met before, and catch up with old friends too. 
Upcoming Let's Eat! Events
Latest Let's Eat! News
In-Person Coffee Hour Resumes September 12
Posted:
Sep 2 2021 - 2:26pm
We will be offering a special outdoor family worship service on Sunday, September 12 from 9:45-10:15am, geared towards children under 12 and their families. Our outdoor Coffee Hour that morning will be at 10:15am to allow folks attending only the outdoor worship or only the indoor worship to have fellowship time with each other. On September 19, we will resume our regular Coffee Hour schedule, which will be outside around 11:45am/12pm immediately following worship. Contact gathering@upbrookline.org.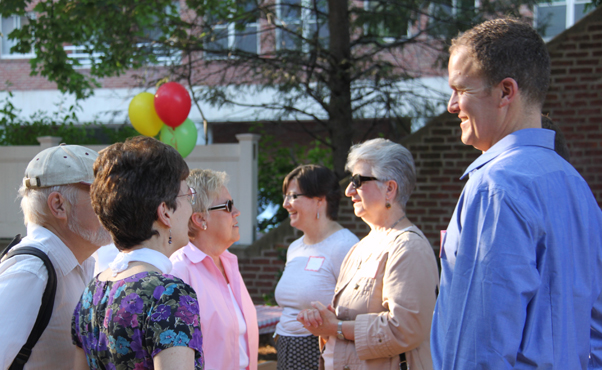 Sign up for Picnics for 8!
Posted:
Jul 20 2021 - 3:08pm
The Gathering Team is thrilled for the return of a favorite United Parish tradition, Dinners for 8! - or this time, Picnics for 8! 
These events are a chance for us to gather for fellowship and deepen our connections with one another in small groups of around 8 people. Meals will be hosted by members of the congregation over two upcoming weekends: July 30-August 1 and August 6-8. Daytime and evening gatherings are offered. All are welcome to attend—newcomers, long-time members, and friends of all ages!  
These picnics will be hosted outdoors to provide a safe and comfortable environment for anyone interested in joining. Please follow this LINK to review the United Parish guidelines for outdoor gatherings.
Sign up to attend a meal: If you would like to attend a meal, please click on this LINK to indicate your availability and other important information. The last day for registrations will be Sunday, July 25.
Please contact gathering@upbrookline.org with any questions and we look forward to seeing you at a meal!
Postponed: Know Your Neighbor Potluck & Chili Cook-off
Posted:
Feb 27 2020 - 2:03pm
Join us after worship on Sunday, March 15 in Willett Hall for our annual chili cook-off. This meal will be set up so you can sit with and get to know the folks from your area. We ask our wonderful chili chefs to bring in their best offerings. If chili is not your forte, please bring a dessert. Truly, the most important thing is that you bring is yourself! Contact gathering@upbrookline.org for more information.