At United Parish in Brookline we love any excuse for two things: a chance to get together and a chance to eat!
Coffee & Conversation
Each Sunday before and after worship, the church comes alive with the smell of coffee, the sound of conversation, and goodies brought by members and friends. Connect with long-time friends, engage with visitors or find a quiet corner to catch up on the news. All are welcome!
Dinners for Eight
Twice a year, the Gathering Ministry Team hosts dinners (and cookouts!) for about eight in nearby homes and at the United Parish building. These gatherings offer good food and good conversation in a small group setting. Sign up when the next Dinner for Eight is announced. Everyone is welcome!
Picnics
Potluck picnics allow us to make closer connections amid the smell of a charcoal grill, the sound of laughter and the taste of potato salad, hot dogs, homemade dishes and fresh baked cookies!  Picnics take place next to the church building in our own Memorial Park. There we share stories, welcome visitors and sit around picnic tables while children jump and play on our playground equipment.
Potlucks
Throughout the year, we gather for shared meals and time to connect and enjoy each other's company. Potlucks are a great way to get to know someone you haven't met before, and catch up with old friends too. 
Latest Let's Eat! News
Hosts Needed for Coffee Hour
Posted:
Sep 21 2023 - 9:32am
The Gathering Team is seeking folks who can help with coffee hour before and after church one Sunday a month. It involves coming and hour early to set up, and bringing some food…baked at home or purchased, including fruit, cheese, and snacks. All can be reimbursed. After church and most folks have left, the food and dishes need to be cleared away and washed (we have a dishwasher!) It's a great way to help that is flexible and fun! Contact gathering@upbrookline.org, or call Mary M. for more info.
Welcome Back Cookout, September 10
Posted:
Sep 6 2023 - 9:58am
Please join us for a cookout in WILLETT HALL on Sunday, September 10 after the church service (around 12pm). Everyone is invited to bring a side dish or a dessert to supplement the burgers, hot dogs, veggie burgers, chips, and drinks we will be providing. We could use some help with set-up, clean-up, and grilling during worship. If you'd like to volunteer, please sign-up on this form: Welcome Back Cookout Volunteers.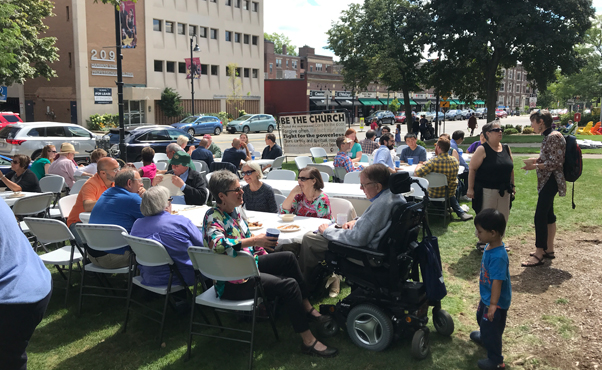 Welcome Back Dinners for 8, September 22 and 23
Posted:
Sep 6 2023 - 9:49am
In response to feedback received through our recent vision discernment work about a desire to gather more regularly in small groups, we are organizing Welcome Back Dinners for 8 on the evenings of Friday, September 22 and Saturday, September 23 (and a lunch option on Saturday, September 23, too!) Meals will be held in homes or at church and we can help coordinate transportation. This is a wonderful opportunity to find deeper connections and enjoy fellowship in a small group setting.
Please sign up HERE and we'll assign you to a meal on one of these two dates.
Thanks to everyone who has offered to host!
If you have any questions about our Dinners for 8 program, please reach out to gathering@upbrookline.org.