20/30 Vision Retreat
One weekend a year, the 20/30 Vision Group gets away from the city to have fun, play games, enjoy each other's company, eat together, and make music.  Learn more >
Fall Retreat
The annual United Parish Fall Retreat happens over a weekend in October during foliage season.  It is a longtime church tradition featuring fun, fall foliage and fellowship. The venue changes yearly, but is often a farm, large country house or camp in New Hampshire or Maine. Everyone is welcome!
Weekend activities often include hiking, kayaking, a kids' treasure hunt, spiritual discussions and quiet relaxing fellowship around the fire. We prepare and share delicious meals together. The retreat's Sunday worship service is often held outdoors in God's spectacular natural setting, and is part of the feeling of renewal and relationship so many experience during this special time together.
Children & Youth Arts Retreat
The Children & Youth Arts Retreat is a winter weekend filled with arts, music, laughter, food, and fun! Singing is the focus of the weekend as the children and youth choirs learn music they will share with the congregation in the spring.  In between rehearsals, a beautiful winter landscape provides the perfect backdrop for sledding and playing in the snow. Located in Groton, MA, the retreat center's gym offers a great place to play indoor sports, including a climbing wall that challenges both kids and adults.  All children and youth are welcome! 
Latest Retreats News
Register for the 2019 Fall Fellowship Weekend
Posted:
Sep 4 2019 - 5:50pm
We look forward to sharing a wonderful weekend of fellowship with you at Camp Aldersgate. You have the option of lodging at the conference center for one night or two. We'll share meals together, enjoy some group activities, and worship together on Sunday morning. Guests outside of the United Parish community are warmly invited!
Registration closes Monday, September 23. Changes to reservations cannot be guaranteed after this date.
Event Timing: October 11-13, 2019
Event Address:
 Camp Aldersgate (57 min drive from United Parish)
1043 Snake Hill Road
North Scituate, RI 02857
Below is the cost breakdown for participation based on the duration of your stay and meals you will share:
Lodging
Pricing for two nights:
Adult - $75
Youth (ages 9-17) - $30
Child (ages 4-8) - $20
Pricing for one night:
Adult - $50
Youth (ages 9-17) - $15
Child (ages 4-8) - $10
Meals
Adult - $14 per meal
Child/youth - $7 per meal
There is no lodging or meal cost for children ages 3 and under.
Checks should be made payable to United Parish in Brookline and should be directed to the Church Office before the start of the event (October 11). Please put "Fall Fellowship Weekend" in the memo line.
***Financial aid is available. Please contact Kent French at kent@upbrookline.org for more information.
Contact the Church Office at 617-277-6860 or office@upbrookline.org with any questions about the form or if you would like to register more than five participants.
Fall Fellowship Weekend: Save the Date!
Posted:
Jul 31 2019 - 11:11am
Mark your calendars! This year's gathering will be take place Friday, October 11 through the afternoon of Sunday, October 13. We will be staying at Camp Aldersgate in Rhode Island (1 hour and 15 mins drive from Brookline). It is a fun weekend for all and a great opportunity to find deeper connection with your United Parish family. Please join us! Registration will begin in September. Contact gathering@upbrookline.org for more information.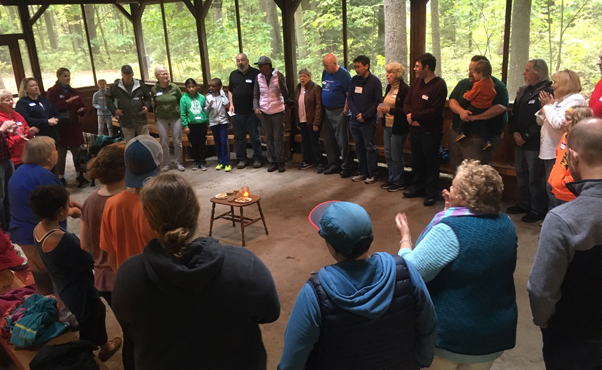 Winter Children and Youth Family Retreat
Posted:
Dec 12 2018 - 12:07pm
You and your children are invited to register for our annual Winter Retreat at Grotonwood in Groton, MA! The retreat spans from Friday night January 25, through Sunday morning January 27. This year, we will be working on a presentation for our new winter Epiphany Term, which will be a collaboration between the church school and the music ministry to explore the theme of inequality as it affects us.
The weekend will also include fun, food, gym, snow, games, fellowship, and perhaps some quiet time for our wonderful parents!
Prices are $80 per child ages 7-13; $110 for ages 14-adult; children under 6 for free; $325 maximum per family. Meals and lodging are included! Make checks payable to United Parish in Brookline. You must register and pay the church by Sunday, January 20 to guarantee your family's spot.
Learn more and sign up here.
Contact Associate Pastor, Amy Norton at amy@upbrookline.org and Minister of Music, Susan DeSelms at susan@upbrookline.org for more information.