20/30 Vision Retreat
One weekend a year, the 20/30 Vision Group gets away from the city to have fun, play games, enjoy each other's company, eat together, and make music.  Learn more >
Fall Retreat
The annual United Parish Fall Retreat happens over a weekend in October during foliage season.  It is a longtime church tradition featuring fun, fall foliage and fellowship. The venue changes yearly, but is often a farm, large country house or camp in New Hampshire or Maine. Everyone is welcome!
Weekend activities often include hiking, kayaking, a kids' treasure hunt, spiritual discussions and quiet relaxing fellowship around the fire. We prepare and share delicious meals together. The retreat's Sunday worship service is often held outdoors in God's spectacular natural setting, and is part of the feeling of renewal and relationship so many experience during this special time together.
Children & Youth Arts Retreat
The Children & Youth Arts Retreat is a winter weekend filled with arts, music, laughter, food, and fun! Singing is the focus of the weekend as the children and youth choirs learn music they will share with the congregation in the spring.  In between rehearsals, a beautiful winter landscape provides the perfect backdrop for sledding and playing in the snow. Located in Groton, MA, the retreat center's gym offers a great place to play indoor sports, including a climbing wall that challenges both kids and adults.  All children and youth are welcome! 
Latest Retreats News
Save the Date: Fall Fellowship Weekend
Posted:
Aug 4 2021 - 1:17pm
UPDATE 9/16/21: Due to the ongoing pandemic, we have decided not to hold a weekend overnight retreat in Rhode Island. However, the Gathering team is planning alternate daytime activities closer to home for that same weekend. More details will be coming soon.
--
This fall, we are hoping for the return of one of our beloved United Parish traditions - Fall Fellowship Weekend – on October 8-10. This is a time for making deep connections through meaningful and extended fellowship opportunities. We will be planning a return to the Aldersgate Camp in North Scituate, RI for our getaway. If the conditions allow us to hold the event, we will strive to create a safe yet engaging environment for all who participate.
Please take just a minute to fill out this survey about Fall Fellowship Weekend planning. This survey is designed to help us gauge interest around this event to ensure that we have enough anticipated participation to move forward with planning. Your feedback will also help us plan for meaningful fellowship, while meeting any safety concerns in this ever-changing environment. The survey will close on 8/29.
If you have any questions, feel free to contact gathering@upbrookline.org.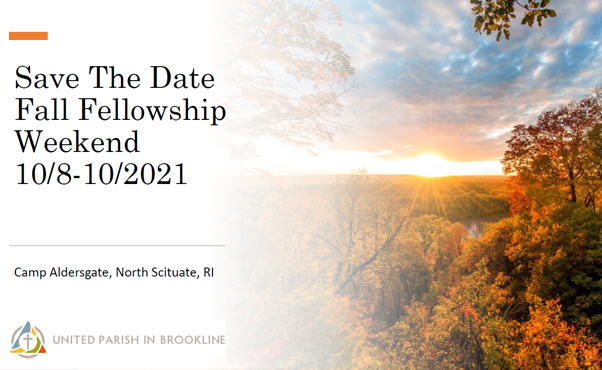 Prayer Retreat
Posted:
Oct 7 2019 - 2:29pm
We are gathering as a spiritual community on Saturday, October 19 from 9:30am-11:30am at United Parish in the Lindsay Room to share quiet prayer time with those you know and new friends. This will be a "come as you are" time to join in some group and individual prayer, learn some ancient and refreshed spiritual practices, and, weather permitting, take a contemplative walk outdoors to notice God's creation.
Too busy? Throughout the Gospels, we find Jesus retreating for prayer in the midst of his preaching, teaching and healing. We hope you will set aside time on a Saturday morning to renew your relationship with God and others, and reframe your approach to the everyday demands of life.
Pilgrims of all ages are welcome! Questions? Contact the Adult Deepening team at adultdeepening@upbrookline.org.
Save the date - the next Quarterly Prayer Retreat will be Saturday, November 30 to get ready for Advent!
Register for the 2019 Fall Fellowship Weekend
Posted:
Sep 4 2019 - 5:50pm
We look forward to sharing a wonderful weekend of fellowship with you at Camp Aldersgate. You have the option of lodging at the conference center for one night or two. We'll share meals together, enjoy some group activities, and worship together on Sunday morning. Guests outside of the United Parish community are warmly invited!
Registration closes Monday, September 23. Changes to reservations cannot be guaranteed after this date.
Event Timing: October 11-13, 2019
Event Address:
 Camp Aldersgate (57 min drive from United Parish)
1043 Snake Hill Road
North Scituate, RI 02857
Below is the cost breakdown for participation based on the duration of your stay and meals you will share:
Lodging
Pricing for two nights:
Adult - $75
Youth (ages 9-17) - $30
Child (ages 4-8) - $20
Pricing for one night:
Adult - $50
Youth (ages 9-17) - $15
Child (ages 4-8) - $10
Meals
Adult - $14 per meal
Child/youth - $7 per meal
There is no lodging or meal cost for children ages 3 and under.
Checks should be made payable to United Parish in Brookline and should be directed to the Church Office before the start of the event (October 11). Please put "Fall Fellowship Weekend" in the memo line.
***Financial aid is available. Please contact Kent French at kent@upbrookline.org for more information.
Contact the Church Office at 617-277-6860 or office@upbrookline.org with any questions about the form or if you would like to register more than five participants.