In 2014, members of United Parish began meeting and discussing how this church can work together to raise awareness of environmental issues in our community and in our world.
Since then, they have hosted various workshops and informational meetings, including a recent movie, Merchants of Doubt, with excellent discussion afterwards. They have participated in the Climate March in NYC and other key Brookline climate events, hosting the final event for Brookline Climate Week with Michael Dukakis.  In addition, GreenUP is inviting all to participate in the global Break Free from Fossil Fuels" initiative organized by 350.org in support of a just worldwide transition to renewable energy and in peaceful resistance to the international fossil fuel industry. 
Inhouse, they have partnered with the Building and Grounds Maintenance Ministry Team to change all lighting to LED, and is working with staff and members to "green-up" Coffee Hour by decreasing the use of paper products.
Mission Statement:
GreenUP of United Parish in Brookline is committed to reducing the carbon footprint of United Parish and fostering its stewardship of God's world. As caring and faithful Christians, we wish to reduce our negative impact on and improve our harmony with God's creation. We also wish to empower and educate the United Parish congregation, Brookline/Boston community, and beyond to reduce their own impact on the environment. We strive to reach these goals through outreach, education, service, and activism.
Latest GreenUP News
GreenUP and Youth Group Beach Clean Up
Posted:
Jun 12 2019 - 10:00am
On Saturday, June 8, the youth and GreenUP team collected approximately 30 pounds of trash, mostly plastic, and had a very lovely Saturday morning at Revere Beach. They then enjoyed a great lunch together. All in all, a very successful outing. They hope to host another event in the fall and would love to have anyone who is interested join us! Contact greenup@upbrookline.org.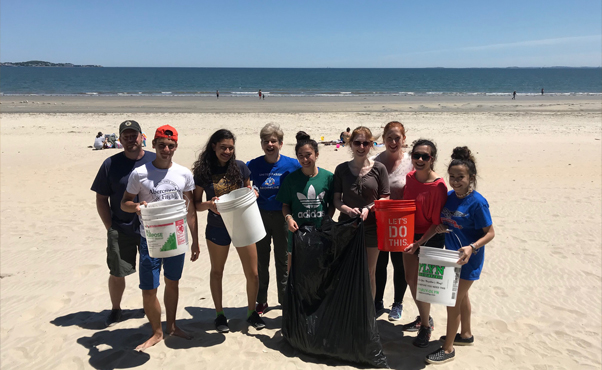 Youth Group/GreenUP Joint Beach Clean-Up!
Posted:
May 28 2019 - 4:51pm
On Saturday, June 8, all are welcome to join United Parish youth and GreenUP members for a clean-up of one of the Boston area's most popular beaches, Revere Beach. We will meet at the church parking lot at 10am and carpool to our assigned section of the beach for trash removal. We will work on cleaning up the beach for approximately two hours and then have lunch at a local clam shack before returning to church at approximately 2pm. Questions, please contact greenup@upbrookline.org. We hope that you can join us for the youth group's last event of the 2018-19 year!
GreenUP and Climate Action Brookline Film Screening
Posted:
Apr 9 2019 - 5:21pm
Film Screening: Current Revolution: Transforming America's Electric Grid

For decades the utilities industry has been a driving engine of the U.S. economy, contributing significantly to our progress and standard of living, with a business model that focused on centralized generation. Today, however, in the face of a crisis that requires capturing new market share, the industry has its sights on the transportation sector. This shift could catalyze the electric vehicle industry but also sets it on a collision course with major petroleum interests. This new film by the American Resilience Project, along with associated media, educational materials, and an advocacy campaign, tackles the challenge of modernizing the power grid. Through interviews, observational, and archival footage with top executives, military personnel, utilities workers, and elected officials, the film tells the story of a towering American industry on the brink of massive change. Whether it fails, prevails, or adapts, the outcome will profoundly affect us all.
Thursday, April 25
7:30pm
United Parish's Parlor
Free
Learn more at climateactionbrookline.org or contact greenup@upbrookline.org.