In 2014, members of United Parish began meeting and discussing how this church can work together to raise awareness of environmental issues in our community and in our world.
Since then, they have hosted various workshops and informational meetings, including a recent movie, Merchants of Doubt, with excellent discussion afterwards. They have participated in the Climate March in NYC and other key Brookline climate events, hosting the final event for Brookline Climate Week with Michael Dukakis.  In addition, GreenUP is inviting all to participate in the global Break Free from Fossil Fuels" initiative organized by 350.org in support of a just worldwide transition to renewable energy and in peaceful resistance to the international fossil fuel industry. 
Inhouse, they have partnered with the Building and Grounds Maintenance Ministry Team to change all lighting to LED, and is working with staff and members to "green-up" Coffee Hour by decreasing the use of paper products.
Mission Statement:
GreenUP of United Parish in Brookline is committed to reducing the carbon footprint of United Parish and fostering its stewardship of God's world. As caring and faithful Christians, we wish to reduce our negative impact on and improve our harmony with God's creation. We also wish to empower and educate the United Parish congregation, Brookline/Boston community, and beyond to reduce their own impact on the environment. We strive to reach these goals through outreach, education, service, and activism.
Latest GreenUP News
Around the Community: Energy Awareness and Action Webinar
Posted:
Oct 1 2020 - 10:20am
In Brookline, climate is everybody's business! Join with other Brookline businesses, non-profits, and faith organizations for a free webinar on Thursday, October 15 from 9-9:45am. Learn three specific ways you can save money, save energy and save the planet. Learn more and register at CIEBenergy2020.eventbrite.com or gogreen.brooklinechamber.com.
Plant-Based Community Potluck
Posted:
Jan 3 2020 - 3:56pm
Join with Green UP and our friends from the Sierra Club in Brookline for a fun winter get-together, while you also put your concern for the environment into action! Join us on Sunday, January 19 from 5:30-7:00pm in the Parlor.
Did you know - "Meat and dairy production alone account for 14.5 percent of the world's greenhouse gas emissions — as much each year as from all cars, trucks, airplanes and ships combined"?* By cutting back on meat and dairy in your diet, you can cut your carbon footprint, and save habitat for wildlife as well!
At our potluck, you can see how delicious and easy a plant-based diet can be. Please bring a vegan dish (free of meat, fish, meat or fish stock, eggs, dairy products, or honey). For the sake of people with food allergies, we ask that you bring a list of ingredients we can display.
If you're looking for inspiration, here are a few websites with vegan recipes: forksoverknives.com, sweetpotatosoul.com, veganricha.com, vegkitchen.com. All are welcome, but please RSVP to greenup@upbrookline.org so we know how many places to set at the table. Hope to see you soon!
-The Green UP team
*NYTimes, 1/1/20 "The Meat Lovers Guide to Eating Less Meat"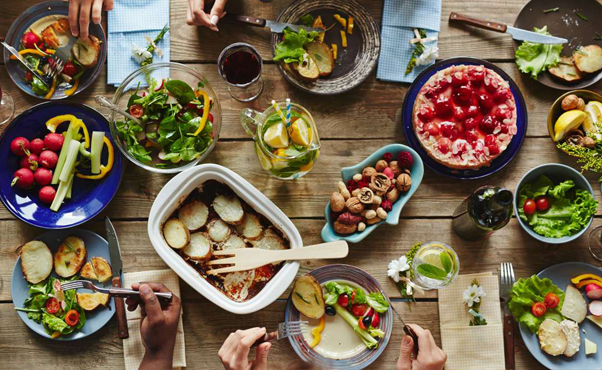 GreenUP and Youth Group Beach Clean Up
Posted:
Jun 12 2019 - 10:00am
On Saturday, June 8, the youth and GreenUP team collected approximately 30 pounds of trash, mostly plastic, and had a very lovely Saturday morning at Revere Beach. They then enjoyed a great lunch together. All in all, a very successful outing. They hope to host another event in the fall and would love to have anyone who is interested join us! Contact greenup@upbrookline.org.