The United Parish has a 30+ year tradition of joining Project Bread's Walk for Hunger, a fundraising and community planning organization for more than 400 hunger programs across Massachusetts.
This organization assists the 9.6% of Massachusetts families that deal with some level of food insecurity. Project Bread funds Chefs in Schools to improve the nutrition of school lunches, a user-friendly website to help people sign up for Food Stamps, a food source hotline (800-645-8333), and food programs such as the Brookline Food Pantry.
"How beautiful are the feet of those who preach the gospel of peace, Who bring glad tidings of good things!" (Romans 10:15)
Latest Walk for Hunger News
Walk for Hunger 2021
Posted:
May 19 2021 - 4:42pm
We are pleased to report this year's total amount raised through Project Bread's Walk for Hunger totals $11,096. This is one of the largest amounts we have raised, second only to last year's. It includes a generous $5,000 from our Mission Giving Team. It also includes $1,795 raised online by Melanie, succeeding at her soccer ball juggling for 350 kicks. Go, Melanie! You can watch the video here!
Thanks go to our individual contributors, Mission fund pledgers, Melanie, and to Seminarian Katharine Henry for organizing the May 1st Sacred Stroll in honor of the Walk. We thank also those who regularly remind us of Christ's teaching to care for our neighbors in need. Contact Beverly B. at walkforhunger@upbrookline.org.
Virtual Walk for Hunger 2021 Recap
Posted:
May 6 2021 - 12:09pm
Many thanks go to the 46 individuals and families who have contributed to this year's Walk for Hunger. Once again, Melanie C. was our top fundraiser, responsible for 15 contributions totaling $1,045! Thanks also go to our Seminarian Katharine Henry for organizing the May 1 Sacred Stroll at the Arboretum and to Arielle Chernin, Operations Manager of the Brookline Food Pantry, for speaking at the Stroll about the need for food assistance.
Our current total of individual contributions (both online and via check) is $5,721. We look forward to an additional contribution from our Mission Giving Team.
There is still time to contribute at http://support.projectbread.org/goto/unitedparish or by mailing a check to the church office. Please complete your contribution by Saturday, May 15.
Thank you! Contact Beverly B. at walkforhunger@upbrookline.org.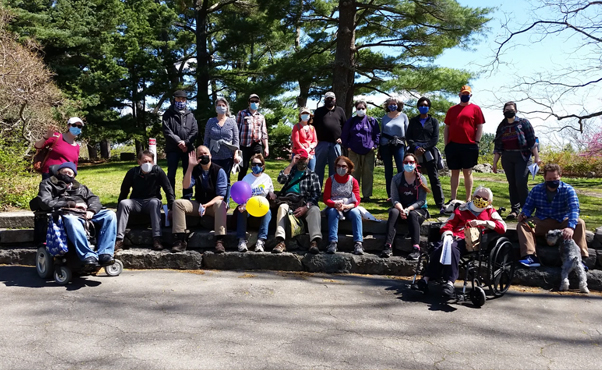 Walk for Hunger Sacred Stroll
Posted:
Apr 20 2021 - 2:46pm
In honor of the Walk for Hunger, we will have a Sacred Stroll on Saturday, May 1 from 1:00-3:30pm at the Arnold Arboretum! Since the Walk for Hunger is virtual this year, this is an opportunity to walk in a small group and worship together, focusing on sharing and justice for people experiencing hunger, food insecurity, and poverty.
We will meet at 1pm at the Arborway Gate, near the Hunnewell Visitor Center (https://goo.gl/maps/fHYzJ9zcFTmkn9FR6). It is on Arborway/Route 203. There is parking along the Arborway right after passing the gate; it is recommended that you arrive early to park. (See also this map of the arboretum: https://arboretum.harvard.edu/wp-content/uploads/2020/06/basic-map-bw.pdf.)
To join the United Parish Walk for Hunger team that is raising money to alleviate food insecurity and hunger through Project Bread, or to donate through our team, visit http://support.projectbread.org/goto/unitedparish. The Sacred Stroll is open to all, whether or not you "join the team" or donate! 
The Sacred Stroll will be about 2.5 miles on primarily paved paths. Bring your mask, water, sunscreen/hat, bug spray, journal/Bible/pen if you desire, and hopefully a friend. We will be socially distanced and masked. Children and youth should be accompanied by parents or guardians. Dogs are welcome in the arboretum, as long as they are leashed! There are port-a-potties and hand sanitizer on-site, though the Visitor Center is closed.
Let us know if you're interested in walking together! Please RSVP to Katharine at seminarian@upbrookline.org by 9am on Saturday, May 1. You can also contact Katharine with questions or concerns. We hope to see you there!