The United Parish has a 30+ year tradition of joining Project Bread's Walk for Hunger, a fundraising and community planning organization for more than 400 hunger programs across Massachusetts.
This organization assists the 9.6% of Massachusetts families that deal with some level of food insecurity. Project Bread funds Chefs in Schools to improve the nutrition of school lunches, a user-friendly website to help people sign up for Food Stamps, a food source hotline (800-645-8333), and food programs such as the Brookline Food Pantry.
"How beautiful are the feet of those who preach the gospel of peace, Who bring glad tidings of good things!" (Romans 10:15)
Upcoming Walk for Hunger Events
Latest Walk for Hunger News
Virtual Walk for Hunger
Posted:
Apr 3 2020 - 12:00pm
Join this year's virtual Walk for Hunger. Even though we cannot actually walk this year, we are forming a United Parish Walk for Hunger Team to raise funds at a time when so many people are out of work and the need is great. Click here and donate, or send a check made out to "Project Bread" to our Church Office at 210 Harvard Street, Brookline 02446.
Funds raised help over 400 Massachusetts hunger programs – such as the Brookline Food Pantry – plus new initiatives in response to the coronavirus – such as the Boston school meals sites. Encourage others to help by joining our United Parish Team here – there is no fee to join. Let friends, family, and Facebook know you would like to raise funds.
To make this more fun, send the United Parish office (office@upbrookline.org) a picture of you or your family holding up a Walk for Hunger logo (horizontal or vertical) and an encouraging sign (print out a page or two from our file here to make a sign, or create your own). Your picture will be added to this page. On a sunny day, you could even ask a neighbor to take and send you a smartphone photo of your entire family holding signs on your front steps.
Sharing, and love for one's neighbor, are both Christian and beautiful. Thank you. Contact walkforhunger@upbrookline.org.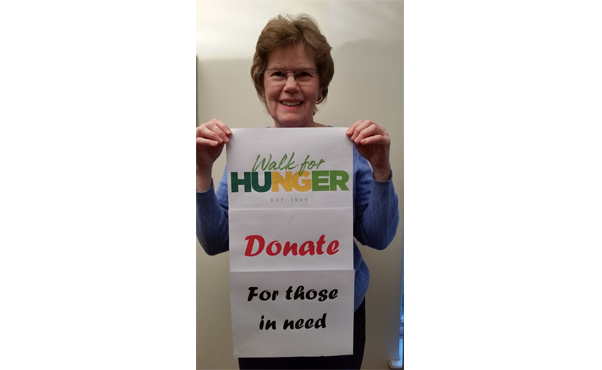 Walk for Hunger 2019
Posted:
May 8 2019 - 2:07pm
Last Sunday, the rain held off to the delight of 25 hearty Walkers ages 7 to 70+ and an additional four volunteers. Thanks to all who participated to support our Team and our community. walkforhunger@upbrookline.org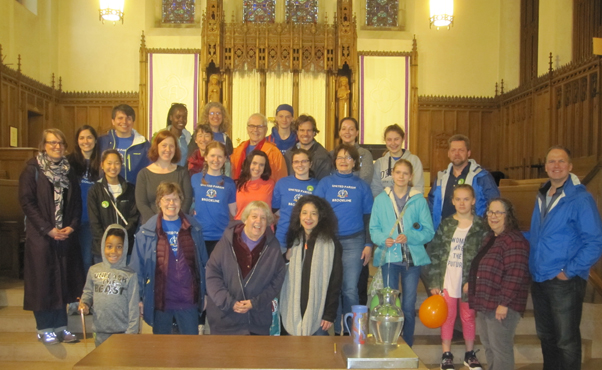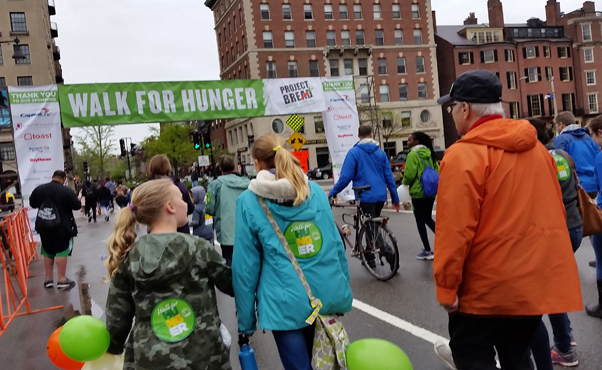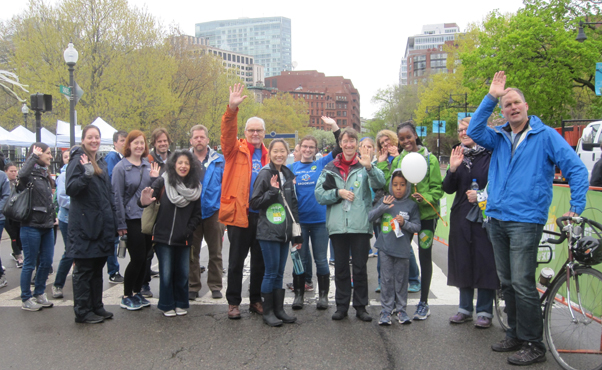 United Parish T-Shirts
Posted:
Apr 17 2019 - 11:29am
Beautiful, blue United Parish t-shirts will be for sale at Coffee Hour next Sunday, April 28, only. $12 for children's sizes / $15 for adult sizes. Perfect to wear for the Walk for Hunger or Strawberry Festival! See Beverly B. for more information or email walkforhunger@upbrookline.org.