The United Parish has a 30+ year tradition of joining Project Bread's Walk for Hunger, a fundraising and community planning organization for more than 400 hunger programs across Massachusetts.
This organization assists the 9.6% of Massachusetts families that deal with some level of food insecurity. Project Bread funds Chefs in Schools to improve the nutrition of school lunches, a user-friendly website to help people sign up for Food Stamps, a food source hotline (800-645-8333), and food programs such as the Brookline Food Pantry.
"How beautiful are the feet of those who preach the gospel of peace, Who bring glad tidings of good things!" (Romans 10:15)
Upcoming Walk for Hunger Events
Latest Walk for Hunger News
Walk for Hunger Final Fundraising Totals
Posted:
Jun 1 2022 - 5:47pm
This year, our Team raised a total of $9,670. This figure includes:
$4,160 from our Team Page on the Project Bread website;
$5,000 from our church Mission fund; and
$510 in individual checks to Project Bread and from United Parish representing contributions from individual congregants. 
Thanks to all who contributed to helping feed our neighbors!
Walk for Hunger 2022
Posted:
Mar 30 2022 - 4:01pm
Join the United Parish Team and donate HERE.
It is Spring – time for flowers, Easter, Red Sox games – and the Walk for Hunger campaign. The Walk raises funds for Project Bread's support of food pantries and meal programs throughout Massachusetts, the Food Source Hotline (800-645-8333), and food access advocacy work. One program that benefits is the Brookline Food Pantry in our building!
United Parish has been participating in the Walk, on the first Sunday in May, for about 35 years, starting when Pastor Pat Coughlin walked from the Boston Common start along the route back through Coolidge Corner and to church in time to lead the Sunday service. Parishioners joined in and a tradition was born.
Since the pandemic started – and again this year – this fundraising campaign has occurred on Project Bread's website without a formal group walk. It is easy to donate in the name of the United Parish Team on the website. If you join as a Team Member, you can send a link to your Facebook page and friends and ask them to donate in your name as well. Cash or checks made out to "Project Bread" and sent to the church, or contributed in baskets at church on May 1, will also be forwarded. With the help and challenge of United Parish's Missions Giving Ministry Team, United Parish has been one of the top fundraising teams in recent years, raising up to $13,000 for Project Bread!
If you explore further on the Project Bread website, you can see on the extensive work Project Bread does to increase access to resources for families struggling with food insecurity. They direct Food Source Hotline callers to food programs, help people sign up for SNAP food stamps, help schools start breakfast programs, advocate for good policy and budgets in the legislature, conduct studies of food resource needs, etc.
The need is great. Since the beginning of the pandemic, local pantries have seen four- and five-fold increases in the number of families being served. Inflation has hit everyone, including the Greater Boston Food Bank, which reports an 11% increase in the cost of food.
In addition to the fundraising campaign above, a few of us will be going on an informal walk on May 1 to celebrate the Walk for Hunger campaign. If you're interested in joining, please meet on the United Parish front lawn by the rainbow chairs on Sunday, May 1 at 8:30am. At exactly 8:40am, we'll walk to the Coolidge Corner T stop, and take the train to Park Street station. We'll then walk back to the church along the original physical walk route (along Commonwealth Avenue and Beacon Street), and arrive in time for the worship service. If you have any questions about participation in this informal walk, please email walkforhunger@upbrookline.org. Otherwise we'd welcome you to join us and walk on May 1!
Please participate in whatever way you can. Jesus taught us the blessings of reaching out to our neighbors. Thank you.
Sarah S. and Beverly B., Walk for Hunger coordinators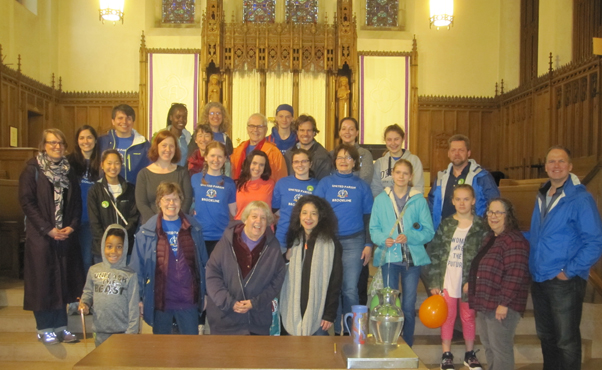 Walk for Hunger 2021
Posted:
May 19 2021 - 4:42pm
We are pleased to report this year's total amount raised through Project Bread's Walk for Hunger totals $11,096. This is one of the largest amounts we have raised, second only to last year's. It includes a generous $5,000 from our Mission Giving Team. It also includes $1,795 raised online by Melanie, succeeding at her soccer ball juggling for 350 kicks. Go, Melanie! You can watch the video here!
Thanks go to our individual contributors, Mission fund pledgers, Melanie, and to Seminarian Katharine Henry for organizing the May 1st Sacred Stroll in honor of the Walk. We thank also those who regularly remind us of Christ's teaching to care for our neighbors in need. Contact Beverly B. at walkforhunger@upbrookline.org.