The United Parish has a 30+ year tradition of joining Project Bread's Walk for Hunger, a fundraising and community planning organization for more than 400 hunger programs across Massachusetts.
This organization assists the 9.6% of Massachusetts families that deal with some level of food insecurity. Project Bread funds Chefs in Schools to improve the nutrition of school lunches, a user-friendly website to help people sign up for Food Stamps, a food source hotline (800-645-8333), and food programs such as the Brookline Food Pantry.
"How beautiful are the feet of those who preach the gospel of peace, Who bring glad tidings of good things!" (Romans 10:15)
Upcoming Walk for Hunger Events
Latest Walk for Hunger News
Successful Walk for Hunger
Posted:
May 9 2018 - 1:42pm
The rain held off, the weather was mild, the flowers were beautiful, and the enthusiasm was great for the United Parish's participation in Project Bread's 50th Anniversary Walk for Hunger. We had 48 walkers, two runners, and one official Walk volunteer. Adding Mission Giving's contribution, we expect total donations collected to be $6,387.00 for hungry families in Massachusetts. Thanks to all who were part of this outreach to our community! Contact walkforhunger@upbrookline.org for more information.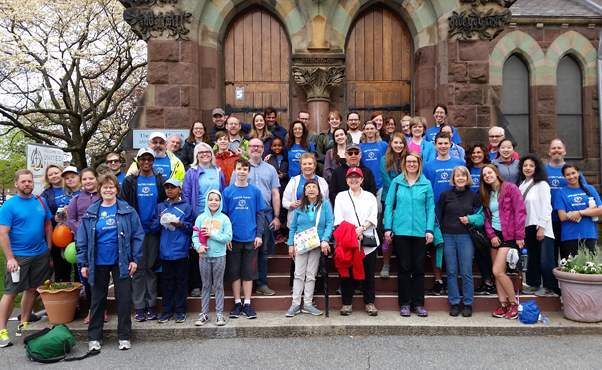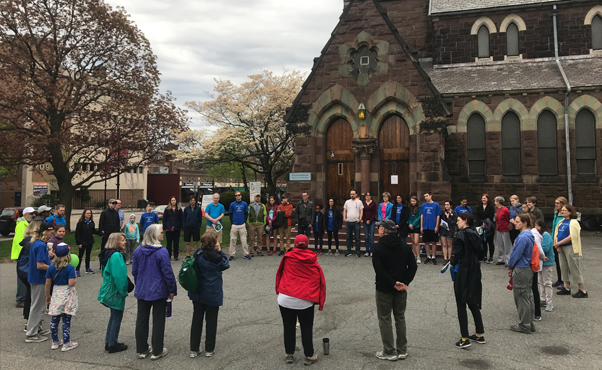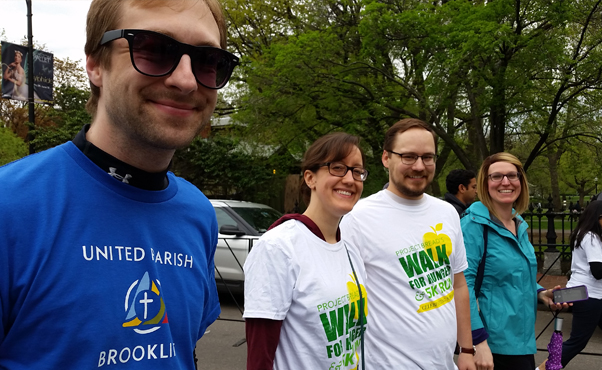 Walk for Hunger 2018
Posted:
Apr 4 2018 - 12:29pm
The arrival of spring means it's time to prepare to join your United Parish friends in supporting the 50th Annual Walk for Hunger on Sunday, May 6.
Recently we have been reminded that the details of our religious practices do not matter so much as the central message of the Gospel – that loving God means we should love and help others. United Parish has a 30+ year tradition that gives us an opportunity to do just that. Some of us walk together and others donate (and ask their friends to donate) to the Walk for Hunger fundraising walk that goes from the Boston Common practically right by our church at Coolidge Corner. The Walk is a great way to get to know other United Parish members and to fight inequality.
The Walk for Hunger is the major fundraiser of Project Bread, an organization that donates to 263 hunger programs in Massachusetts, runs the FoodSource Hotline (800-645-8333), and promotes accessibility of healthy food for all communities. Programs supported by Project Bread include the Brookline Food Pantry, Haley House, and the Food Project farms. These programs are vital in our state which has high expenses and almost the greatest income inequality in the country.
Once again, we hope many United Parish Church School Families will participate in the Walk for Hunger, walking together with their Church School classmates and families. This is a fun way to show our support of the greater community. If your child would like to walk, but you cannot accompany them, please arrange for your child to walk with another family. Children in classes younger than Rite 13 must be accompanied by an adult. Young children in strollers welcome!
Our Team will gather at the church at 8am on May 6, take the Green Line to Boston Common, and walk the 3 miles back to church or continue on the 20 mile walk. This is a good opportunity to wear your United Parish t-shirt (for sale at coffee hour on April 22 & 29 - $12 for children and $15 for adults).
Any donations you collect can be brought with you the day of the Walk, or you can encourage friends and relatives to contribute online. Money raised goes to food and hunger programs in Massachusetts (such as the Brookline Food Pantry, the Greater Boston Food Bank, and The Food Project). To help us, our Mission Giving Committee will add $50 to the donations for each United Parish person who walks.
Come to April Coffee Hours, or email Beverly at walkforhunger@upbrookline.org, to learn more about getting involved. Click here for everything you need to know about participating in this year's walk.

May 6 at 8:00am   (Please bring MBTA fare to go together on C line to Boylston stop.)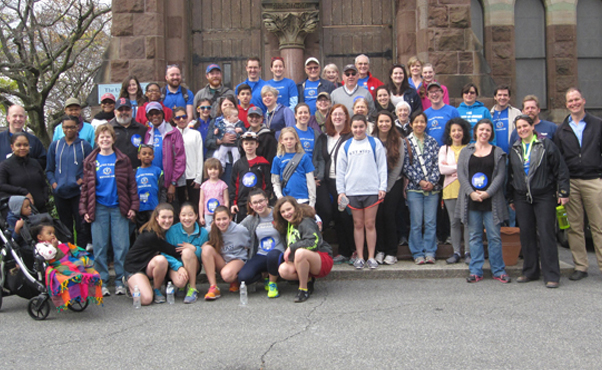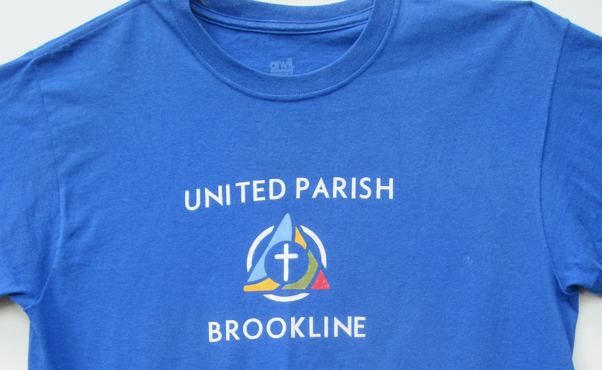 Walk for Hunger 2017 Update
Posted:
May 10 2017 - 7:42am
The weather was cool, but beautiful, as 59 people joined United Parish's effort to support Project Bread's Walk for Hunger on May 7th. Our age range was 1 to 70+. Twenty-two of us were children and teens, and teen Sunday School teachers joined to walk with their classes. We raised $10,010.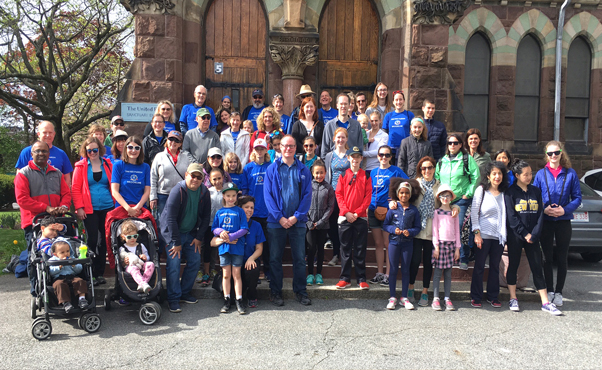 The enthusiasm was evident, and some of us sported balloons and United Parish t-shirts. Rachel S. fueled us with energy bars and Pastor Kent sent us off with a prayer. Pat H., Alicia H., and photographer Bill G. greeted our return from the Walk with our very own Checkpoint booth in our parking lot.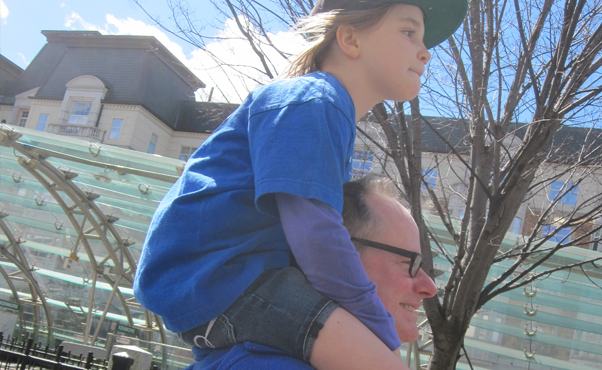 We are proud of Peter R., Holly V., and Beverly B., who each raised at least $500 for the Walk and became Heart & Sole Walkers. Many contributed at church or to our Team fundraising page at www.projectbread.org, helping the 300 Massachusetts food programs that Project Bread supports. Our United Parish Mission Giving Team added funds, so that a total of $10,010 was contributed to help those who struggle to provide a nutritious diet for their families.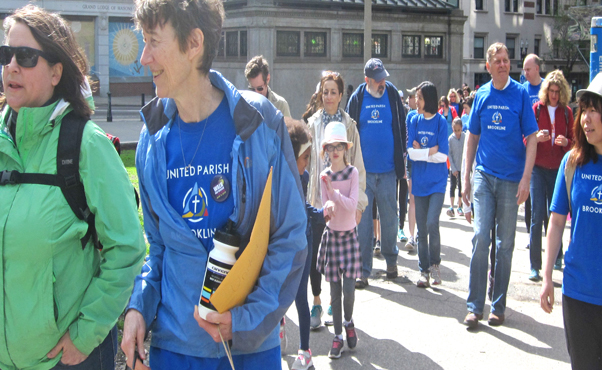 As our lawn sign says, we want to "Be the Church" and so we "Share Earthly [as well as Spiritual] Resources." If you missed the Walk, join with us next year!