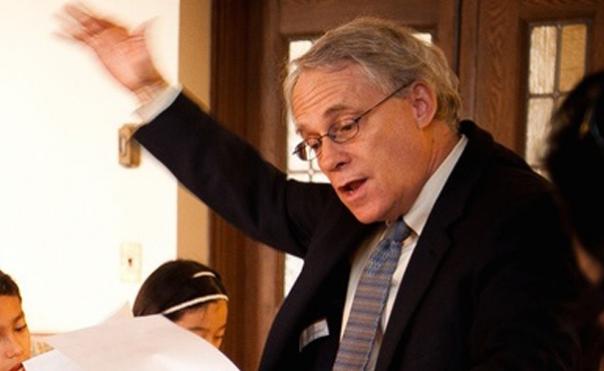 From testimonial at worship, April 20, 2014:
I am treasurer at United Parish, and so I spend a good deal of my spare time on church matters here, and I do ask myself (as does my family) why in God's name I seem to be willing to do so.
In the mid 1990's, my wife Debra and I were looking for a church. We lived nearby and ended up here one day. We quickly warmed to this community soon after we began attending. But, as the son of two wonderful, liberal parents who were committed to bettering the lives of others but pretty skeptical of organized religion, I was not ready at the time to call Jesus my savior. But I sat down with our former pastor, Pat Coughlin, and am forever grateful for her gentle and encouraging welcome, her invitation to me to explore my faith within this community rather than outside of it.
That invitation has led to wonderful things. Over the years I have found United Parish to be just what I need. United Parish's sincere openness to the individual journey gave me the freedom to find my way to my faith, and I do consider myself now a Christian believer. Although I am always mindful that questions must be asked, Jesus' basic messages of charity, forgiveness and honesty give me peace. And I have found so much here that makes me feel blessed to be a member of this community. I have had the chance to make music for more than 10 years with 1st-through-6th-graders, working with my dear friend, Alicia, from whose insights into the spirit of a child I learn every week. I am part of a community here of friends and fellow believers (and some skeptics) who are pillars for me, from long-time members to new acquaintances.
We have at United Parish pastoral guidance here that astounds me. Our Minister of Music, Susan, whose commitment to excellence in presenting God's message in music (just look at the singers and instrumentalists she assembles, year after year) is surpassed only by her commitment to having all of us join in that presentation no matter what our prior musical experience may be. Lisa, our interim associate pastor and Christian Education Coordinator, whose generosity, Christian education leadership, scholarship and devotion to this congregation benefit us every day. And, now, we have Kent, our new Senior Pastor, who provokes, challenges, and soothes us with his articulate and searching sermons, and who is ready to lead us forward in faith, not just on a path of his preference but in a direction based on his discernment, through careful listening to us, of what our own vision is. And, how can we be so lucky, he sings! Beautifully! What a blessing for a church who loves music.