End Mass Incarceration Update June 2017
Supporters of criminal justice reform jammed the Statehouse again on June 19. Many of them paused to take a photo of the U.P. "End Mass Incarceration" banner at the State House entrance, where we directed people inside to the Jobs NOT Jails Rally. After that, it was a SRO crowd in Gardner Auditorium for a hearing before the Joint Committee on the Judiciary that lasted into the evening.
Many public officials offered support, but two legislators who represent members of the U.P. congregation stood out. Senator Cynthia Creem, who represents Brookline, Newton and parts of Wellesley, testified in support of her bill to repeal statutory mandatory minimum drug sentences (Senate 791). She characterized the Governor's bill to reduce recidivism (House 74) as the "appetizer" that deserves support but declared it is time for the "full course" of comprehensive criminal justice reform. Later, Senator Sonia Chang-Diaz challenged Suffolk District Attorney Dan Conley, who spoke in favor of mandatory sentences that effectively transfer the authority to impose a prison sentence from the judge to the prosecutor. Senator Chang-Diaz, who represents parts of Boston, is the lead sponsor of the Justice Reinvestment Act (Senate 791), the "omnibus" bill advanced by the Jobs NOT Jails coalition. The Massachusetts and Boston bar associations also called for the repeal of mandatory minimum sentences, along with other reforms.
The state Sentencing Commission – composed of 3 judges, 3 prosecutors, and 3 defense counsel appointed by the Governor -- offered its support for the reform agenda:
• Repeal mandatory minimum sentences (except for murder)
• Increase the threshold for when larceny becomes a felony from the existing $250 level --third lowest in the U.S. -- to $2,500
• Abolish driver's license suspensions that are not related to driving offenses
• Reduce the time for sealing criminal records (known as "CORI" reform)
• Abolish almost all court fees for indigent and marginally indigent defendants U.C.C. and other religious leaders, including the Greater Boston Interfaith Organization (GBIO), also testified in favor of reform.
Many, many people told their own stories to the legislators, including compelling testimony for compassionate medical parole, solitary confinement reform, and lower prisoner telephone rates.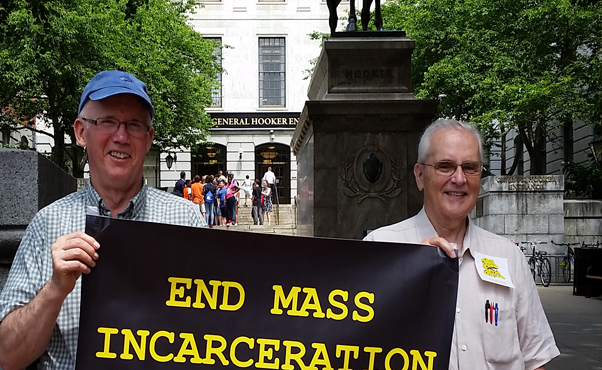 What's next?
Our United Parish end mass incarceration/criminal justice reform effort needs for you to contact your State Senator before Wednesday, July 12, when they will be together at a retreat to discuss legislative business. Below you will find an explanation of what we are asking you to do, how to do it, and a sample message. Find the fact sheet for An Act for Justice Reinvestment HERE. Find the fact sheet for An Act to Reduce the Criminalization of Poverty HERE.  We'd appreciate any feedback – who you contacted and anything you learned about where your Senator stands or what more s/he would like to know.
U.P. Legislative Alert – Contact your State Senator before July 12      
The Massachusetts Senate is holding a retreat on Wednesday, July 12.  The Jobs NOT Jails coalition – U.P. is a member -- is reaching out to the 40 state senators across the state to urge them to make comprehensive criminal justice reform a Senate priority this year.  Please help!
Why now? We need to build strong support in the Senate before we turn our efforts to the much larger, and generally more conservative, House of Representatives.  The retreat is an opportunity for us to let all our Senators know that citizens support strong criminal justice reform that would lower taxpayer costs, shift to more effective and humane drug treatment, help offenders return to productive lives, and lead Massachusetts away from the legacy of mass incarceration that began in the 1970s.
Here's what to do.  Visit, telephone, write or e-mail your State Senator.  Find your Senator's name and contact information at www.WhereDoIVote.com.   You need to start with your street address or zip code since legislative districts do not match municipal or county lines.      
A sample message (Change it however you wish.  Fact sheets for the two bills are attached).
Dear Senator [name], As your constituent, I ask that you urge your colleagues to make comprehensive criminal justice reform a Senate priority this year.  My church, the United Parish in Brookline, joins the Jobs Not Jails coalition in saying that we need to go beyond the very limited changes proposed by Governor Baker.  By enacting S. 791 (Justice Reinvestment Act) and S. 777 (Act to Reduce the Criminalization of Poverty) the Senate would:
End the failed experiment of statutory mandatory minimum sentences for drug crimes that has resulted in disproportionately long sentences for Black and Hispanic defendants and has not deterred drug use
Eliminate probation and parole fees for indigent people that trap them in poverty and lengthen their punishment
Reduce the current 5 and 10 year waiting periods to seal criminal records to 3 and 7 years so people can get back to work ("CORI" reform)
Increase the threshold to treat larceny as a felony to $1,500 from the current $250 (3d lowest level in the U.S. and unchanged for 30 years)
Allow the transfer of terminally ill inmates for medically appropriate care
Thank you.  [Your name and address]
Share your feedback.  Send an e-mail to endmassincarceration@upbrookline.org or speak to us.
If you would like to be added to our list for legislative alerts, send an e-mail to endmassincarceration@upbrookline.org.