GBIO Delegates' Assembly, plus other GBIO Opportunities
Good news: the GBIO Action planned for May 26 is now a Delegates' Assembly on Thursday, June 23 at 7pm as the actions that GBIO pushed for have happened, or are in process! The Delegates Assembly will be an opportunity to review and celebrate our achievements, and plan what's next. Please save the date to join on Zoom or in-person. Registration link here: bit.Ly/JuneGBIO Email GBIO co-liaisons Carolyn M. or Michael M. at gbio@upbrookline.org if questions, or to let them know you are able to attend.
Focusing on Reentry, Housing, and Mental Health
"A culmination of our relational work," this Delegates Assembly will address what's happened with the three actions, celebrate our achievements, and address what's next. It will set out a plan for the governor's race. This event was switched from an action to an assembly because the actions GBIO hoped to achieve that night were already achieved or expect to be achieved without a large action.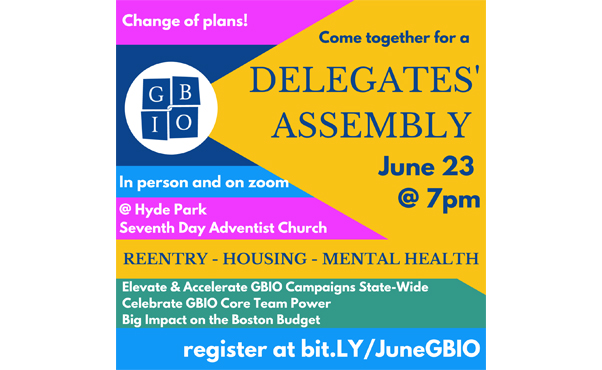 Other upcoming GBIO events:
Housing Action Team - Tuesday, May 31
Reentry Action Team - Thursday, June 2 at 5:15pm
Mental Health Action Team - Tuesday, June 28 at 7pm
Questions? Contact our United Parish GBIO liaisons, Carolyn and Michael at gbio@upbrookline.org