Recent United Methodist Conference
February 27, 2019 - 6:22pm
On Tuesday, February 26, 2019, a special session of the United Methodist Church (UMC) decided to strengthen the denomination's ban on the ordination and marriage of LGBTQIA+ people. The UMC is one of our three denominations. Our local New England UMC Bishop Sudarshana Devadhar calls the decision, "disheartening at best and despairing at worst," and reaffirms our call "to do good, do no harm, and stay in love with God."
The United Parish in Brookline maintains its nearly two-decade status as a "reconciling congregation" within the denomination, meaning that we seek justice for people of all sexual orientations and gender identities. We have openly LGBTQIA+ pastors, staff and members in our congregation and will continue in this understanding of the Gospel and in furthering the ministry of Jesus Christ. And we continue to have a role to play as a leading Reconciling church in our conference.
What lies ahead for the UMC is uncertain. It is possible that the United States branch of the UMC would become its own "central conference," which is the term for areas in Europe, Africa, and the Philippines in which they can contextualize UMC policies and polity to their own situation. Until we know more, we will continue in prayer and faith, so that all God's people may be one (John 17:21).
Click here for a statement from our local New England UMC Bishop Sudarshana Devadhar
Click here for a statement from the UMC Reconciling Ministries Network.
We invite you to participate in one of the NEUMC conference's upcoming "courageous conversations": March 10 in Milton, MA and March 21 in Marlborough, MA. Click here for more info.
Click here for a statement from the District Superintendent We Hyun Chang of the Metro Boston Hope District of the New England Conference of the UMC.
Click here to read more about United Parish's stance as a congregation.
Click here to read an article from The Boston Globe about local Reconciling Methodist churches taking a stand, including United Parish.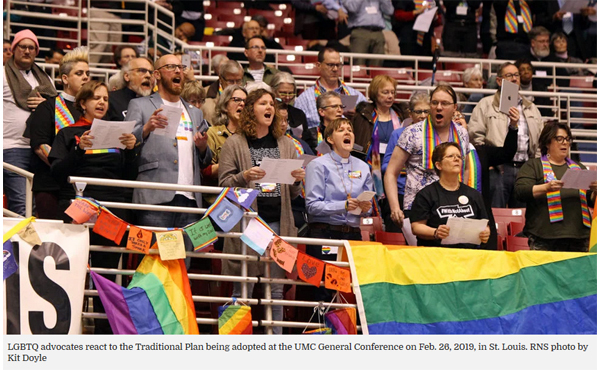 Image Credit: Religion News Service photo by Kit Doyle