Two upcoming GBIO events for United Parish members and friends
The Greater Boston Interfaith Organization (GBIO) is a faith-based coalition of 60 churches, synagogues, temples and other groups working for change in Massachusetts and in local communities. It is focusing right now on affordable housing, re-entry services for persons released from incarceration, and mental health services.
In Brookline, GBIO is focused on better conditions in public housing and on affordable housing in general. In less than 9 months of organizing, GBIO has already made a difference…in actual policies in Boston, in funding for public housing right here in Brookline, and in advocating for policies in the current state legislative session.
Here are two great opportunities to learn more!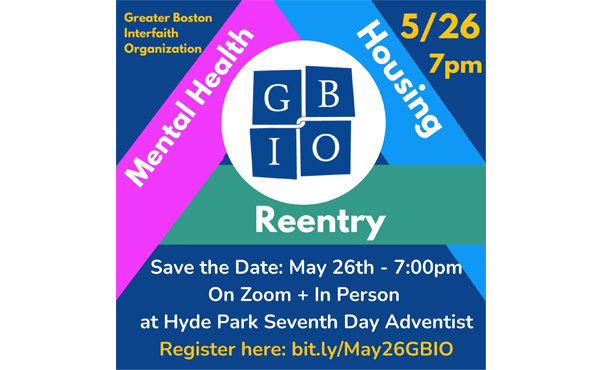 UPDATE: rescheduled to Thursday, June 23. Learn more.

Big May 26 GBIO event
For the first time since COVID, GBIO is holding an in-person event to celebrate recent victories in affordable housing and re-entry policies, and to learn of upcoming actions. You can also attend by Zoom. This will be Thursday, May 26, 7pm, at the Seventh-Day Adventist Church, 6 Webster Street, Hyde Park MA.
Register here.
Affordable Housing Training Course
The Brookline GBIO Team has prepared a six-session training course in affordable housing, to help equip us with what we need to know in order to advocate effectively for solutions to the housing affordability crisis in Massachusetts. Why can so few find housing they can afford in communities where they want to live? How has the drastic affordability crisis affected communities of color and low-income persons? What can be done about it?
Drawing on deep local expertise, GBIO will offer, at no cost, a series of training sessions on the affordable housing industry, on public housing, on zoning and other regulations that get in the way of housing production, and on tools for addressing the serious shortages we are facing.
You are welcome to attend one, two, or all six sessions. They will be free and on Zoom.
• The first session will be Monday, May 16, 7-8:30pm – Housing Essentials Overview
• The second session will be Tuesday, May 31, 7-8:30pm – Zoning and Land Use Policies
The full curriculum is explained here.
Register here.
Questions? Contact:
• Carolyn M., United Parish GBIO Co-Convener gbio@upbrookline.org
• Michael M., United Parish GBIO Co-Convener gbio@upbrookline.org
• David R., United Parish GBIO Affordable Housing Captain
• Mark J., United Parish GBIO Re-Entry Captain