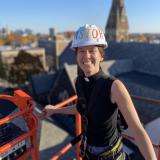 Amy grew up not far from United Parish, in a small coastal town on the South Shore of Massachusetts. She graduated from Harvard Divinity School in 2016, but her path toward ministry started much earlier than that; she first felt called to ministry on a youth service trip in 2006, and ever since then she has done her best to answer and live into that call, which has led her to her current ministry at United Parish.
Amy served on the United Church of Christ (UCC) Council for Youth and Young Adult Ministries, and interned at the MIT Protestant Chaplaincy, the Edinburgh Interfaith Association, New England Baptist Hospital, and Hillside Church in Medford (then North Prospect Union)
Amy loves singing, well-buttered popcorn, creating liturgy, and cheering on the New England Patriots. She currently lives in Waltham with her partner, Zac, and their three dogs: Melon, Coda, and Sammy. 
Pronouns: she/her/hers
Office Hours: Sunday-Thursday, various times; days off Friday-Saturday