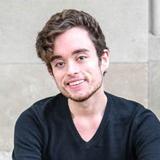 Wilson is a third-year Master of Divinity student at Harvard Divinity School (HDS) and United Parish's seminarian for the year. Wilson grew up as a preacher's kid in his hometown in North Carolina, and congregational life has been formative throughout his personal and spiritual development. While he felt a call to ministry from an early age, he abandoned the idea in college, assuming that ministry would be irreconcilable with his identity as a gay man. Instead, during his time as an undergraduate at the University of North Carolina at Chapel Hill, Wilson channeled his passion for social justice and community-building into activist work, including campus organizing for the "Moral Monday" movement in NC, serving on the founding editorial staff of a queer and feminist student magazine, and co-directing a week-long program for college students focused on diversity and leadership. After graduation, Wilson relocated to Washington, D.C., where he worked for the National LGBT Bar Association, the nation's largest organization for LGBTQIA+ legal professionals, scholars, and activists.
While Wilson deeply appreciated his work in D.C., he began to feel a call back to his religious roots and toward the spiritual foundations of social change. Surprising everyone in his life- and, perhaps especially, himself-Wilson took the leap and applied for divinity school. He has spent his time at HDS exploring ministry in various contexts and communities, with a special emphasis on meeting on the spiritual needs of LGBTQIA+ people. Most recently, Wilson worked as a hospital chaplain to patients and staff at Wake Forest Baptist Hospital, a level I trauma center in Winston-Salem, North Carolina.
Urged by multiple colleagues to consider United Parish for an internship because of its warmth, creativity, and commitment to embodying the radical welcome and witness of the Gospel, Wilson is excited to spend this year learning with the United Parish community. In his spare time, Wilson enjoys podcasts, day hikes, country music, animals of all kinds, and new recipes. He is a strong proponent of "y'all" as a gender-neutral pronoun.
Preferred pronouns: he/his/him