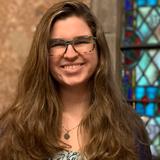 Katharine H. Henry is a second-year Master of Divinity student at the Boston University School of Theology. She is an (almost) lifelong United Methodist.
Katharine grew up in Los Angeles, California. As a youth, she was passionate about World Vision's 30 Hour Famine, in which youth fast for thirty hours to understand a bit of what it's like to be hungry, raise awareness about hunger, and raise money to provide food for children around the world. She first experienced a call to ministry at age fifteen in her home church, through the hymn, "Here I Am, Lord," and its call to "hold [God's] people in my heart."
Attending Millsaps College in Jackson, Mississippi, Katharine majored in Religious Studies, with minors in Women's & Gender Studies and Vocation, Ethics, & Society. During this time, Katharine found a passion for the language we use to speak about God and became enamored with feminist theologies. She also came to a fuller understanding of her calling, which, Katharine believes, is to ordained ministry as a United Methodist deacon.
Katharine is excited about being in ministry with (not simply to or for) people experiencing poverty and others on the margins. After graduating from college, Katharine served for two years as a Global Mission Fellow US-2, a young adult missionary of The United Methodist Church, assigned to Florida.
In 2019, Katharine moved to Boston to begin seminary at BU. She is a lifelong choral singer, plays acoustic guitar, and loves the music at United Parish! Katharine finds the Divine in nature, and her favorite spiritual practice is hiking.
Katharine remains involved in the United Methodist connection and is passionate about making the denomination more reflective of the all-inclusive, justice-seeking love of Christ. She feels called to be in ministry and solidarity with people on the margins. This aligns with a deacon's ordination to Word, Service, Compassion, and Justice. Katharine is excited to explore these areas of ministry and engage with the wonderful community at the United Parish in Brookline!
Pronouns: she/her/hers