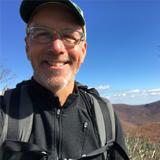 Peter has served as a pastor in the United Church of Christ for 35 years. A native of Massachusetts, Peter's career started in Ithaca, New York as Associate Pastor at the First Congregational Church. He then served in Evanston, Illinois as the founding director of BEHIV, a community-based AIDS organization followed by a move to Seattle where he served for 25 years as a pastor at University Congregational Church. In 2019 he followed a call to support communities and individuals through times of change and transition. This call led him to Maine where he served as the interim pastor of the Congregational Church of Boothbay Harbor from February 2020 to October 2021. Peter's writing includes a memoir of his journey learning to sail, Testing the Wind (Coffeetown Press), a book of poetry, Setting Sail (Lulu Press), and weekly blog posts on his website NavigatingThroughChange.com. Peter is a graduate of Colgate University and Yale Divinity School. He is a member of ChoBoJi, a Rinzai Zen community in Seattle and currently serves on the Advisory Board of the Bangor Theological Seminary Center in Portland, Maine. Peter is rejuvenated by running, sailing, biking, backpacking, conversations, reading, and writing.
Office Hours - Sunday through Thursday
Peter will be our sabbatical pastor during Senior Pastor Kent's sabbatical February 21-June 30, 2022. Peter will be with us February 14-June 10, 2022.
Pronouns: he/him