Upcoming Worship Service Events
Latest Worship Service News
All Saints Day - November 4
Posted:
Oct 16 2018 - 11:21am
On Sunday, November 4, we remember people who lived exemplary lives: some who lived among us, some we only read about, some we've never heard of. "Saint" sounds like such a big word. Utterly unattainable, even. You might wonder if you would even want to grow into such a name. But, it's worth pondering. The people we call saints were often fairly ordinary people, who happened to let God's goodness shine through them. In doing so, some truly extraordinary things happened with their lives.
We welcome receiving the names of saints in your lives to print in the bulletin and read aloud in worship. Please fill out the info sheets in the pews on Sunday and place them in the offering plate, or click here. We also invite you to bring photos or memorabilia of your saints on All Saints Sunday for a special procession of the saints.
Please submit names by Wednesday, October 31 at 9am.
For more information, contact the Church Office at office@upbrookline.org or 617-277-6860.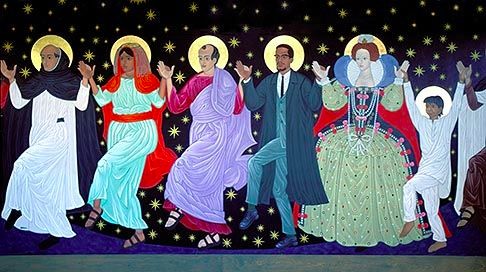 United Parish welcomes guest preacher, Rev. Don Remick on October 21
Posted:
Oct 1 2018 - 1:28pm
On Sunday, October 21, we will welcome the Reverend Don Remick, the Transitional Interim Conference Minister for the Massachusetts Conference of the United Church of Christ. Don will preach during worship and will join our congregation for an after-worship forum. All are invited after Coffee Hour in the Parlor for a conversation about how United Parish can seek deeper ways to be healthy, faithful and effective in a changing world.
The Reverend Don Remick has enjoyed ministry in our Massachusetts Conference of the United Church of Christ for the last 4 decades. He has served on our Conference Staff since 2009. In addition to overseeing the incredibly talented staff of the Mass Conference UCC, he provides support to churches as they seek to live more faithfully into the vision given to them by God. Together with the Conference Board of Directors, he is working with the leaders of the CT and RI Conferences to live into our coming together as one Conference. Don has served in churches of all sizes within our Conference since graduating from Andover Newton Theological School. Don and his wife, the Rev. Susan Remick, live in Whitman, Massachusetts and enjoy spending time with their 3 children, their spouses and grandchildren. 
Contact Kent at kent@upbrookline.org for more information.
Fall Kick-Off Sunday - September 9
Posted:
Aug 23 2018 - 10:47am
It's been a wonderfully rich and deeply meaningful summer as we explored the images of God in our midst, but next week worship will return to the Sanctuary as we kick off the 2018-2019 program year. We welcome you all to join us for music, Bible study, worship, and fellowship.
9:00am – Carolers and Youth Choir Orientation (Parlor)
9:45am – Church School Convocation (Sanctuary)
10:00am – Adult Drop-In Bible Study (Deepening Room)
10:00am – Chancel Choir Rehearsal (Choir Room/Sanctuary)
11:00am – Worship and Blessing of the Backpacks (Sanctuary)
12:00pm – All-Parish Potluck Cookout (Front Lawn)