Upcoming Worship Service Events
Latest Worship Service News
Autumn Worship Series
Posted:
Sep 21 2022 - 7:44pm
This autumn, our worship will follow along with our Church School curriculum, Seeking God Together. Here are the themes and some of our guest speakers.
September 25 Making Time, Daniel 6:1-23, 
8pm — Erev Rosh Hoshana worship at Temple Shir Tikva, Wayland
October 2 Honoring our Bodies, Psalm 139:13-16; 1 Corinthians 6:19-20
Guest Speaker: The Reverend Carrington Moore, 
Executive Director, common cathedral, a partner ministry
October 9 (theme and scripture TBD), afternoon visit to common cathedral
October 16 Making Room, Matthew 6:16-18; Acts 13:1-3; 14:21-28
Guest Speaker: Lisa Weinstock, Host for Refugees
October 23 Marveling (Psalm 104)
October 30 Saying Thanks (Luke 17:11-19; Colossians 3:14-17)
November 6 Crying Out, All Saints (Psalm 130; Book of Job)
Guest Speaker: Gerami Groover-Flores, Executive Director
Hamilton-Garrett Center for Arts & Music
November 13 Confessing, Psalm 21:1-8
November 20 Celebrating, Psalm 11, 150
November 27 "There's room for every story", Matthew 1:1-17, Isaiah 2:1-5
Family Reunion Worship
Posted:
Sep 8 2022 - 7:23pm
Join us on the front lawn at 9:45am on Sunday, September 11 for our Family Reunion Worship! This 30-minute, interactive service is geared towards children grade 5 and under and their families, and will be followed by fellowship time and snacks provided by the Children & Youth Deepening Ministry Team. Subsequent family worship services will happen at 9:45am on the first Sundays of October, November, February, and March.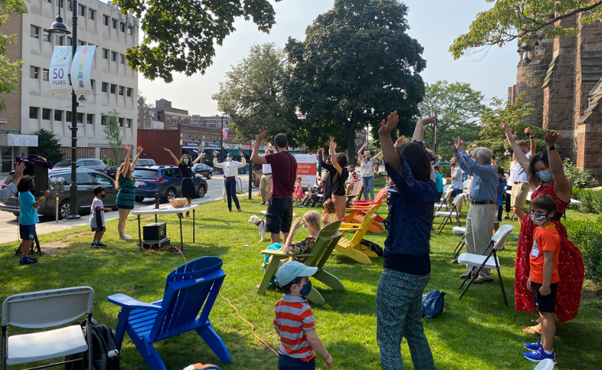 Summer Worship Begins Sunday June 19
Posted:
Jun 8 2022 - 6:38pm
Worship will start at 10am from June 19-September 4. While the COVID community level is high, we will continue to worship in the Sanctuary since it has the best ventilation. If/when numbers go down, we will make a plan to relocate downstairs to Willett Hall.