Upcoming Worship Service Events
Latest Worship Service News
Easter Flowers 2023
Posted:
Feb 22 2023 - 12:45pm
Every Easter, we decorate the altar with lilies, daffodils, tulips, hydrangeas and hyacinths donated by individuals and families honoring or remembering a family member or friend.
If you would like to contribute toward the flowers and have the names of your loved ones printed in the bulletin on Easter Sunday, there is an online form you can fill out HERE, you can email office@upbrookline.org, or fill out a pink form found in the pews.
Please donate $10 per name; if writing a check, put "Easter flowers" on the memo line. You may also donate through Paypal, Venmo, Realm, or our website.
Contact office@upbrookline.org with any questions.
Deadline is Sunday, April 2, 2023 (Palm Sunday).
Lenten Dinner Church 2023
Posted:
Feb 8 2023 - 4:50pm
Join us for a contemplative, candlelit service over a shared meal every Thursday in March from 6:00-6:45pm in the Parlor. Doors open at 5:45pm. Dinner church is a postmodern return to an ancient worship model, just like what the early Christians did in their own homes. We'll enjoy soup, salad, communion, prayer, confession and music. For more information, contact Seminarian Iuliana Mogosanu at seminarian@upbrookline.org.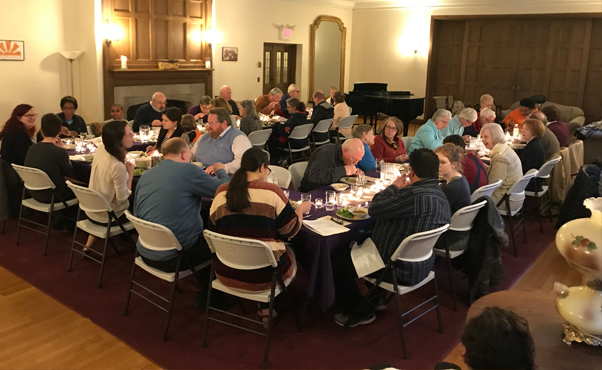 Ash Wednesday Worship – February 22, 2023
Posted:
Feb 8 2023 - 4:48pm
Join us for worship on Wednesday, February 22 at 8am on Zoom or 7pm in the Chapel. One of our creation stories tells us that God made the first human being by blowing the breath of life into dust from the ground. At funerals and burials for our loved ones, we remember these Earthly beginnings and endings by saying, "ashes to ashes, dust to dust." Ash Wednesday is an ancient ritual that helps us remember this theological grounding, that each of us is made of finite material, inspired and animated by the breath of God. For the 8am service: Find the Zoom link in the weekly newsletter or contact Associate Pastor Amy Norton at amy@upbrookline.org.