Advent 2: God Meets Us in Our Fear
By Iuliana Mogosanu
November 30, 2022 - 2:27pm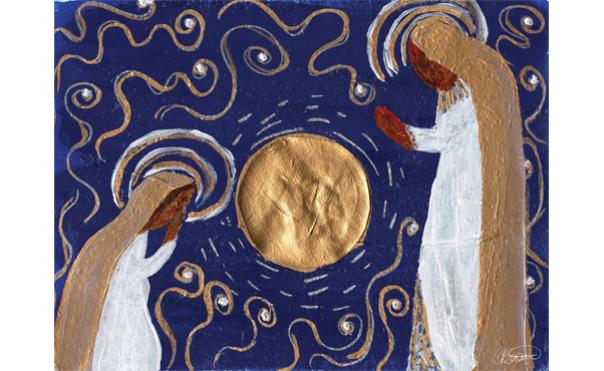 This Advent, we are following the series From Generation to Generation from A Sanctified Art. Recalling Mary's words in the Magnificat:
Surely, from now on all generations will call me blessed; 
God's mercy is for those who fear God from generation to generation. (Luke 1:48b, 50)
On Sunday we'll re-read the story of Mary's annunciation, from the Gospel of Luke, the announcement from the angel Gabriel about God coming into Earthly flesh and choosing her as the surrogate mother.
In my first sermon with you, I want to share with you how I learned about Mary. I want to lead your imagination into my Greek Orthodox church in Romania where worshippers light candles, burn incense and listen to background chanting while staying in front of icons of Mary holding baby Jesus and praying to her to intercede before God on their behalf.
We'll also hear a Greek Orthodox priest singing part of one of the hymns dedicated to Mary and using the story of her annunciation from the Gospel of Luke to walk us through what her thought process might have been in order to overcome her fear and say yes to God's calling in an astonishing mark of bravery.
We'll then turn from imagination to our real lives and think about a moment when we experienced an encounter with an angel who announced to us God's calling, perhaps without even realizing it. In the face of fear, how did we say yes to God's calling? What was our thought process? In the face of fear, when were we convinced to trust the calling?
Saying yes to a calling is a thought process, sometimes easy, sometimes difficult, sometimes quick, sometimes slow. We can find courage amidst fear to say yes to some callings and not to others. Sometimes it is difficult to even see what our true calling is. And that's okay. Regardless of where we are in our life's journey, God is with us, loving us.
I look forward to — and am a little nervous for -- this first moment to preach with you.
In faith,
Iuliana, 2022-2023 Seminarian
Advent Worship Series: From Generation to Generation

Advent 2: December 4, God Meets Us in Our Fear (Luke 1:26-38, Isaiah 11:1-10)

Advent 3: December 11, We Can Choose a Better Way (Matthew 1:18-25, Isaiah 35:1-10)

Advent 4: December 18, We See God in Each Other (Luke 1:39-45; 56-58, Luke 1:46-55)

Christmas Eve: December 24, Concert Prelude at 6:30pm, Lessons and Carols at 7pm
Christmas Day: December 25, Zoom Worship and Fellowship, 11am
If you'd like to read or listen to previous sermons, or subscribe to our podcast, please click here.
If you'd like to watch previous worship services, please visit our YouTube page.
Image credit: "Mary's Golden Annunciation" by Carmelle Beaugelin. Inspired by Luke 1:26-38. Acrylic, gilding paint, canvas collage on handmade reclaimed paper. © a sanctified art | sanctifiedart.org"