Recommitment and Reimagining
By Amy Norton
May 11, 2023 - 10:14am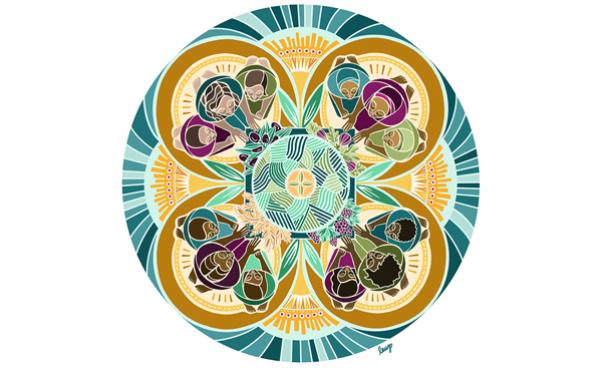 Beloved,
We're halfway through our Stewardship season, are you ready to talk about money some more? As we've dived into the exploration of Our Money Stories, we've prayed, sung, and reflected on themes of Remembering and Releasing, and now we arrive at an invitation to Reimagine. A word of warning: reimagining can be dangerous- revolutionary, even, because dreams are powerful: just ask Joseph, of technicolor-dreamcoat fame, or Rev. Dr. Martin Luther King, Jr. Nevertheless, God instructs us to dream big- to reimagine our economic system so that it is grounded in God's values of compassion, justice, and peace- instead of productivity, efficiency, and growth-for-growth's-sake. 
On Sunday we'll hear a familiar story of a widow who gave her last two coins to the church treasury. Often this story is told in a way that praises the widow's donation as an admirable act of devotion from a destitute believer. What if I told you there was another way to see it? What if Jesus were instead pointing out the brokenness of a system that allowed for the widow's destitution in the first place? Can we re-imagine society to make stories like this obsolete? Church, I believe we can. God gives us the tools to live our dreams into reality. Join us at 11am on Sunday in the Sanctuary and on YouTube to worship, sing, ponder jubilee, and reimagine together. I always look forward to seeing you there. 
In faith,
Amy
Recommitment: Exploring our Money Stories
Remember (April 30)
Release (May 7)
Reimagine (May 14)
Restore (May 21) -- Consecration Sunday, when we bring forth our pledge forms.
If you'd like to read or listen to previous sermons, or subscribe to our podcast, please click here.
If you'd like to watch previous worship services, please visit our YouTube page.
Image credit: "Jubilee" by Lauren Wright Pittman; Inspired by Leviticus 19:9-10; 25:8-12 (the Year of Jubilee); Digital painting; © a sanctified art | sanctifiedart.org