Praying our Collective Liberation
By Amy Norton
October 4, 2022 - 12:42pm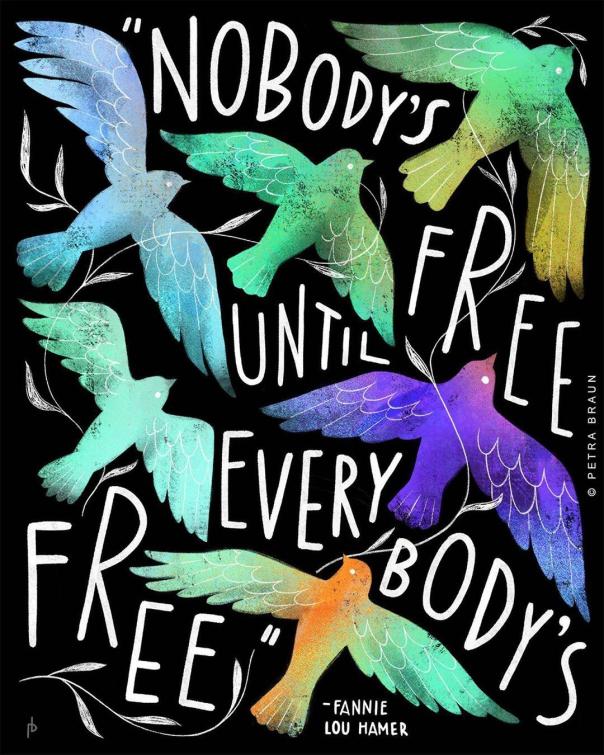 This autumn, our worship follows our Church School curriculum, Seeking God Together. We are learning in worship alongside the youngest members of our community.
This Sunday, however, we take a break from our curriculum for Indigenous Peoples' weekend and turn to this message that God spoke through the Prophet Jeremiah:
"This is the text of the letter that the prophet Jeremiah sent from Jerusalem to the surviving elders among the exiles and to the priests, the prophets and all the other people Nebuchadnezzar had carried into exile from Jerusalem to Babylon. This is what the Lord Almighty, the God of Israel, says to all those I carried into exile from Jerusalem to Babylon: "Build houses and settle down; plant gardens and eat what they produce. Marry and have children; find spouses for your adult children and give them away in marriage, so that they too may start families. Increase in number there; do not decrease. Also, seek the peace and prosperity of the city to which I have carried you into exile. Pray to the Lord for it, for in its welfare you will find your welfare."
God pretty unambiguously instructs the Israelites to pray for Babylon, explaining that Babylon's wellbeing will result in the Israelites' wellbeing. On the one hand, this could easily make anyone who has ever been marginalized bristle. What sort of trickle-down economics of wellbeing is this?! And yet, it reminds me of Aboriginal activist Lilla Watson, who said, "If you have come here to help me, you are wasting your time. But if you have come because your liberation is bound up with mine, then let us work together." 
It reminds me of James Baldwin, who said "White people cannot, in the generality, be taken as models of how to live. Rather, the white man is himself in sore need of new standards, which will release him from his confusion and place him once again in fruitful communion with the depths of his own being. And I repeat: The price of the liberation of the white people is the liberation of the blacks—the total liberation, in the cities, in the towns, before the law, and in the mind."
Our liberation is collective, or it isn't liberation. The idea of intersectionality, that our identities and where they place us in relation to power are multiple and intersecting isn't a new concept; in this story, God reminds our marginalized identities that joy, abundance, and flourishing in the face of exile is an act of resistance. In this story, God reminds our marginalizing identities that our proximity to power doesn't make us free or whole. 
Join us in the Sanctuary this Sunday at 11am or on YouTube to worship, learn, and grow together, I always look forward to seeing you there. 
in faith,
Amy 
Questions for consideration:

List as many aspects of your identity as you can think of: gender, ethnicity, native language, education level, family status, economic class, employment status, etc. Which of those identities bring you closer to power, or further away from power? 
Have you ever felt envious of someone who is further away from power than you? Why or why not? 
Where does the need for liberation show up in your life? 
Where do you find solidarity? Where can you offer solidarity? 
Autumn Worship Series
October 9 Praying our Collective Liberation (Jeremiah 29:1,4-7), afternoon visit to common cathedral, 1pm
October 16  Making Room (Matthew 6:16-18; Acts 13:1-3; 14:21-28)
Guest Speaker: Lisa Weinstock,
Member and Refugee Host, Wellesley Village Church (UCC) and Temple Beth Elohim
October 23  Marveling (Psalm 104)
October 30  Saying Thanks (Luke 17:11-19; Colossians 3:14-17)
November 6  Crying Out, All Saints (Psalm 130; Book of Job)
Guest Speaker: Gerami Groover-Flores, Executive Director
Hamilton-Garrett Center for Arts & Music
November 13  Confessing (Psalm 21:1-8)
November 20  Celebrating  (Psalm 11, 150)
November 27  "There's room for every story" (Matthew 1:1-17, Isaiah 2:1-5)
If you'd like to read or listen to previous sermons, or subscribe to our podcast, please click here.
If you'd like to watch previous worship services, please visit our YouTube page.
Image credit: Petra Braun Illustrations