By Amy Norton
February 24, 2022 - 1:18pm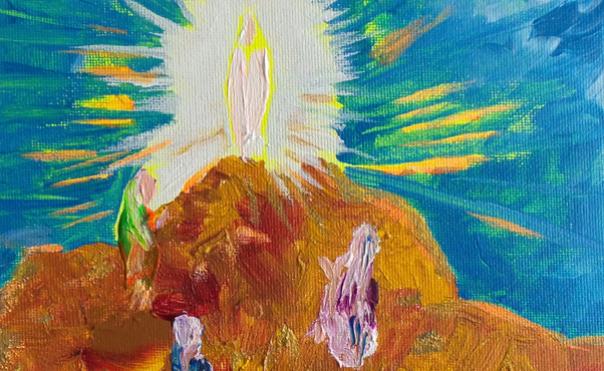 This Sunday, we mark the Transfiguration- the story from Luke's Gospel when Jesus communes with Moses, Elijah, and God atop a mountain, to the astonishment of onlookers Peter and James. We call it the 'transfiguration' because Jesus's face changes and becomes suddenly radiant. It harkens back to the story of Moses renewing Israel's covenant with God atop Mt. Sinai: his repeated meetings with God left his face so shiny that he wore a veil whenever he was back among his people in order not to scare them.
Typically on Transfiguration Sunday we talk about how encounters with God utterly transform us. This Sunday, after reading a poem by Maren Tirabassi written for this occasion, I want to ponder together the experience of those who weren't on the mountain, those who have to take other's word for it, those who feel far away from God. What do we do with our questions and doubts, especially when it feels like only the most devout ones are witnessing and experiencing the miracles we yearn to catch a glimpse of?
I look forward to questioning, doubting, and hoping together with you all at 11am in our Sanctuary and on our YouTube channel.
In faith,
Amy 
Upcoming Worship: Ash Wednesday
On Wednesday, March 2, at 8am on Zoom and at 7pm in the Sanctuary, we will gather to re-connect with our mortality and mark the beginning of Lent with the imposition of ashes and the reminder that we are dust, part and parcel of this precious, impermanent creation. Learn more.
If you'd like to read or listen to previous sermons, or subscribe to our podcast, please click here.
If you'd like to watch previous worship services, please visit our YouTube page.
Image credit: Transfiguration Mixed Media, by Paulo Medina