Who is our Neighbor: Thrifty Threads
By Amy Norton
July 13, 2023 - 10:31am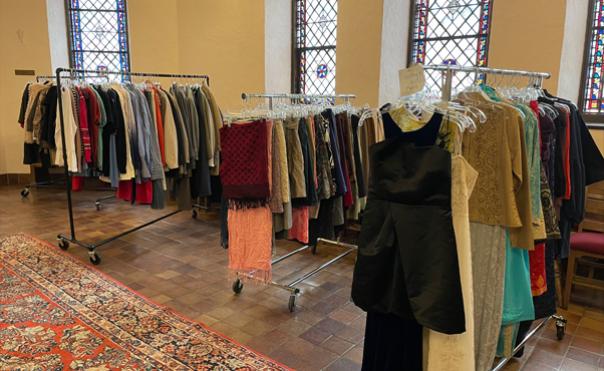 This summer we welcome our neighbors to come and share about their lives, work, passions, spirituality and give us sense of how we can serve "our neighbors as ourselves," following what Jesus called the second greatest commandment (Leviticus 19:17-18, Matthew 22:35-40, Mark 12:28-31, Luke 10:25-28). See speakers list below.
This Sunday, we welcome Erin Venkatesh and Rachel Silverman, who co-lead Thrifty Threads, our clothing ministry (and the only thrift store in Brookline), along with a team of incredible volunteers. Thrifty Threads turns 30 this year, and has grown exponentially since it first came into being in 1993. In addition to providing a great deal on clothing to shoppers, Thrifty Threads provides a sense of community, connection, dignity, and donates out almost as much clothes as it sells!
In worship, we will reflect on Jesus' teaching that those in search of shelter, clothing, comfort, and food are all reflections of Christ (Matthew 25:34-40)
Erin and Rachel write: 
This is not a neighborhood where houses abut and touch each other, but a neighborhood of caring. We want a person to experience the joy of unpacking a bag that was packed with care, with them in mind, so they have the clothing they so greatly need. Our clothing has been shared with newborns as well as with the elderly. Our clothing has been passed along to students in local schools as well as shipped to hurricane survivors on another continent. Their joy matters to us. Working towards their joy brings us deep peace and satisfaction.  
Come and join us as we live into our call as neighbors, learn more about our co-citizens, our community and one another.
In faith,
Amy
Image from Thrifty Threads
Summer Worship Series: Who is Our Neighbor?
July 16 -- Rachel Silverman and Erin Venkatesh, Thrifty Threads 
July 23 --  United Parish Mental Health Group and guest speaker
July 30 -- Reverend Carrington Moore, Executive Director, common cathedral 
August 6 -- Reverend Erik Hoeke, visiting pastor
August 13 -- Raana Mumtaz and Faiza Khan, Brookline Muslim Friends
August 20 -- Matthew Kossack, Executive Director, Artbarn Community Theater
August 27 -- Aba Taylor, Executive Director, Brookline Community Foundation
September 3 -- Arlene Hill, Brookline Housing resident
If you'd like to read or listen to previous sermons, or subscribe to our podcast, please click here.
If you'd like to watch previous worship services, please visit our YouTube page.