Thrifty Threads is open Fridays from 1:00pm to 4:00pm, and Saturday from 11:00am to 3:00pm.
Thrifty Threads, Brookline's only thrift store, is located inside United Parish and is fully operated by volunteers.
Thrifty Threads has been open and serving the community for 17 years. The shop is not only a source of income for this church, but is an important ministry serving Brookline and surrounding communities with good quality clothing at very low prices.
Items for sale include second-hand men's and women's clothing, jewelry, shoes and purses. Most items cost less than $10. Proceeds support the United Parish and its outreach and social justice programs.
If you have gently used clothing, jewelry, shoes or purses you would like to donate, please do so during our regular store hours.  We appreciate your generosity very much!
We would also love to have you join us in helping customers on a Friday or Saturday during store hours.  You do not have to work every week, possibly only once a month and then not the full five hours. Come join a wonderful group of volunteers, have fun, and maybe find a treasure or two. 
thriftythreads@upbrookline.org
Upcoming Thrifty Threads Events
Latest Thrifty Threads News
Thrifty Threads Seeks Volunteers
Posted:
Sep 28 2018 - 10:36am
Thrifty Threads, United Parish's thrift shop, (located off the Marion Street lobby next to the Church Office) serves Brookline and the surrounding communities with good quality clothing at very low prices. We are eager for additional volunteers. Volunteer once or on a routine basis. It's a great way to get involved in the community! The thrift shop is open Fridays 1-4pm and Saturdays 11am-3pm. Thrifty Threads is also on Facebook: like, comment, post, follow, and share to spread the word! Contact thriftythreads@upbrookline.org.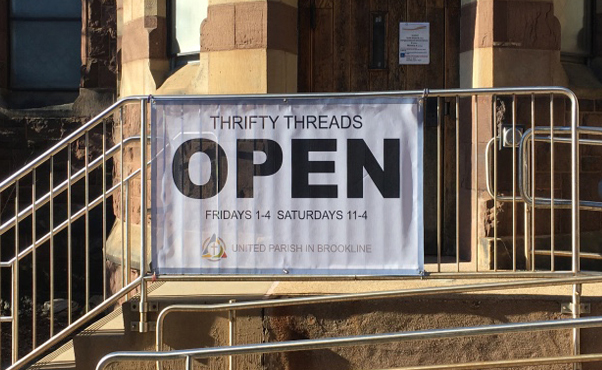 Thrifty Threads Facebook Page
Posted:
May 17 2018 - 2:32pm
Thrifty Threads recently launched a Facebook page to advertise to the greater community. They'll be posting new and special items to encourage shoppers to come by. Check them out at Facebook.com/TTofUP. If you've shopped or volunteered there before, "like" the page, write a review, post a photo or comment, and share with your friends! Contact thriftythreads@upbrookline.org.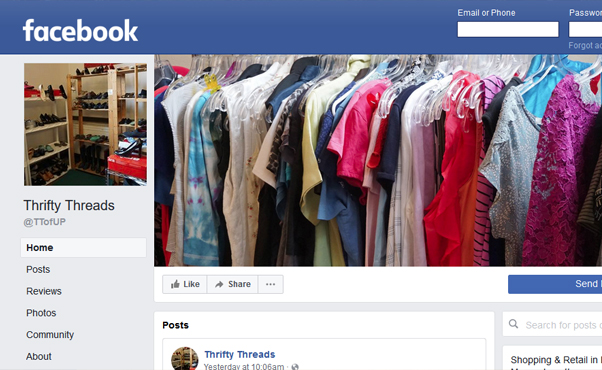 Call for Volunteers - Thrifty Threads
Posted:
Jun 30 2017 - 10:46am
Thrifty Threads is kicking off its summer season and needs your help to keep servicing the community over the warmer months, and we need your help. Please consider spending a few hours with fellow United Parish people. You can be part of helping customers find a great outfit, provide affordable options, recycle clothing with a 'keep it green' clothing option, and give yourself a space for your spiritual life to grow with your fellow United Parish people.
To learn more or to help out on a Friday(1-4pm) or Saturday (11am-3pm),- please contact:thriftythreads@upbrookline.org or sign up during coffee hour on Sunday.