Serving as an acolyte is a wonderful way for children of our church from fifth grade up to actively participate in Sunday worship services.  Acolytes assist the pastors and help everyone prepare for worship.  When acolytes light the altar candles at the beginning of worship, we are remindied that God is here with us. At the close of worship, acolytes extinguish the candles and bring God's light out into the world
Contact:
Betty Gray or Christina Rawinski
Latest Acolytes News
Children and Youth Programs Registration 2020-2021
Posted:
Aug 26 2020 - 5:29pm
Dear Church School Families,
To say that the past few months have been a "doozy" is a massive understatement. We've been navigating a global pandemic for five months now, and I think back to life six months ago, when our current situation would have been unimaginable. It's true that we can only (or hardly?) imagine what life will look like six more months from now, and while that truth is an unsettling one, I pray that we can also see it as a hopeful one. We cannot know what the future holds, but we can use this space to dream, pray, and collaborate to make it bearable, even joyful. I am always praying this with you. I am available Sundays-Thursdays to pray, listen, and dream with you (or your kids) as you navigate this year- the best ways to reach me are via email at amy@upbrookline.org, or by leaving a voicemail at 617-277-6860 x2. 
Is it already cliché to say that church school and music ministry will look different this fall? Based on input from our staff, parents, and teachers, we have developed a model of children and youth programming that we hope will enable children and youth to develop and maintain peer connections, build safe, consistent, supportive relationships with their music and church school teachers, and empower parents as their children's primary religious educators. At the very least, we pray that your children will know that they always have a home at United Parish and a family within our community.  
As many of you know, the Children and Youth Deepening Ministry Team recently conducted a survey to identify how best to provide church school programming for our youth during the pandemic. Susan and I have also had many one-on-one conversations with parents trying to understand the special needs of our families right now, and how best to support both children and parents. Our curriculum this fall is a carefully curated conglomeration of resources, lesson plans, and activities crafted to meet the needs we heard from our United Parish parents. You'll also notice that our calendar is designed around an all-but-entirely remote year. If, during the year, our staff and reopening task force deem it safe to begin in-person church school classes, we will announce and adapt as necessary. Most, if not all, of the lessons we've selected are able to be easily facilitated in person. 
Preschool and Kindergarten: Life with a toddler is unpredictable enough; we are not going to add Zoom classrooms to the mix! Instead, our Pastoral, Music, and Nursery staff, along with our Preschool and Kindergarten church school teachers, will be creating short videos for you to watch with your little ones whenever you have 10 minutes to spare (before bed, during snack or lunch time, when you need to get the wiggles out on a rainy day…). These videos will include song, story, ritual, and prayer, offered by familiar faces and filmed in familiar settings.
Elementary: Our Elementary curriculum this year is a hybrid (you're likely hearing that word a lot lately) of both Zoom-based lessons, virtual check-ins with teachers and classmates, and activities that families can do together at home, as you have the time/energy, the materials and instructions for which will be provided for you in monthly care packages that can be picked up from the church, or delivered to your home. Each grade level will also have two opportunities this fall to gather on the lawn with our music leaders and me for some socially-distant crafts and music; see the calendar for your child's assigned date.
Middle and High School: Our Middle and High School students will begin the year with weekly Zoom lessons and check-in time; the lessons are based off of Nadia Bolz-Webers "Have A Little Faith" video series. If your teen is looking for some more hands-on activities, many of the home activities in the Elementary curriculum can be 'aged up' for teen participation and enjoyment. We also know that the teenage circadian rhythm can be WILDLY different from that of younger children and adults. Therefore, please know that the meeting times listed on the calendar are arbitrary and just to get us started. If, after a few weeks, the teachers and students decide it would be best to meet at a different time (or even different day), you have our full blessing to do so!
Confirmation: Our confirmands will be meeting in a separate Zoom classroom this fall, in preparation to be confirmed in early February. We will be using the same "Exploring Faith" curriculum as last year, that our pastors and teachers created together. Confirmation is open to any 10th grader, as well as any not-yet-confirmed 11th or 12th grader. 
Rite 13: Coming of age in the middle of a global pandemic is a big deal, and we are committed to working with our 8th grade students and Middle School teachers to ensure that our youth are supported in this journey celebrated at the end of this Church School year in a way that feels fitting to their journey thus far. Stay tuned for more information as we get further along in the year!
Youth Group: Our youth group leaders and I are working together to provide as many chances as we can for our Middle and High School students to gather virtually for games, social time, and mission opportunities, and will follow the guidelines of our local and state governments as well as the United Parish Reopening Task Force as we try to plan opportunities for in-person activities. 
Music: Music programming will support our church school curriculum throughout the year. Susan will also be working with children and youth in small groups via Zoom to create collaborative audio/video projects for use during worship.
These are uncertain times (there I go again with stating the obvious), but there are some things that are certain: your children are ALWAYS welcome in the United Parish community, no matter what they believe (or don't believe), no matter who they are or where they are on their journey. 
Parents, you are always welcome here, no matter how many times your child has made it to church school (or not), no matter what your own comfort or familiarity with religion or the Bible is, no matter who you are or where you are on your journey. Know that United Parish as a whole will always be here to serve as a quirky, loving, spirit-filled co-parent, and it is an honor to be part of the village that helps raise your children. 
Life has been hard lately. For some of us it's been downright scary. We don't know what the future holds. Let us therefore hold fast to Julian of Norwich's reminder that "God is nearer to us than our own soul...All shall be well, and all shall be well, and all manner of things shall be well."
I look forward to traveling this road with you and your children, as we deepen in our faith and our community together.
Peace,
Amy Norton        Susan DeSelms  
 Associate Pastor    Minister of Music
In this electronic packet, you will find the following materials, which we hope will help you and your child(ren) ease into this brave new church year: 
Church School and Music Programming Registration 2019-2020
Posted:
Aug 22 2019 - 1:05pm
Back to school season means it's time to register for church school and music programs for children and youth. You can learn more about the different educational for children and youth and musical offerings here. All are welcome!
Registration packets have been mailed. If you didn't get one or need extra forms, you can pick up a packet before or after worship, or download the forms below. Contact Associate Pastor, Amy Norton (amy@upbrookline.org) or Minister of Music, Susan DeSelms (susan@upbrookline.org) or Assistant Music Director, Josaphat Contreras (josaphat@upbrookline.org).
Letter from Associate Pastor, Amy Norton
Letter from Minister of Music, Susan DeSelms and Assistant Music Director, Josaphat Contreras
2019-2020 Music and Church School Calendar
Registration Form (please fill out one per child)
When to Keep Your Child Home from Church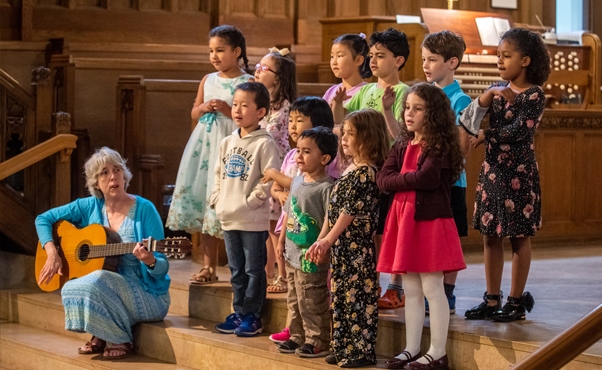 Fall Kick-Off Sunday - September 9
Posted:
Aug 23 2018 - 10:47am
It's been a wonderfully rich and deeply meaningful summer as we explored the images of God in our midst, but next week worship will return to the Sanctuary as we kick off the 2018-2019 program year. We welcome you all to join us for music, Bible study, worship, and fellowship.
9:00am – Carolers and Youth Choir Orientation (Parlor)
9:45am – Church School Convocation (Sanctuary)
10:00am – Adult Drop-In Bible Study (Deepening Room)
10:00am – Chancel Choir Rehearsal (Choir Room/Sanctuary)
11:00am – Worship and Blessing of the Backpacks (Sanctuary)
12:00pm – All-Parish Potluck Cookout (Front Lawn)