The Chancel Choir is a non-audition community of adult singers anchored by four professional section leaders. We lead vibrant congregational song and enhance worship with inspired music of all styles and eras. We welcome singers of all levels of training and experience, incorporating musical and vocal training into our rehearsals.
Rehearsals are Thursdays from 7:00 - 9:00 p.m. in the Choir Room.
Want to get involved? Have questions?
Upcoming Chancel Choir Events
Latest Chancel Choir News
Annual Collaboration with Temple Shir Tikva
Posted:
Mar 15 2017 - 5:57pm
Each year the Chancel Choir at United Parish in Brookline collaborates with the choir of Temple Shir Tikva in Wayland. This year, we met on Friday, March 3 at Temple Shir Tikva in Wayland and on Sunday, March 5 at United Parish.
Over the past five years, this collaboration has celebrated our shared musical traditions singing arrangements of hassidic songs, spirituals, Jewish niggun, and various settings of the Psalms, including Leonard Bernstein's Chichester Psalms.
Both choirs and congregations have grown to look forward to this collaboration with great joy and excitement as we've developed lasting friendships, learned new music, and worshiped in new and different ways. This year's collaboration featured music in the folk, gospel, and 19th century classical traditions, presenting Movement 4 of Brahms' Ein Deutsches Requiem, Woodie Guthrie and the Klezmatics' version of "Holy Ground," and Paul Halley's broadway-gospel arrangement of "Hold to God's Unchanging' Hand," featuring our own, beloved broadway-gospel vocalist, Merle Perkins.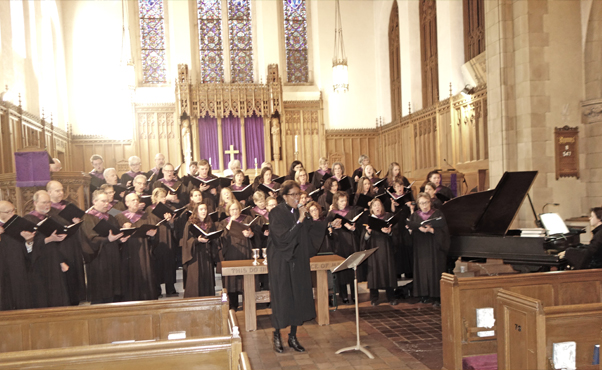 On Friday, March 3, our congregations celebrated Shabbat together at Temple Shir Tikva @ 6:15pm. Two days later, our congregations united at the United Parish in Brookline for 11 a.m. worship.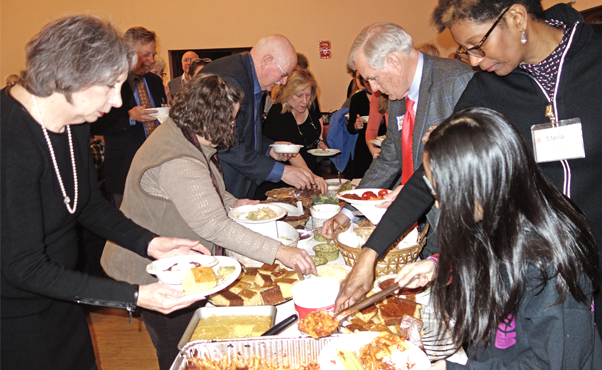 After worship, attendees enjoyed a chili lunch together and then worked together on a Rise Against Hunger service project, during which participants created 10,000 nutrient rich meal packages for food-insecure people in developing countries. Our congregations worked together to raise $3,000 and enlisted more than 60 volunteers to complete this inspiring and incredibly effective service project.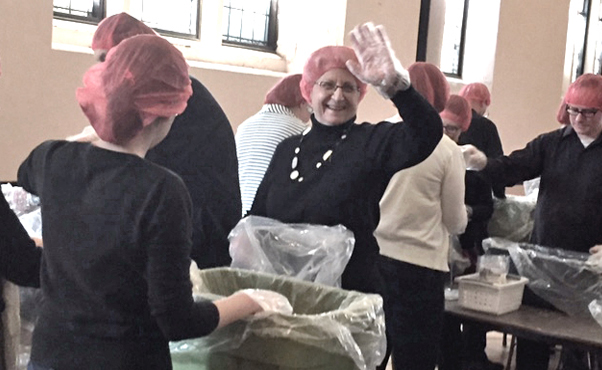 A Song for Syria - November 12 @ 8pm
Posted:
Nov 3 2016 - 10:57am
On Saturday, November 12, at 8pm, the United Parish in Brookline is hosting A Song for Syria, a concert benefiting Doctors Without Borders for their vital work with Syrian civilians.
This concert brings together the talents of an unbelievable roster of established musicians giving their time to support this cause, including: Blue Heron, Boston Camerata, Consort of Hope, DooZhen Choir, Lorelei Ensemble and members of the United Parish Chancel Choir.
Please help us get the word out by inviting your friends and by joining us for what's sure to be an incredible evening of music, supporting a very important cause.
In lieu of admission, we invite donations, 100% of which will support the work of Doctors without Borders in Syria.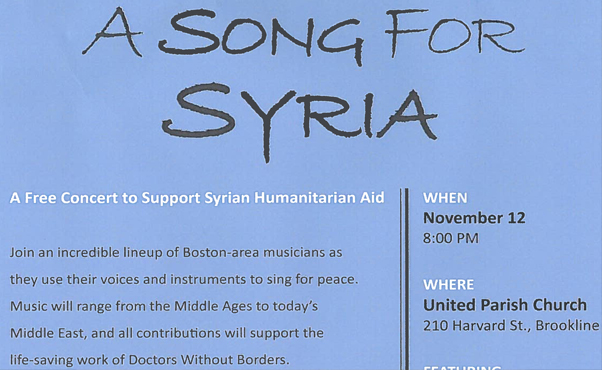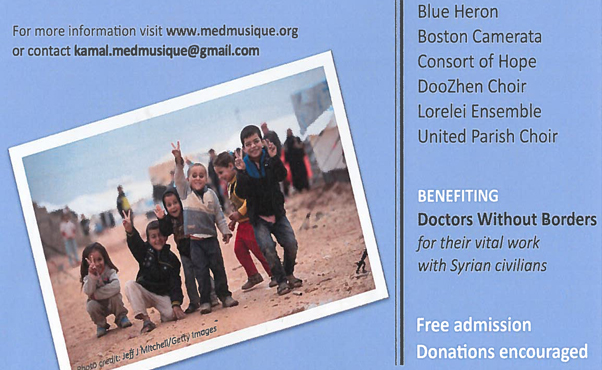 All Saints Sunday - November 6
Posted:
Nov 3 2016 - 10:09am
Every November, churches around the English-speaking celebrate All Saints Sunday and many sing:
For all the saints, who from their labors rest, who to the world their steadfast faith confessed...
And we remember exemplary lives, some who lived among us, some we only read about, some we never heard of.
"Saint" sounds like such a big word. Utterly unattainable, even. You might wonder if you would even want to grow into such a name. But, it's worth pondering. The people we call saints were often fairly ordinary people, who happened to let God's goodness shine through them. In doing so, some truly extraordinary things happened with their lives.
On Sunday, November 6, we will celebrate communion together, and hear the Chancel Choir sing the 1st movement of the Brahms' Requiem. 
Blessed are they that mourn: for they shall be comforted.  They that sow in tears shall reap in joy.  They that go forth and weep, bearing precious seed, shall doubtless come again with rejoicing, bringing their sheaves with them.
We will commemorate All Saints Day and try to envision what it means to be a saint, even wonder aloud what saintly stuff is going on in our lives, and remember the saints we've had the privilege to know. And we'll continue singing the words together:
Still may your people, faithful, true and bold, live as the saints who nobly fought of old....