Our special Intergenerational Church School days intentionally take into account the fact that there are learners of different ages and experiences in attendance. The programs seek to teach to the hearts of everyone present.
Intergenerational teaching and learning benefits both adults and children. It provides opportunities for all generations to understand the material differently and benefit from another perspective. It is a unique opportunity for the young to learn from the old, and for the old to learn from the young.
Examples of past Intergenerational programs include: World Communion Bread Making, Advent Wreath Making, Advent Spiral, and Holy Week Walk.
While we would like to strongly encourage participation from people of all ages, United Parish Safe Church Policy requires that children be accompanied by an adult.
Upcoming Intergenerational Events
Latest Intergenerational News
Intergenerational Advent Wreath Workshop
Posted:
Nov 15 2019 - 1:13pm
Join us on Sunday, December 1 from 9:45-10:45am in the Chapel for the annual wreath-making workshop. There will be music, food, and supplies for everyone to make their own Advent wreath. Open to all! Hosted by the Children and Youth Deepening Ministry Team. Contact cydeepening@upbrookline.org for more information.
Lenten Midweek Worship: Dinner Church
Posted:
Feb 20 2019 - 1:08pm
Lenten Dinner Church is returning this year! Join us for a contemplative, candlelit service over a shared meal each Thursday from March 14 through April 11 from 6:15-7:00pm in the Parlor. Doors open at 6pm. Dinner church is a post-modern return to an ancient worship model that has been sweeping the country- just like what the early Christians did in their own homes. We'll enjoy soup, salad, communion, some prayer, confession and music. For more information, contact Seminarian Wilson Hood at wilson@upbrookline.org or Associate Pastor Amy Norton at amy@upbrookline.org.
**Volunteers needed for Lenten Dinner Church. If you're able to bring soup or salad, help with setup and/or cleanup, or share a confession, click here to learn more.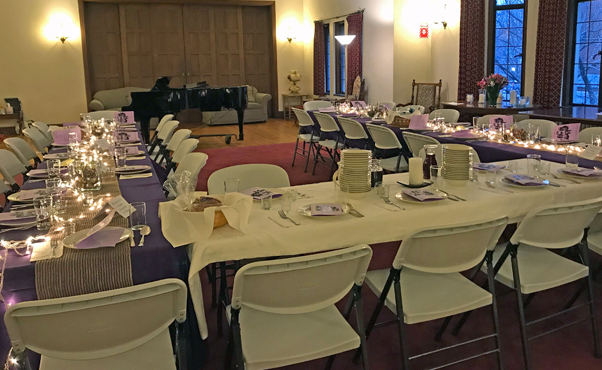 Inaugural Prayer Retreat at United Parish
Posted:
Feb 13 2019 - 10:47am
We are gathering as a spiritual community to prepare ourselves for Lent on Saturday, March 2, 9:30-11:30am in the Parlor and Willett Hall. This will be a "come as you are" time to walk the labyrinth, take time for silent meditation, learn some Celtic prayer traditions, and share quiet prayer time with those you know and new friends. Pilgrims of all ages are welcome! Questions? Contact the Church Office at office@upbrookline.org.