THRIFTY THREADS IS TEMPORARILY CLOSED DUE TO COVID-19.
Thrifty Threads is normally open Fridays from 1:00pm to 4:00pm, and Saturday from 11:00am to 3:00pm.
Thrifty Threads, Brookline's only thrift store, is located inside United Parish and is fully operated by volunteers.
Thrifty Threads has been open and serving the community for over 15 years. The shop is not only a source of income for this church, but is an important ministry serving Brookline and surrounding communities with good quality clothing at very low prices.
Items for sale include second-hand men's and women's clothing, jewelry, shoes and purses. Most items cost less than $10. Proceeds support the United Parish and its outreach and social justice programs.
If you have gently used clothing, jewelry, shoes or purses you would like to donate, please do so during our regular store hours.  We appreciate your generosity very much!
We would also love to have you join us in helping customers on a Friday or Saturday during store hours.  You do not have to work every week, possibly only once a month and then not the full time. Come join a wonderful group of volunteers, have fun, and maybe find a treasure or two. 
We can accept:
Gently-used or new clothing for all ages and sizes
Small household items like: kitchenware, vases, artwork, and books
We cannot accept:
Large items like furniture
Broken items
Baby equipment
Used socks or underwear
Whole house clean-outs
thriftythreads@upbrookline.org
Follow us on Facebook and Instagram.
Upcoming Thrifty Threads Events
Latest Thrifty Threads News
Thrifty Threads Sidewalk Sale - September 26
Posted:
Sep 25 2020 - 2:39pm
Thrifty Threads will host another outdoor sale on Saturday, September 26 from 12-3pm in the Marion Street driveway. Masks required and shoppers must maintain at least 6 feet of distance. Hand sanitizer will be available.
Donations of clothing and household items will be accepted on Saturday or during the week. Contact the Church Office at office@upbrookline.org to schedule a drop-off time.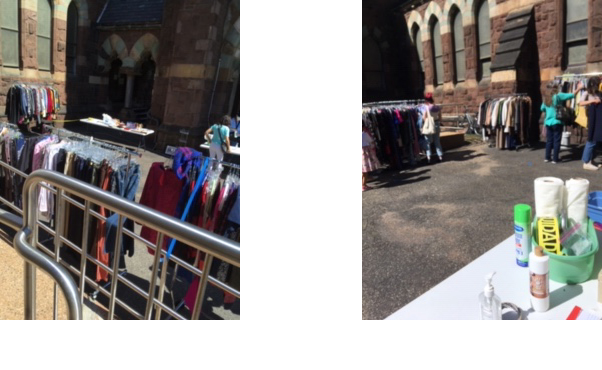 Thrifty Threads Continues to Help Community Despite Closure
Posted:
Sep 1 2020 - 3:36pm
Volunteers have collected and packed up another 5 boxes of donated clothing for Haley House, which offers a collaborative living and working environment for those vulnerable to the effects of inequality. Another carload of women's and children's clothing was donated to Solutions at Work in Cambridge, a nonprofit organization working to end homelessness. Thrifty Threads is still taking donations; please contact office@upbrookline.org to schedule a drop-off time.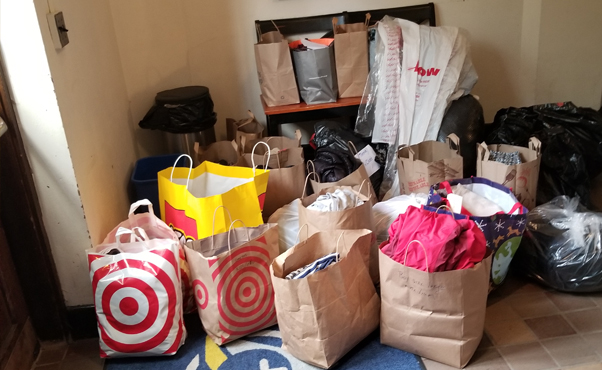 Thrifty Threads Sidewalk Sale
Posted:
Sep 1 2020 - 3:21pm
Stop by to shop on Saturday, September 12 from 1-4pm on the church front lawn (rain date September 26). Shop for clothing, jewelry, housewares, books and more! Contact thriftythreads@upbrookline.org. Masks required, and shoppers must maintain 6ft of distance.