Thrifty Threads, Brookline's only thrift store, is located inside United Parish and is fully operated by volunteers.
Thrifty Threads has been open and serving the community for 17 years. The shop is not only a source of income for this church, but is an important ministry serving Brookline and surrounding communities with good quality clothing at very low prices.
Thrifty Threads is open Fridays from 1pm to 4:00pm, and Saturday from 11:00 a.m. to 4:00 p.m. Items for sale include second-hand men's and women's clothing, jewelry, shoes and purses. Most items cost less than $10. Proceeds support the United Parish and its outreach and social justice programs.
If you have gently used clothing, jewelry, shoes or purses you would like to donate, please do so during our regular store hours.  We appreciate your generosity very much!
We would also love to have you join us in helping customers on a Friday or Saturday during store hours.  You do not have to work every week, possibly only once a month and then not the full five hours. Come join a wonderful group of volunteers, have fun, and maybe find a treasure or two. 
thriftythreads@upbrookline.org
Upcoming Thrifty Threads Events
Latest Thrifty Threads News
Thrifty Threads has a need for Winter Jackets
Posted:
Dec 23 2015 - 4:40pm
We have a need for warm winter jackets for both men and women. Some of the jackets will be kept for sale in the thrift shop and we will send some men's jackets to Haley House, a service organization for men in need, located on Dartmouth Street in Boston.
The thrift shop is open Fridays and Saturdays, 11am-4pm. Contact the Church Office for more information.
Thrifty Threads Work Day - October 10
Posted:
Sep 9 2015 - 9:22am
Saturday, October 10th we will be working to move summer apparel down to the thrift shop store room and bring up fall and winter clothing. Please consider working with us even for a couple of hours that day beginning at 9:00AM and work until 2:00pm.
We will need people upstairs in the shop as well as people downstairs in the store room to help organize the move. Please let Betty Lindsay or Linda Percy know if you are able to help. You can contact the church office to leave them a message.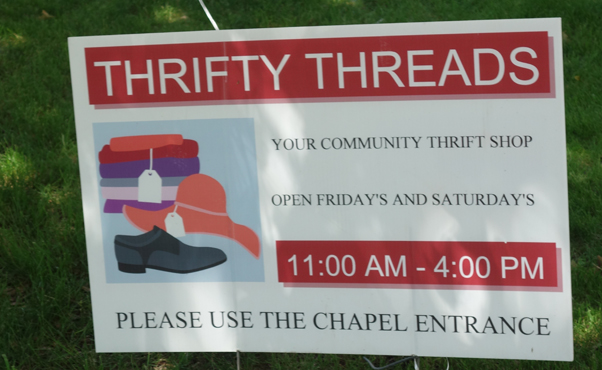 Urgent Need for Winter Coats
Posted:
Jan 8 2015 - 7:02am
Thrifty Threads has put out a call to address a need in our community.  This year both the thrift shop and the church office have seen a dramatic increase in the number of people looking for winter jackets and other warm clothing. We are putting out a request for used, warm jackets for both men and women, although the biggest need is for men's jackets.
Coats may be brought to the Thrifty Threads shop on Friday or Saturday, between 11am and 4pm, or to the church office on Sunday morning, or any day during office hours.  You can contact the church office here.