Upcoming Spiritual Practices Events
Latest Spiritual Practices News
Sacred Stroll - March 6
Posted:
Feb 25 2021 - 11:00am
We will have a sacred stroll at Mt. Auburn Cemetery on Saturday, March 6 from 2-3:30pm.
It's time to get outside with one another, the Creator, and local history! We will take a leisurely walk and share in a time of prayer and worship, while respecting the many reasons people visit the cemetery. Paved paths are available.
Bring your mask, water, journal/Bible/pen if you desire, and hopefully a friend. We will be socially distanced and masked. Children and youth should be accompanied by parents or guardians. Unfortunately, pets are not permitted in the cemetery. (Rain date: Sunday, March 7, 3pm.)
Location: Mt. Auburn Cemetery, 580 Mt Auburn St, Cambridge, MA 02138: https://goo.gl/maps/NiyFThrVCaf6sheM6. According to the website, "Mount Auburn Cemetery is located on the Cambridge/Watertown line on Mount Auburn Street, just off Storrow Drive. You can drive through the Cemetery and may park on any roads without a green line." Please park somewhere in the front of the cemetery, near the Story Chapel Visitor Center, so that we can find each other. (This section is near the intersections of Mt Auburn St, Aberdeen Ave, and Brattle St.)
Please RSVP to Katharine at seminarian@upbrookline.org by 12pm on Saturday, March 6. You can also contact Katharine with questions or concerns. We hope to see you there!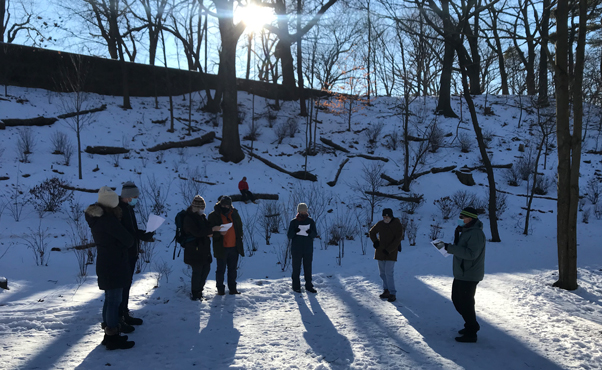 Saving Water for Lent
Posted:
Feb 22 2021 - 4:43pm
Many people take on fasting as a spiritual practice during Lent. This means that they pick something special to give up or use less of, as a way of getting closer to God. Some people give up luxuries like chocolate or butter, or they may choose to keep a vegan diet for Lent. Other people give up habits that distract them from being their best self like gossiping. Some people try new habits for Lent, like writing down three things they are thankful for each day, or volunteering at an animal shelter.
We are inviting our church school families (and anyone else who would like to participate) to explore the ways that we can build up love in the world through service, and join together in a special Lenten fast for water conservation!
Take a look at the list below, or click this link for 100 ways (both big and small) to save water in our daily lives.
Help us spread the word (and the love) by taking a photo or video of one of the ways you conserve water this Lenten season, and sharing it on social media with the hashtag #UPsavewaterchallenge. If you tag us in the photo, we'll repost it on our account and share it in worship!
Twitter: @UPbrookline
Instagram: @UnitedParishinBrookline
Facebook: @UnitedParish
Shower Bucket. Instead of letting the water pour down the drain, stick a bucket under the tap while you wait for your shower water to heat up. You can use the water for flushing the toilet or watering your plants.
Turn off the tap while brushing your teeth. Water comes out of the average tap at 6 liters per minute. Don't let all that water go down the drain while you brush! Turn off the tap after you wet your brush, and leave it off until it's time to rinse.
Turn off the tap while washing your hands. Do you need the water to run while you're scrubbing your hands? Save a few gallons of water and turn the tap off after you wet your hands until you need to rinse.
If it's yellow, let it mellow. This tip might not be for everyone, but the toilet is one of the most water-intensive fixtures in the house. Do you need to flush every time?
Fix your leaks. Whether you go DIY or hire a plumber, fixing leaky taps can mean big water saving.
Re-use your pasta/potato cooking liquid. Instead of dumping that water down the drain, try draining your pasta/potato water into a large pot - cool it then water your plants.
Head to the car wash. If you feel compelled to wash your car, take it to a car wash that recycles the water, rather than washing at home with the hose.
Cut your showers short. Speed things up in the shower for some serious water savings. Can you get squeaky clean in under 5 minutes? 
Choose efficient fixtures. Investing in a low-flow toilet, choosing efficient shower heads, and choosing water efficient dishwashers and washing machines can add up to big water savings.
Be careful of the detergents and chemical products that you are responsible for pouring down the drain because: Water fact: One in eight people worldwide does not have access to clean drinking water. Take a look in your kitchen and bathroom, and try to pick one product that you can replace with a chemical-free version! 
Don't run the dishwasher or washing machine until it's full. Those half-loads add up to gallons and gallons of wasted water.
Install a water butt to collect rain water from the roof and use it for the garden and outdoor cleaning.
Flush with less. Older toilets use a lot of water. You can reduce your usage by putting a one liter plastic bottle, filled with water, into the cistern.
Water outdoor plants in the early morning. You'll need less water, since cooler morning temperatures mean losing less water to evaporation and direct the water to the roots where it is needed.
Hand-washing a lot of dishes? Fill up your sink with water, instead of letting it run the whole time that you're scrubbing.
Use less electricity. Power plants use thousands of gallons of water to cool. Do your part to conserve power, and you're indirectly saving water, too!
Wash Fido outdoors with water from a water butt. That way, you're watering your yard while you're cleaning your pup. Just make sure that the soap you're using isn't harmful to your plants!
Skip the shower from time to time. Do you really need to shower multiple times a day or even daily? Skipping even one shower a week adds up to big water savings.
Re-use grey water. You can do things like re-route the runoff from your clothes washer and use that water for things like flushing the toilet.
Adult Deepening Opportunities for Lent
Posted:
Feb 4 2021 - 5:32pm
The season of Lent is an ideal time to find new and creative ways to grow in faith and one's relationship with God and others. This Lent, we are delving into what it means to cultivate "the fruits of the Spirit," (inspired by Galatians 5:22-23). Each week we will choose one of these Christian spiritual virtues and explore what it means to practice humility, gentleness, gratitude, generosity and service, patience, self-control. In Holy Week, we will look at love (Maundy Thursday), compassion (Good Friday) and joy (Easter).
This year, we hope you will make time to join these Lenten Adult Deepening activities:
Small Group Study: During Lent, United Parish worship services will be exploring Christian virtues such as humility, love, patience, joy, gratitude, self-control - the "Fruits of the Spirit" discussed in Galatians 5:22-23.  Weekly Small Groups will explore how we can cultivate the Fruits of the Spirit in ourselves and as a church community.
Monday evenings, 7:30pm on Zoom, Contact: Deb Hall (adultdeepening@upbrookline.org)
Sunday afternoon, 20/30s Group at their regular time on Zoom 12:45-2:15pm. Contact: Katharine Henry (seminarian@upbrookline.org)
Sunday morning: our regular Drop-In Bible Study, 10-10:45am on Zoom. No prep necessary. Contact: Deb W. (biblestudy@upbrookline.org)
Lenten Study Archives
February 21
Post-Worship Questions for Consideration: Humility
Lenten Study Curriculum Packet: Week #1
February 28
Post-Worship Questions for Consideration: Gentleness
Lenten Study Curriculum Packet: Week #2
March 7
March 24
March 21
March 28
Mini-Prayer Retreat: "Leaning into Lent: Deepening Your Personal Prayer Practice": A virtual mini-prayer retreat for the United Parish community. Sunday, February 21 from 4-6pm on Zoom. Please join us for a Lenten mini-prayer retreat, "Leaning into Lent; Deepening your personal prayer practice" via Zoom on Sunday, February 21 from 4-6pm. We will look at our own personal relationship to prayer, applying a spacious and inclusive definition of prayer in all of its beautiful and sacred manifestations. We will explore together how we might deepen our own personal prayer and contemplative practices during Lent, moving towards a more hope-full and inspired Easter. Lightly facilitated by Adam Sutton, United Parish member and ordained interfaith minister and coach. Gathering will be limited to no more than 15 participants, to allow for more intimate sharing and community-building.
Prayer Partners for Lent: One of the best ways to help us strengthen spiritually as a community and to ward off some loneliness during this continued pandemic is to have a prayer/conversation buddy. We strongly encourage you to try this. Please contact adultdeepening@upbrookline.org if you would like a Prayer Partner for Lent. We'll pair you up with someone, or you can choose someone you know. Make a covenant with your Prayer Partner to connect at least 15 minutes each week of Lent by phone or in person. The Adult Deepening team will also provide Prayer Partners with a brief guide for ways you might get to know each other, and ways to try praying together or individually on behalf of the other.
Tuesday Lenten Dinner Church: 7pm-7:45pm on Zoom — February 23-March 23
During Lent, we invite you to join us on Tuesday evenings from February 23 through March 23 at 7pm for Lenten midweek worship on Zoom. Prepare your own meal at home and sit down with us for a worship service of prayer, contemplation and song. Dinner church is a postmodern return to an ancient worship model, just like what the early Christians did in their own homes. (This will replace the regular Tuesday Evening Prayers.) For more information, contact Seminarian Katharine Henry at seminarian@upbrookline.org or Associate Pastor Amy Norton at amy@upbrookline.org.
Morning Midweek Meditation - Thursdays from 8-8:30am via Zoom
If you are looking for a calming, caring congregational connection in the middle of your chaotic week, join Adam Sutton on Thursday mornings on Zoom. We will hold space for some simple prayer sharing and will offer a relaxing and centering guided meditation that will leave you relaxed and renewed, ready to move into the rest of your week. Sign up by contacting Adam Sutton at adultdeepening@upbrookline.org or find the Zoom information in the weekly newsletter.
Lenten Dinner Church
Music and worship over a sacred meal on Zoom
Tuesdays, February 23-March 23
7pm on Zoom
Palm Sunday
Sunday, March 28
11am Worship on YouTube
Maundy Thursday
Thursday, April 1
6:45pm Guided Foot and Hand Washing Ritual on Zoom
7pm Worship and Communion on Zoom
Good Friday
Friday, April 2
7pm Tenebrae Worship on YouTube
Easter
Sunday, April 4
11am Festival Worship on YouTube
1-3pm Easter Flowers Available for Pick-Up on the Front Lawn