Hearts and Hands Ministry
The Hearts and Hands Ministry seeks to embody the love and compassion of Jesus by using our voices, eyes, hands and feet to support, comfort and care for our United Parish family during times of celebration and joy, sickness and healing, grief and loss. We are an active and diverse group of volunteer caregivers who:
Celebrate special milestones in the lives of our members by sending cards and delivering gift bags;
Care for our members who are coping with illness or related needs by visiting or telephoning, providing transportation to medical appointments, preparing and delivering meals, writing notes; delivering healing gift bags; knitting prayer shawls;
Comfort our members who are bereaved by sending cards, assisting with transportation; visiting and telephoning;
Gather in small groups to make items to include in gift bags (prayer shawls, mittens, baby blankets) or food, and participate in special projects to help United Parish members.
We welcome and encourage you to explore the variety of volunteer opportunities offered through this ministry.
Please Note: Hearts and Hands New Email Address The Hearts and Hands ministry team has a new email address as of January 2021, which is heartsandhands@upbrookline.org.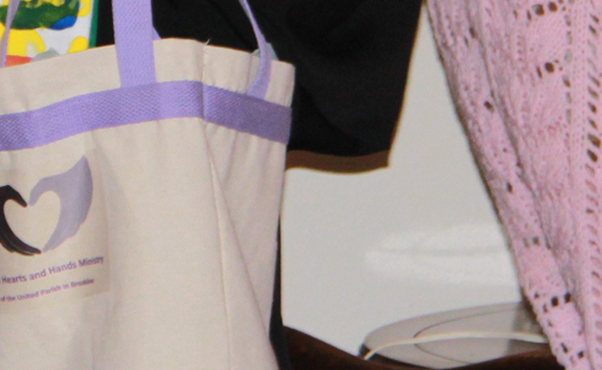 Contact:
Hearts and Hands Care Coordinator
Church Office (617-277-6860)
Upcoming Hearts and Hands Ministry Events
Latest Hearts and Hands Ministry News
Share your feedback with the Hearts and Hands Ministry Team
Posted:
Oct 12 2022 - 5:03pm
So then, as we have opportunity, let us do good to everyone, and especially those who are of the household of faith. Galatians 6:10
After more than 12 years of service to members of the United Parish congregation, the Hearts and Hands Ministry team is in need of ideas and suggestions on how we can best update our program and successfully engage more people as care givers and as "users".
As an active group of volunteers we appreciate this opportunity to get to know others in the congregation better while taking on tasks that suit our individual schedules and interests. We provide support, comfort and care for our UP family during times of celebration and joy, sickness and healing. Among other things, our efforts have included preparing meals for families welcoming a new baby or folks recovering from hospital stays, providing transportation to medical appointments and running errands, knitting prayer shawls and baptism mittens or making blankets for new babies and college-bound high school seniors and writing cards to people lifting them up in prayer or acknowledging their celebrations. But we are always interested in learning about other ways we can be helpful and how we can encourage more people to join us.
Can you take a few minutes to give us some feedback on our current efforts and our work going forward? Click here to fill out a short survey.
Contact heartsandhands@upbrookline.org
Volunteer Drivers Needed
Posted:
Nov 3 2021 - 11:26am
Hearts and Hands is looking for 6-8 people who can drive a church member who lives in Jamaica Plain to/from church on a rotating basis. If you are interested in assisting this church member get to church, please contact heartsandhands@upbrookline.org. Thank you for your ministry!
Food Drive for the Brookline Food Pantry - September 12
Posted:
Sep 2 2021 - 5:11pm
The Hearts and Hands Ministry Team will be collecting food on Sunday, September 12 to help support the Food Pantry. Bring your canned goods and non-perishable food to church with you on Sunday from 9:30am-12:30pm. Click here for a list of food in need. You may also make a monetary donation by clicking here. Contact heartsandhands@upbrookline.org for more information.