The Chancel Choir is a non-audition community of adult singers anchored by four professional section leaders. We lead vibrant congregational song and enhance worship with inspired music of all styles and eras. We welcome singers of all levels of training and experience, incorporating musical and vocal training into our rehearsals.
Rehearsals are Thursdays from 7:00 - 9:00 p.m. in the Choir Room.
Want to get involved? Have questions?
Upcoming Chancel Choir Events
Latest Chancel Choir News
Chancel Choir Presents Faure's "Requiem"
Posted:
Apr 12 2019 - 11:31am
This Sunday, April 14 (Palm Sunday) the Chancel Choir is very excited to present Gabriel Fauré's Requiem during worship with a 16-piece chamber orchestra that is made up mostly of the rich sound of cellos and violas. The seven gloriously beautiful movements will be interwoven throughout the morning liturgy, and will honor the solemnity of Holy Week, and serve as a musical witness of the Divine Creator. For the Chancel Choir, the Requiem has been a transforming spiritual practice that has carried us through the season of Lent. God is magnificently present in Fauré's Requiem, and the Spirit continues to breathe new life into its 130 year old pages, through the choir and instrumentalists. On Sunday, we hope that all of YOU will join us on this musical-spiritual journey, so that together, in this sacred time and place, we can glorify and magnify God, in all of us.
Among the performing musicians are cellists and horn players from City Strings United and the United Parish, as well as soprano soloist Amalia Rodine (singing Pie Jesu) and baritone soloist Brett Bode, United Parish's bass section leader. We have modified Sunday's liturgy to accommodate the time demands of the requiem, allowing us to end worship at the usual time.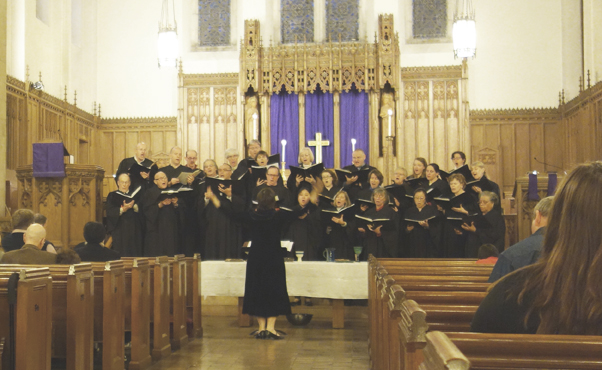 Temple Shir Tikva and United Parish in Brookline Interfaith Choral Collaboration
Posted:
Feb 14 2019 - 11:30am
Every year the choirs of Temple Shir Tikva and United Parish in Brookline come together for a much-anticipated sacred music collaboration. While this began a half-dozen years ago as a way to educate our respective congregations about our Sabbath experiences and enjoy each other's worship music traditions, this connection has deepened beyond our expectations into a strong and enduring bond between our communities. By making beautiful, artful music together, learning from one another's clergy, praying in each other's houses of worship, and breaking bread together, we have cultivated a sacred friendship that has transformed the way we relate to one another and feel utterly at home in each other's holy spaces. To that end, this year's Interfaith Choral Collaboration will celebrate the theme of "Sacred Friendship" with songs that reflect our bond and the joy we've come to feel in each other's presence.
Join us Friday night in Wayland for Simchat Shabbat with the Shir Tikva community at 6:15pm, where Susan and Kent will assist in leading worship, and on Sunday morning at the United Parish, where Cantor Hollis Schachner and Rabbi Danny Burkeman will assist in leading 11am morning worship.
Friday, March 1 6:15pm at Temple Shir Tikva, (141 Boston Post Road, Wayland, MA)
Sunday, March 3 11:00am at United Parish in Brookline
Contact Minister of Music Susan DeSelms at susan@upbrookline.org for more information.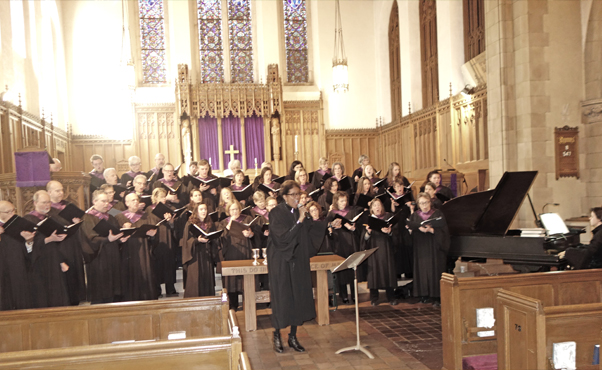 United Parish Presents "Amahl and the Night Visitors"
Posted:
Nov 7 2018 - 12:00pm
Based on Italian folk tales of the Epiphany, this beloved one-hour American musical production tells the story of a shepherd boy and his widowed mother who are visited by three royal strangers on their way to Bethlehem.
Performed by members of the United Parish Chancel Choir and Youth Choir, and made possible by the Dan Sullivan Memorial Fund, this show for all-ages will take place on Friday, December 7 at 7pm and Sunday, December 9 at 4:30pm in the Sanctuary.
Suggested donation: $15/adults, $5/children. Cash, checks and credit cards accepted at the door. Advance online donations can be made on Eventbrite.
Find the event on Facebook and Eventbrite.
You won't want to miss it!
For more information, please contact Minister of Music, Susan DeSelms at susan@upbrookline.org.