The Youth and Adult Handbell Choir is open to anyone in seventh grade and beyond. The choir is a group of adults and youth that includes both highly experienced ringers and beginners. Director Bob Phenix is devoted to training ringers of all skill levels! You need only be able to ring a bell to join. The handbell choir plays music during various parts of the service, including the prelude, congregational hymns, and in collaboration with other choirs.
Rehearsals are Sunday mornings from 9:00 - 9:45 a.m. in the Choir Room. The handbell choir plays every 6-8 weeks during the 11:00 a.m. worship service.
Latest Youth and Adult Handbell Choir News
Music Ministries Wish Tree
Posted:
Nov 22 2019 - 1:44pm
This year, a Wish Tree will be added to our Marion Street lobby decorations. This is a tree of wishes for the various choirs we have at United Parish. What better time of year than now to put forth wishes for our choirs! There are color coded ornaments on the tree – Red for the Children and Youth Choirs wishes, Gold for the Bell Choir wishes, and Purple for the Adult choir wishes. Descriptions of what is wished for are on the back of the ornaments. Please feel free to look them over, and take any ornament with the wish item you would like to donate. Donations can be dropped off at the Church Office or Choir Room. Thank you for your support – it is greatly appreciated! Contact the Church Office at office@upbrookline.org.
Handbell Corner Now Open for Business!
Posted:
Oct 4 2019 - 1:11pm
Our handbell choir will now have a permanent loft of its own so that they're able to focus more on ringing and less on moving tables. Special thanks to Facilities Manager Jaime Matheny for pulling out the pews, and to Kate H. for designing the area. This will make handbell ringing in this church more practical and so much more fun and rewarding!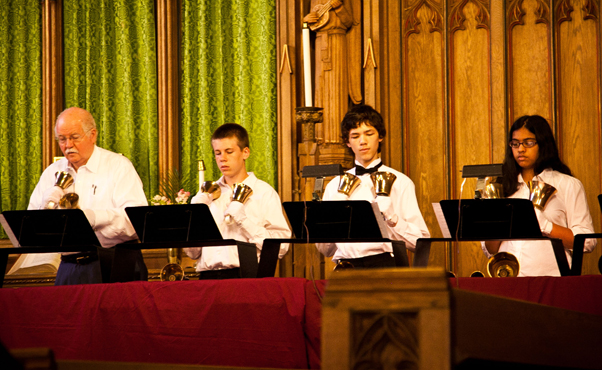 Handbell Ringers Wanted!
Posted:
Jan 4 2019 - 12:47pm
Have you ever considered playing the handbells? Unlike singing in a chorus, playing in a handbell choir requires only that you be able to hold and swing a bell, have a sense of rhythm and that you have the ability to count repeatedly to 4, 6, sometimes 7, or 8. Also, unlike chorus, playing the handbells requires intense, unwavering focus and can be extremely relaxing for those of us with very busy, multi-tasking minds. Some even say playing handbells is as rehabilitative as meditating, and certainly more fun!
Starting January 27 at 7pm, the UP Ringers is trying out, for 4 weeks, a different kind of rehearsal model. In previous years, the handbells have rehearsed at 9am on Sunday mornings for 45 minutes in order to meet the needs of any of our busy teens who might want to play. We would like to try having an adult handbell choir that meets for longer, and that is less about accommodating a younger age group, and more about challenging and stimulating an older age group!
If you'd like to be a part of this pilot program, you'll need to commit to rehearsals on January 27, and February 10 from 7-8:30pm, and February 3 from 2-3:30pm and be available to play in worship on February 17, with rehearsal at 9:45 a.m. During this trial period, we will learn and review handbell playing techniques, and rehearse new music. Rehearsals will take place in the Choir Room. As things progress, we'll also discuss together the future of the UP Ringers.